While there are a lot of changes, a lot of things are the same too, whew! I can only take so much change before my mind gets overwhelmed!
What's changed?
One thing they changed that I REALLY liked is that they have staggered starts to the dining time. So while in the past, everyone on main dining would rush to get there at the start of the dining time, now they have people arriving on a staggered basis so you basically walk up to the podium, tell them your table number and you're immediately escorted to your table. No more waiting in long lines to be admitted to the dining room, and I felt like service in the dining room was more efficient too.
Cabanas
At Cabanas, the upstairs restaurant that used to be a self-service buffet, you now walk around the food areas and tell the cast members standing behind the food what you would like on your plate. I liked this because it contributed to less waste, and I've never liked the idea of people leaning over my food and breathing all over it while they serve themselves.
You get your plate at the end of the line and then can continue on to the salad area (where they will either give you a new plate or you can have them put the food on your current plate), the dessert area, or just sit down to eat. Once you're seated a cast member will come by to get your drink order and give you silverware. Again, I liked not having silverware hanging out on the table, and I also really liked having them bring me my drinks instead of having to wait in a forever line while people decide what soda they wanted.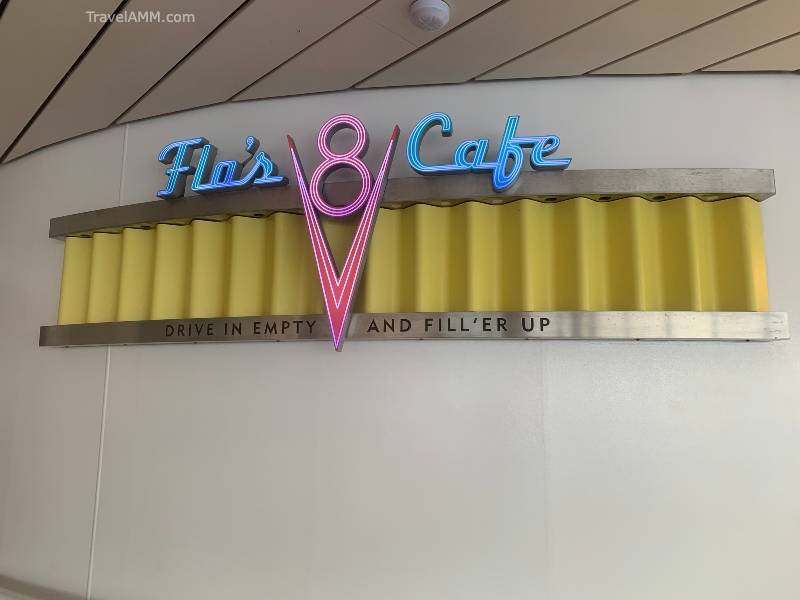 Are the pool deck restaurants still open?
The pool deck quick service area now has a queue you must stand in before you can proceed to the window to order. I only ate there once, but you must be masked and have to use hand sanitizer before you are allowed to approach the window, and then you can order ANY type of food from any of the windows where before you had to go to the pizza window to order a pizza, or the panini window to order a panini.
This time they told me just to go to the next available window and I placed my order for the type of food I wanted… in this case, I wanted fruit and a panini, but they had me order it from the pizza window, so the poor girl had to do a lot of walking to get me my food. Additionally, they didn't want me waiting around while my panini was cooked, so I sat at a table waiting for it (took about 15 mins) and then they brought it directly to me.
I NEED my soft serve ice cream… Is it still offered?
Another awesome thing is they still have the soft serve ice cream stations (WHEW!) but they now have cast members making ice cream cones for you, and an official queue you walk through. Personally I hate cones, and always put my ice cream in a cup, but they would not do that for me. They told me I had to get a cone and then dump it in a cup… which I thought was wasteful, but perhaps we just had some translation issues and they didn't totally catch on to what I wanted. They DO offer spoons at the self serve place, but you have to ask them for one, and she stuck it in my cone, so that was a bit odd.
Can we still dine with the characters?
While character breakfasts are NOT being offered right now (normally only available on 7 night sailings or longer), I think what they ARE offering is way better because it's available to a larger audience! When you're in Enchanted Garden the fab five (Mickey, Minnie, Goofy, Donald and Pluto) comes through and do a little song and dance through the restaurant.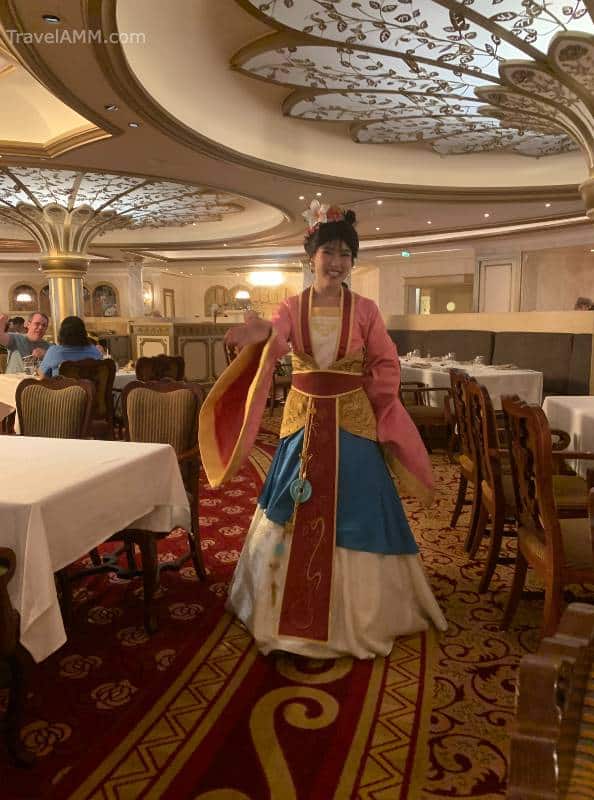 When you're in Royal Court / Royal Palace, some princesses will walk through! They have a piano player, and a violinist who play during dinner (very lovely!) and 3 princesses walk by during their theme song. On our night we saw Mulan, Belle and Ariel, but I imagine it varies based on the night. I thought this was really special because not everyone gets a chance to see characters during their meals, but with this new set up, you'll see some during two of your meals! Granted, they don't stop for pictures, but they will wave at your table and you can grab a few action shots as they stroll by.
Were you disappointed with your dining experience?
Overall, I was VERY pleased with the dining "changes" they have implemented since they've restarted sailing. There was a ton of space between tables, and I found service to be far more efficient that in previous trips. I also LOVED the staggered start to the dining times so that you were not stuck in a log jam waiting to get in the dining room. I think that contributed to how easily things flowed during the meal too.
Wondering what other changes have occurred since the Disney Cruise Line started sailing again? Check out this post to learn about the new embarkation procedures in place.
Wondering how rotational dining works on the Disney Cruise Line? Do you eat at the same restaurant every night? Will you see your waiter on more than one night? Check out this post for the scoop on the Disney way to dine.