I hoped I would never be able to write this blog post from a personal experience standpoint, but alas, it happened to us: my son tested positive for Covid at the Port, and we were denied boarding on our Marvel Day at Sea Disney Cruise Line vacation. The really stinky thing about it is we tested everyone at home before we did the six bajillion year drive down to Miami and no one was positive at that point!
One thing I've realized as a travel agent working in a post-March 2020 travel world, you never know when the next curveball is going to be thrown that will derail your vacation. You can be AT the Port, SEE the ship, have your LUGGAGE get ON the ship, but you might still get turned away if you or a family member test positive and don't get cleared to sail.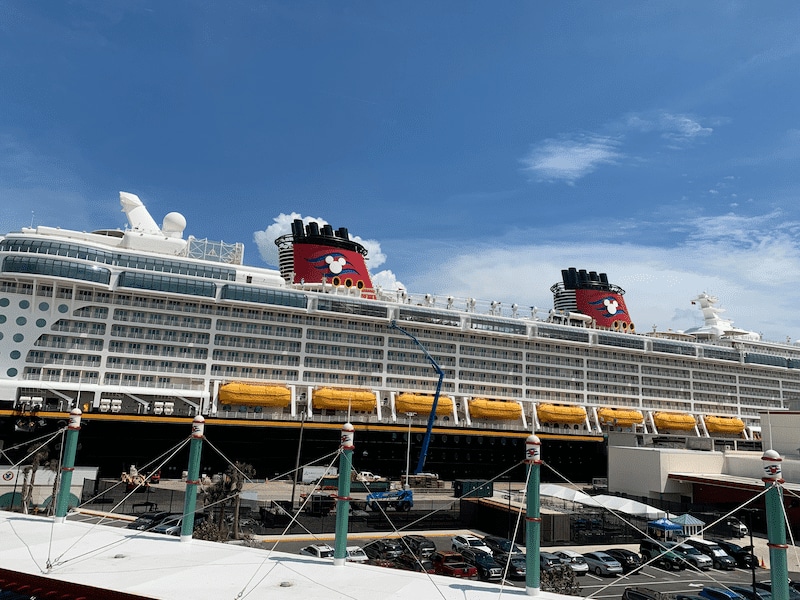 Here's our story of what happened so you can know more of what would happen if YOU or a family member you're traveling with tests positive at the Port.
We have sailed multiple times since the restart, and even though we are all vaccinated, plus the adults are boosted, I have us take covid tests in town before we load up and drive to the Port just in case. This time we were sailing out of Miami, which is NOT a fun drive from where I live in North Florida, so I made sure the two of us who needed to be tested (two of us had covid the month before so they were sailing on 90 day Recovered status which exempted them from testing at the Port) got that done the day before we headed down south, and both tests came back negative.
Basically everything proceeded as normal. We dropped off our luggage with the porters, we took our tests in the terminal, we headed to the waiting area to get our results and our cleared to sail status. Sigh. That's when things started going wonky.
Thankfully the kids know the mantra that you aren't actually going on a cruise until all four family members have "Clear to Sail" listed by their names on the Safe Passage website! So while we were disappointed, it wasn't a total shock.
We were sailing out of Miami which is a different setup from Port Canaveral, so we had to wait in the terminal with everyone else for our reservation number to pop up on the TV screens showing that we were cleared to get on the ship vs. Port Canaveral where we would have just hung out in the car until we got our test results.
I always watch the status on the Safe Passage website because it's faster to see the results that way, than to rely on an email, or in the case of Miami, remember your reservation number and find it on the long list of everyone allowed to get on the ship.
Normally all four of us pop up with "Clear to Sail" simultaneously, but this time, only three out of the four of us did, which was different. About two minutes after I noticed that, my phone rang with a 305 number that I didn't know.
When I answered it was a Safe Passage employee telling me to come meet them in a certain spot in the terminal and to bring the whole family plus all of our stuff. She wouldn't tell me any information on why I was being called, or what was wrong, just that we all had to come meet her as soon as possible and bring all our junk.
Once we met up with her, she took us downstairs to the customs area of the terminal and had us sit in a waiting area by ourselves. The original person who escorted us there NEVER told us why she was taking us away, but the looks of pity from all the DCL cast members and the fact that we were in this weird place in customs clued us in that we were NOT going to get to sail on this trip.
Finally a nurse showed up to talk to us, and acted shocked that no one had told us we had a positive test result in our family. I guess the original lady was supposed to tell us? The nurse did ask us if my son had tested positive recently and could possibly qualify for the 90 Day Recovered Status, but alas, this was not the kid who had a recent positive result, so there was nothing we could have done.
A DCL representative also came to talk to us and offered us a drink and snack while we waited for our luggage. He discussed the different financial options that were available to us since we were obviously NOT going to be getting on the ship that day.
When you test positive at the port, you can either 1) take a Future Cruise Credit equal to the value of the cruise you were on OR 2) you can take a full refund.
Be aware, the Future Cruise Credit is for your VOYAGE FARE, NOT for the taxes and fees, travel insurance, pre or post hotel stays, it ONLY is for the COST of the cruise and that's it.
We opted to take the full refund so that we did not have to worry about redeeming the credit, once we found a new date we wanted to move to we could just book it right away and not deal with any future cruise credit snags that might occur.
It took over 2 hours in the terminal waiting for our luggage because it had already gone on the ship by the time they went to pull it for us. Thankfully I had packed snacks and entertainment options for everyone in case this happened because I've heard crazy stories of families being stuck at the port with nothing to eat and getting extra cranky because of it.
Once we got our luggage, DCL provided us with a private shuttle back to our car, which was parked at the Port, but they did say they would have taken us anywhere in the Miami area that we needed to go.
I do not remember them asking if we needed help with accommodations since we were unexpectedly now staying in Miami for the time being, but I cannot with 100% certainty say they did not ask if we needed suggestions on a place to stay.
The refund itself took about 10 business days AFTER the cruise got back to port to show up on my card. It was a very simple process, and I was grateful to have real money back, instead of dealing with credits that would be assigned to specific people.
Overall I don't wish that anyone tests positive in the Port, but other than having to wait six years for our luggage to get back off the ship, it was not a totally terrible experience for us. I do not want to repeat it, but I don't have nightmares from it.
Yes, we had two very disappointed boys (and a disappointed Mom and Dad too!) BUT when it was all said and done, we got to sit in air conditioning, they checked on us every once in awhile, we had snacks I brought from home to eat, and the refund was processed within a decent amount of time, so I suppose it could have been worse.
Want more information about the Disney Cruise Line or any other cruise line for your next family vacation? Please contact me today so we can start the planning process!