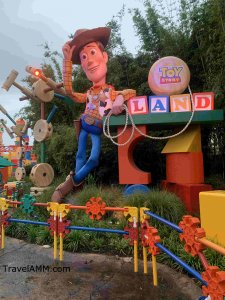 My younger son is OBSESSED with Toy Story Land, but unfortunately for him, I don't like waiting in line, and, for now, the lines for the two attractions he wants to ride, are longer than I'm willing to stand around for. What does that mean for my Toy Story Land obsessed child? Well, he only gets to ride when we have a fastpass, or we wake up for morning Extra Magic Hours. And for our family, making it to morning Extra Magic Hours usually means we are arriving at the Studios about 10 minutes before it opens to the general public because we are not really morning people, and we only get one ride in, if that…
Our last trip to the Walt Disney World Resort coincided with Toy Story Land child's birthday… Since, in our family, we give experiences for birthdays instead of parties, we thought it would be a great time to try out Early Morning Magic at Disney's Hollywood Studios. We could ride Alien Swirling Saucers and Toy Story Mania! over and over, with minimal lines, for the duration of the event. Perfect birthday experience if you ask me!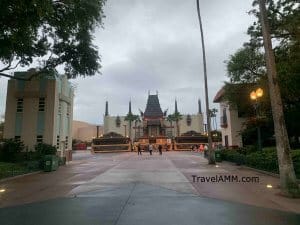 Early Morning wha???
What is this Early Morning Magic you speak of? Is it the same thing as Extra Magic Hours? How in the world do I get in on some Early Morning Magic time?
Early Morning Magic is a breakfast reservation that is made through the Disney Dining phone line (407-WDW-DINE) or else on the website as you would make any other dining reservation for your traveling party. You will need to prepay the reservation for Early Morning Magic when you book it, and you will need a valid form of admission to the theme park for that day as well because, unlike the evening After Hours events, your ticket in to the theme park for the day is NOT included. It's offered on select days of the year in Fantasyland at the Magic Kingdom, and also in Toy Story Land at Disney's Hollywood Studios. You can pay for it with a gift card, but you will need to call in to do that, you cannot book it online and pay with a gift card.
Early Morning Magic is different from Extra Magic Hours. Extra Magic Hours are reserved for guests staying at certain Disney resorts, and they are when one of the four major theme parks either opens early, or stays open later, just for those resort guests. There is no additional fee associated with Extra Magic Hours, and the park included varies by date.
So what do I get with this "breakfast reservation?"
When you book your reservation, and for sure book ahead of time as they DO SELL OUT QUICKLY!, you will be able to pick a time for the event to start, which will tell you what time to show up to the park. The reservation itself includes theme park time to a limited number of guests within either Toy Story Land or Fantasyland between 7:30 am and 9 am, plus breakfast. Just know that once the clock hits 9 am, the day guests will descend and your peaceful time in that park has come to a sad and crowded conclusion. (Actually on our day, they let the day guests in about five minutes early, but they slowly walked them through the standby lines of the attractions, so we were able to run into the fastpass line and beat them for one last wait free ride!)
The way it is currently set up is that you will make your reservation for either 7 am or 7:30 am. For guests with the 7 am reservation, you can enter the park starting at 7 am and head over to grab breakfast before the park opens to the event attendees at 7:30 am. For guests with a 7:30 am reservation, you can arrive at 7:30 am and immediately enter Toy Story Land. You'll get your breakfast after the event as it's offered until 10 am, or you can grab it during the event, but that's not an effective use of your time with limited crowds!
People keep asking, is it really worth spending all that money for an extra hour and a half in the park, where you only get to experience 3 attractions (Slinky Dog Dash, Toy Story Mania! and Alien Swirling Saucers) and 2 meet and greets (Woody and Jessie together, plus Buzz on his own)… Well, obviously that's a personal decision you need to make for your family based on your family situation, but I will say for MY family, based on our priorities during that vacation, it was totally and completely worth the added cost.
Are the crowds really low? Why should I pay more when I'm already buying a park ticket for the day?
Our reservation was for 7:30, so I tried to get our family to the park around 7:10, which meant that we actually arrived at 7:25! But for us, that was a huge victory! After you go through security, they have day guests stand to the side waiting for the gates to open, and Early Morning Magic guests get wrist bands to show they can go to the event before you proceed in though the turnstiles as usual. Cast members are spread out all along Hollywood Boulevard to direct you back into Toy Story Land or over to grab your breakfast, and you can bet they're checking to see if you have that wristband showing you belong. Just so you know, this was an awesome opportunity to get some pictures along Hollywood Boulevard with just cast members in the background.
We somehow managed to arrive in Toy Story Land right as they were opening up for the event. There was a bit of a wait (maybe 5 families?) to get your picture in front of the Toy Story Land sign when we walked up, but Buzz Lightyear was just coming out, and we managed to be the first family to take a picture with him! (You guys know I love my character meets! I couldn't pass up a quick chat with Buzz before we started riding rides!) When we finished up with Buzz, all those other families had moved on to ride attractions or else gotten in line to meet Buzz so we were able to get a family shot in front of the Toy Story Land sign! Something I have never been willing to do before, because, well, lines.
Off to the rides we go!
Once we were done with my photo ops, then off to the rides we headed… Slinky Dog Dash was running as we walked back to Swirling Saucers, but the cars were empty as I think people were still walking through the queue to get back to the coaster itself. During our hour and a half in Toy Story Land, we were able to ride Alien Swirling Saucers four times, Toy Story Mania! five times, take a picture with Buzz, get a picture with the Toy Story Land sign, let my husband take a couple of work calls, have bathroom breaks, and grab some snacks, coffee/water provided over by Woody's Lunch Box for Early Morning Magic guests. We probably could have gotten another ride or two in if we had just busted it the entire time, but that's not fun.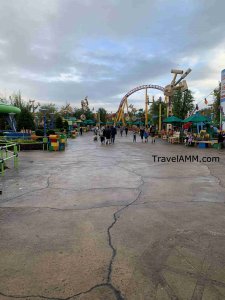 During our visit, even though it was open, we did not ride Slinky Dog Dash 1) because I don't like coasters, 2) my kids don't like coasters, and 3) my husband doesn't like to ride coasters alone. However, this would be an amazing opportunity for you to be able to experience that coaster over and over without having to pay for a VIP Tour Guide to take you, or having to wait in the super long lines that you get during the day.
I've been up since before the sun rose, I'm getting HANGRY!
Once 9 am hit, the wait times for the attractions were no longer at my acceptable level of zero minutes, and we were getting a bit hangry, so we headed over for our breakfast reservation. I wasn't quite sure where we were supposed to go, but we eventually figured out it was the Backlot Express over between Indiana Jones and Star Tours! When we arrived it was a bit chaotic because I think everyone else was hangry too and there wasn't the best signage to let us know what to do.
The cast members working the event did check every single person in my family for a wrist band before we were allowed in the restaurant, so I was pleased with that. Ordering was a bit confusing because again, not the best signage or directions, but maybe I just missed everything? Eventually we figured out that you just walk up to the registers and ordered what you wanted based on the hot food options listed on the menu screens by the registers.
We kept changing our mind while we were ordering, but apparently the cashier didn't remove any of our options, so we ended up with a TON of food. Yay? Makes for less hangry family members? I will tell you though, after I tried that cronut and waffle dish, I was VERY happy we ended up with both an adult portion and a child sized portion! I'm not sure if it was because I was being confusing, or if it was the rule, but they did not limit adults to just ordering off the adult menu, and kids to ordering off the kids menu.  Also, portion sizes were VERY generous!
In addition to the hot food offerings you could get from the register, they also had a more continental style breakfast spread you could pick from too.  For beverages, there was white milk, apple juice, orange juice, coffee, water, and all the sodas available at the normal soda station. (If you or your family member wanted chocolate milk, you needed to request that from the register at the time you ordered your hot food. But the cashier told me if you ordered juice or coffee up there, you would have had to pay separately for that, so DON'T DO IT!) Multiple pastries, fruit, yogurt, and cereals were also placed out for you to enjoy during your meal.
Ok, that's nice, you had a great time…but would you do it again?
We loved the event, we had an amazing time and rode Toy Story Land attractions WAY more than would have been humanly possible on a regular day as a normal park guest… This was a perfect "experience" for a special birthday kid… but would we do it on a regular trip? One when we weren't celebrating anything other than a family vacation and spending time together? That's a hard one that we've discussed a bunch as parents.
We know our kids are spoiled in that they get to vacation at Disney properties often based on us living in Florida, so we don't want them to automatically expect an experience like Early Morning Magic on every trip we go on in the future. It was an amazing special treat that we would repeat down the road, but not right away so that we could preserve the magic and uniqueness of that event. That's not to say other families wouldn't want to do it on every visit, I can totally see the attraction of that, but for us, at our current stage in life, it's a "special treat" kind of experience.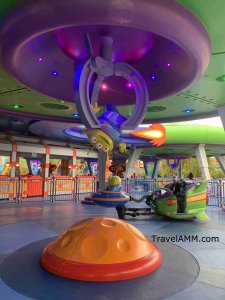 Wondering where Toy Story Land is?  Not sure what attractions are available to enjoy there?  When did it open up, and how have I never heard of it before?  Check out this post that gives you all the details you need to know!
Interested in a visit to the Walt Disney World resort, but you're a tad overwhelmed with all that is involved in getting your family there?   Contact me today, and I can help you lower your stress level to make it a super fun family vacation that you will talk about for years to come.