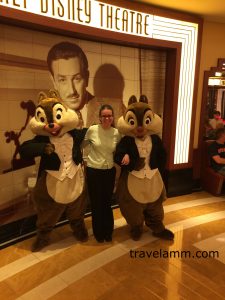 I grew up going to the Walt Disney World Resort every year to celebrate my birthday.  Some of my favorite childhood memories are from those yearly visits to Disney- celebrating in Mickey's Birthdayland… having a bus full of strangers sing to me because they saw my birthday shirt…  Walt Disney World was such a special place to me, I even worked there for a few years before I went to law school.
Fast forward a few years to my time as a parent, trying to plan family vacations while simultaneously working full time as an attorney.  I realized that even though we were traveling as a family, we were not going on vacation, but instead trips!  Trips are when you travel to a different location, but don't relax enough to enjoy each other, while vacations allow stress free, quality time together as a family to reconnect and build memories.
Our family was missing out on life experiences and quality time together, and we needed to fix that situation.  It was time for me to take a chance on myself and pursue my dream of becoming a travel agent.  I wanted the opportunity to help other families create wonderful vacation memories from their childhood to cherish, just as I cherish mine.
Memories are richer when you travel together.
Ever since I took the leap to become a travel agent, I've made it my personal mission to be sure my clients go on vacation with their families and not just family trips.  I help my clients get away from the pressures of life, allowing them to sit back and enjoy new destinations and experiences, but working with me also gives them the assurance that things have been taken care of.  Even in my current career, I still feel the stress and pressure of modern day family life, but realize that you need to step outside your daily routine to relax and appreciate each other fully, and those experiences only come with travel.
My promise to you: whether it's a theme park vacation, a cruise, or even a guided tour, I will make sure you make the most of your family time together.
No more fear of missing out.
No more referencing and cross-referencing websites and blogs to determine where to go or what to do.
No more taking a poll on Facebook and relying on inaccurate information to plan your trip.
When we work together, you can be certain your vacation needs will be taken care of. I am available to answer your questions, and give you guidance, so your only concern is how much longer until your vacation adventure begins.
Ready to start thinking about your next family vacation?  I invite you to sign up for my newsletter and join my Facebook group, which are full of family travel tips and tidbits.
Once you're prepared to start making more concrete plans, please contact me so we can make your vacation dreams a reality.
See you real soon,
Anne-Marie