Universal's Cabana Bay Beach Resort is one of the Prime Value Resorts located at the Universal Orlando Resort. Prime Value Resorts are the most economical resorts located within a short walking distance of the theme parks.
Universal's Cabana Bay Beach Resort is themed after a 1950's and 1960's Florida Beach Resort. You'll notice retro theming all over the resort from the buildings and signage all the way down to the toiletries in the bathroom! It's SO cool!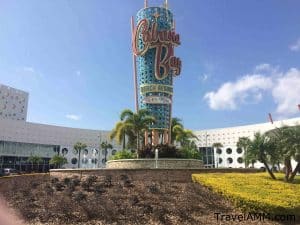 What type of accommodations are at this resort?
Cabana Bay Beach Resort has 1,800 guest rooms, including 900 Family Suites with kitchenettes. Standard rooms come with 2 queen beds, a mini-fridge and a coffee maker. Standard rooms all come with interior entrances, and can sleep up to four people, including babies.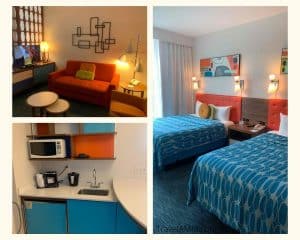 Family suites come with 2 queen beds, plus a pull out sofa, and a kitchenette with both a fridge and microwave plus one main bathroom. There's a sliding partition that will divide the living room area with the sofa bed from the main sleeping area with the bathroom. Family suites can have either exterior entrances, or interior entrances. The locations are spread throughout the resort, including the tower buildings as well as the various courtyard buildings overlooking the pools. Family suites hold a maximum of 6 people, including babies.
Family Suite and standard rooms at this resort can have either a parking lot view, a pool view or my favorite, a Volcano Bay view!!!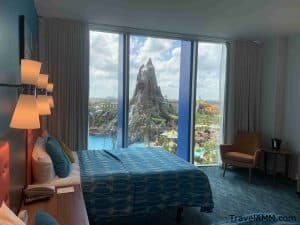 Lastly, there are a limited number of Volcano Bay View 2-bedroom Suites which can sleep up to 8. These amazing rooms have 2 full bathrooms, a kitchenette with a sink, and 2 bedrooms. One of the bedrooms has 2 full beds, there's one queen bed in the other room, and a full sized pull out sofa in the living room. There are not a ton of these rooms available, so you want to grab it as soon as possible.
What recreational activities can I do at Cabana Bay Beach Resort?
Not only is there a complimentary fitness center on site, but there's also a 10 lane bowling alley and an arcade too! Bowling and the arcade aren't free, but still super fun activities you can do.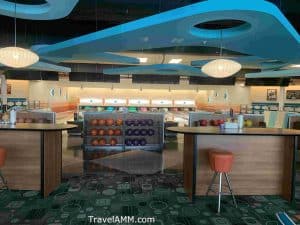 The resort has 2 huge pools. They are both zero entry pools, one of them has a waterslide that looks like a diving tower, and the other has a beach, plus a lazy river and waterfalls/ cannons to play with. You can purchase floats at the resort if you want, or if you bring your own, they'll blow them up for you!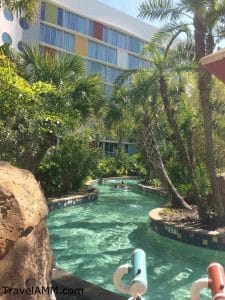 There are cabanas you can rent, plus a firepit, and tons of beach games to play around the pools.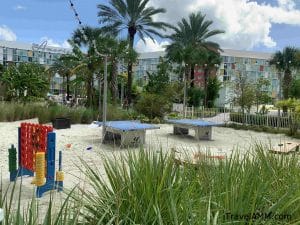 Is there food there?
Yep! Cabana Bay Beach Resort has a food court that is open for breakfast, lunch, and dinner. The resort also has a Starbucks, pizza delivery, the Swizzle Lounge in the lobby, plus a pool bar by each pool. The Hideaway Bar & Grill located at the Lazy River Courtyard offers food, while the Atomic Tonic by the Cabana Courtyard pool only offers drinks.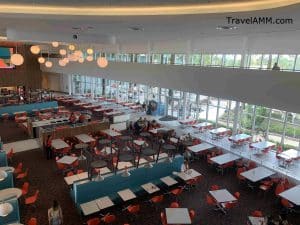 What sort of transportation does this resort offer?
Cabana Bay Beach Resort offers bus transportation to City Walk, Universal Studios Florida and Islands of Adventure. If you are headed to Volcano Bay for a fun day in the sun, you can walk via a private entrance to the water park. It's super handy and an awesome perk of staying at this resort. You can also walk to City Walk or the theme parks, but you might want to save your steps for your time in the parks later on, as it is about a 15 minute walk depending on your pace.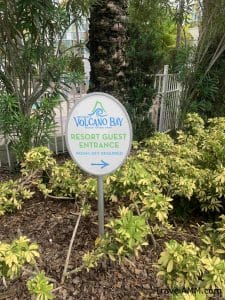 So there you go, that's your quick overview of Universal's Cabana Bay Beach Resort! It's a great entry level resort with awesome amenities and an even better location. I really enjoyed my stay there a few years ago, the bus service was reliable, the food court options were plentiful, and my room was nice and clean. If you're not looking to pay for one of the higher tiered resorts, but you want to be closer to the action, this is a great option for your next vacation.
Need assistance booking your next Universal Orlando Resort vacation? Feel free to contact me today so we can start planning your next adventure.
Don't think Universal's Cabana Bay Beach Resort is the right fit for you? Check out this overview of the different resorts at the Universal Orlando Resort, and you can find one that is more your style!