Hi, my name is Anne-Marie, and I despise roller coasters.
Yep, that's right… I'm a family travel agent… I go to theme parks a bunch… I send tons clients to theme parks yearly… but I will NOT ride a roller coaster if my life depended on it.
That itty bitty drop in Pirates of the Caribbean at the Magic Kingdom?
Nope, not a fan. I'll do it, but not a fan.
So how in the world do I have fun when I visit the Universal Orlando Resort and its theme parks? Do I end up just being the designated bag holder all day while my family and friends get their thrill on? Nope! There are plenty of things to do at Universal when you're a "coaster averse" theme park visitor!
Characters Galore!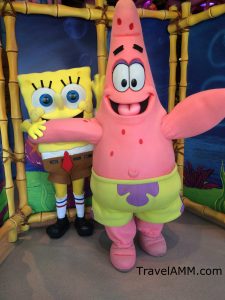 Unlike at the Walt Disney World Resort where you end up fastpassing some of your favorite characters to avoid long lines, when you're at the Universal Orlando Resort, character interactions are rather spontaneous and organic.  It's great, you might walk around a corner and run in to Doc Brown from Back to the Future. Perhaps you're walking to your next ride, and boom you look up and see the Scooby Doo and his friends by the Mystery Machine! It's awesome! I can easily spend a whole day just running between the two theme parks visiting with a billion and one different characters. The characters have areas of the parks they stay in, gotta keep with them theming you know, but the times they meet guests are not widely published so you need to check with a Team Member to find out when your favorite friend will be making an appearance if you have someone specific you HAVE to meet.
My favorite meet was with Hello Kitty at her store in Universal Studios. I have loved Hello Kitty since I was super young, and the idea that I could meet her was HUGE! I seriously doubt I'll ever make it to Asia to hit up any of the various theme parks or other locations where she can be found, so the ability to meet her in Universal was the best news ever. But again, the time she comes out is limited, and not published, so I had to go in the store to find a Team Member who could find her schedule and tell me when to come back. It was AWESOME, and yes, I totally geeked out.
HARRY POTTER!!!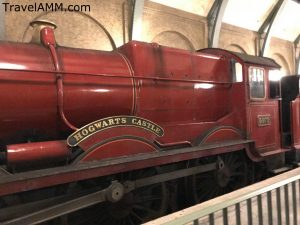 Did you realize the Wizarding World of Harry Potter Diagon Alley, and the Wizarding World of Harry Potter Hogsmeade are located at the Universal Orlando Resort? Yup! Wizarding World of Harry Potter Diagon Alley is located in the Universal Studios theme park, and Wizarding World of Harry Potter Hogsmeade is located in Islands of Adventure. The two areas are connected by the Hogwarts Express, which provide a different experience depending on the direction you are traveling.
When you're at the Hogwarts Express: Kings Cross Station, you can even access platform 9 3/4 by walking through a wall! It's SO cool! Make sure you have a friend stay behind you as you walk through so they can get a picture for you, or if you're traveling solo, see if the people behind you don't mind if you offer to do the same for them.
Honestly, there is SO much to do over here, shows, shops, food, magic spells to perform… I could spend three or four different posts on all the things that will keep you occupied as a non-coaster theme park attendee, so I'll just leave that for some later articles.
Shows!
Depending on the time of year you're visiting, you might be able to watch Mardi Gras parades and concerts, a Grinchmas show and Universal's Holiday Parade Featuring Macy's Floats, plus daily shows and "contests" over in the Harry Potter area including the Frog Choir, Triwizard Spirit Rally, and even Celestina Warbeck and the Banshees. If you're tired of walking around and don't want to stand for a show, there are shows you can go see in theaters like the Horror Make Up show, Fear Factor Live, or even Animal Actors on Location to keep you entertained. Don't forget about nighttime events like the Lights at Hogwarts Castle over at Islands of Adventure, and the Cinematic Celebration over at the Studios.
Rides!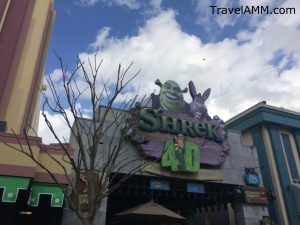 Rides? Yup! Rides! There are rides that are acceptable to those of us non-coaster fans. If you can handle spins, Men In Black is super fun, but if you get motion sick, you'll want to take a dramamine ahead of time. Seuss Landing has a ton of attractions including a Caro-Seuss-el, The High in the Sky Seuss Trolley Train, The Cat in the Hat, and One Fish, Two Fish, Red Fish, Blue Fish. (Just watch out, you'll get wet on that last one if you're not paying close attention!) E. T. is a gentle ride, and Shrek 4-D is a 3-D/ 4-D movie experience.
Bottom line, don't dread going to Universal if you're not a coaster fan, there's plenty to do to keep you happy and entertained!  I know I don't shy away when given the chance to visit!
Need assistance booking your next family vacation? Contact me today and let's get started!