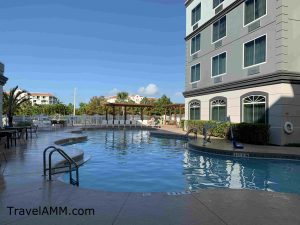 I'm often asked if it's ok to fly or drive to the Port the day your cruise sails… My answer is always, I personally wouldn't do it. That ship you're taking waits for no one! There are WAY too many variables that could go wrong and cause you to miss that departure time! Drive the day before and stay at a hotel near the Port.
If you have travel insurance your policy might help cover the cost to get you to the next port so you can meet the ship. But think about all the time wasted waiting for your ship to go to the next port so you can meet up! Plus the stress as you watch the hours tick by and you realize you aren't going to make it on time.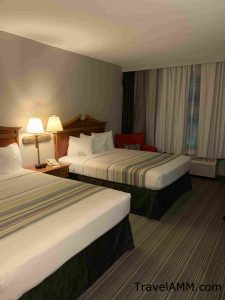 I'm sure you think that surprise nor'easter or hurricane wouldn't possibly delay your flight! And I know you plan to leave SUPER early for that drive to the Port, but you can't predict road closures or traffic jams. Do you really want to chance missing your expensive dream vacation because of pre-cruise transportation woes? I didn't think so.
If you're sailing out of Port Canaveral, one of the many great hotel options is the Country Inn and Suites by Radisson at Port Canaveral. The resort is super close to the Port, offers park and cruise room rates, and includes a complimentary hot breakfast. Win, win, win!
The Country Inn and Suites has regular rooms for those that don't need a lot of space. But they also have suites that include a kitchenette and separate sleeping/ working spaces.  The extra space is great because there is a door that closes off the bedroom area from the living room area.  If you have a workaholic in the family, or kids that won't go to sleep if the light is on in the bedroom, it's a great way for part of your traveling party to stay up later. Plus the couch in the living room converts to a sofa bed for extra sleeping space.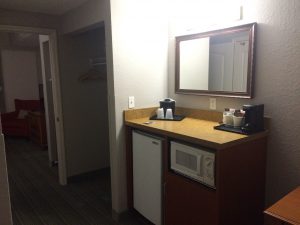 Another feature I really like about this resort is that they have a kitchenette in the room. Not only did it have a dorm sized fridge, but the room came with a microwave too.  For families traveling with babies that need formula heated up, or a late night snack, that's a great in room feature.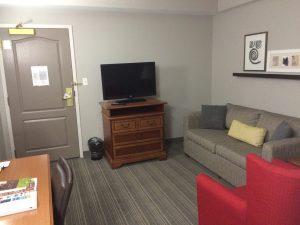 If you're looking for some activities to do before or after your cruise, the hotel is a few miles from the beach, and not far from the Kennedy Space Center or the Brevard Zoo either. We've stayed at this hotel numerous times for family vacations, and I've stayed on my own for some travel agent trainings. I highly recommend it for your pre or post cruise accommodations!
Want more information about where to stay before your next cruise vacation? Contact me now to start planning your next amazing adventure!