You spend a good chunk of change on your upcoming vacation, but skip purchasing travel insurance because NOTHING is going to stop you from taking that dream adventure. Then, a few weeks before you are set to go, an unexpected event happens, and your holiday is now in jeopardy! Why didn't you consider purchasing travel insurance more thoroughly!
*Full disclaimer, I am NOT an insurance agent, nor am I licensed to sell insurance. I cannot advise you on which policy to purchase, nor can I tell you the best timing to purchase a policy. I don't know the ins and outs of insurance policies for your area and I can't tell you how travel insurance may or may not help you if you get in a bind.*

Here are a few travel insurance stories to get you thinking about the topic a bit more before you make your final decision.  Keep in mind, any stories I share here are from real life, and they have occurred to clients, friends and myself.
Family One:
Tale number one starts with a family who traveled from the west coast of the US to the east coast of the US to do a combined theme park/ cruise vacation. They arrived on the east coast just fine, had a blast on the theme park portion of the trip, but hit a snag on the last leg of their cruise! The ship had mechanical issues which caused a delay in their return to the port. The later return time caused them to miss their original flight home. They were able to get on a later flight, but then one of the kids got sick in the airport and couldn't get on the plane. The next available flight wasn't for a few days.
This family ended up having to add a few more days in the Orlando area until they could catch a flight back home. They also had to visit a doctor to help the sick child! Thankfully, they had travel insurance coverage so they were reimbursed for these unexpected out of pocket expenses, but without it, they would have been stuck with thousands of dollars in unexpected hotel, medical and flight costs.
Family Two:
Tale number two involves a family that booked a cruise under a nonrefundable deposit rate. While they booked their vacation very far out from their actual travel dates, they had picked the perfect itinerary and travel date, they were going on this vacation no matter what! This family decided to decline travel insurance coverage. Unfortunately, the cruise line decided to realign their ships and send them to different departure ports after the clients booked. It ended up that there wasn't a ship sailing out of this client's desired port during her required travel dates! She couldn't cancel the trip without losing her deposit, but she wasn't able to drive to a port  four hours further away from her original departure port. Eventually the cruise line allowed her to modify travel dates so she could sail out of her desired port, but it was very stressful waiting for them to agree to that.
All was right in the world for this family right? Wrong, one of the kids ended up getting sick and the doctor said she might not be allowed to travel! Thankfully, two weeks before the trip the doctor gave them the all clear to sail, but again, a ton of stress because there was no way to get any money back if they had to cancel their vacation.
Family Three:
Tale number three is my own personal story. Each year our family tries to get away to the beach for a quick and easy vacation. We don't live far from the coast, and it's easy to drive back if something comes up and my husband is needed at work or someone gets sick. We rent the same condo in the same Gulf front property year after year. The only thing that changes each year is the date we go. We had never purchased travel insurance before because it's such a cheap vacation in the grand scheme of things… We drive to the rental, hit up the grocery store when we get down there and can be home in less than 2 hours if something major happens. Luckily for us, for our 2016 visit, we decided to purchase travel insurance. It was inexpensive when you compared the cost of what it covered (our nonrefundable rental rate) and it was an easy add on.
Thank goodness we did, because that was the year that Hurricane Hermine decided to visit Florida. Not only did we lose days of our vacation rental because the island had a mandatory evacuation, but we also lost power at our house for six days, so the kids and I headed to the beach for some electricity once the island opened back up! We were able to make a travel insurance claim for the days we were now allowed in the condo, which let us feel better about extending our rental on the beach until power came back on at home.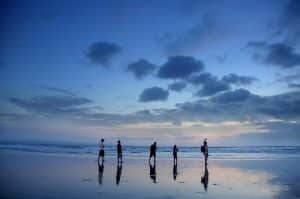 So when you're deciding if the extra few hundred dollars for travel insurance is worth it, because you WILL be going on your vacation no matter what, keep these three travel tales in mind.  None of them were foreseeable when the trips were booked, but travel insurance did (or would have) been able to alleviate some stress and financial strain when things went wrong.
Ready to book your next out of town adventure?  Contact me for more information on different options your family might enjoy!