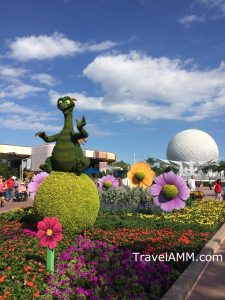 2018 marked the 25th year that Epcot has hosted the International Flower and Garden Festival, and I have lost track of how many of those festivals I've attended. It's one of my absolute FAVORITE times of the year to visit Epcot because it's just so gorgeous. Not only are there amazing topiaries set up throughout the entire park, but they also open food booths throughout the World Showcase like they do for the Food and Wine Festival they hold in the fall.  Plus Flower and Garden has fun concerts on the weekends too!
What to expect:
As you know, I love meeting characters, what you may not realize is I don't love waiting in lines, but then again, does anyone really enjoy that? 🙂 Epcot's Flower and Garden Festival gives you a chance to take pictures with your favorite characters without having to deal with long lines. It's awesome because you get to "see" characters that are not always out for meet and greets. Mind you, these characters are topiaries, but I know I wouldn't have been able to get a picture with Figment otherwise, because I can't remember seeing him in the parks in decades.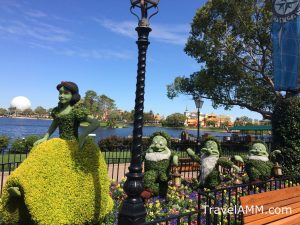 The really cool thing though is that not only can you see topiaries, and hear awesome music, but you can also learn about horticulture and possibly take some new skills home with you at the end of your day!  One year my husband and I were able to learn about transplanting flowers, how to care for sago palms properly, and we learned all about bonsai trees!  (What can I say, we're big nerds!)  There are a few festival specific tours you can sign up for that are an additional cost, I haven't had a chance to do any of those yet, but the topics are always interesting.  You can also visit the "How To" garden to take some items home with you from the festival.  It's really great to have a fun souvenir to take home with you after you return home from the trip.
But what about the kids?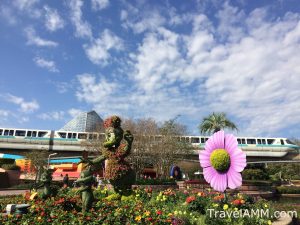 The normal Epcot KidCot areas will be open in the World Showcase, but there's also a playgrounds for the kids, and a butterfly house to walk around in.  My kids love going to the KidCot spots, they enjoy chatting with the cast members from other countries, and learning about their names in that cast members language.  In 2018, the playgrounds were themed to Cars 3, and were a HUGE hit with my kids.  Plus we were able to get pictures with the Cars character topiaries while the kids played!
So the next time you're at the Walt Disney World Resort, and it's spring, don't pass up Epcot as a park to visit!  Despite what you think, the pollen won't bother you, and the views are truly glorious!
Want to check out the next Epcot International Flower and Garden Festival in person?  Contact me for more information!  It's one of the best times of year to visit Epcot!
Wondering where to stay on your next visit?  Check out this review of Disney's Polynesian Village Resort for one possibility.
[social_warfare]