We recently had the chance to stay at Disney's Polynesian Village Resort for a quick weekend trip. I won a trip in a contest sponsored for the agents of the travel agency I work with, and was able to pick a resort for a quick trip! I hadn't stayed at the Polynesian since I was a kid (I don't remember it at all!) and my family had never stayed there. We were all really excited for this opportunity. I've been a few times to have meals, but never as an overnight guest. When the weekend was over, it got four thumbs up, and the requests to return have already started.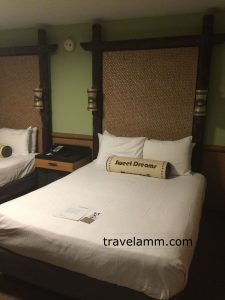 The Review:
We had a theme park view room at the Polynesian Village Resort, so we were able to see the Magic Kingdom, the Contemporary, Bay Lake Tower, the Grand Floridian Resort and the Wedding Pavilion all from our room! The kids were able to watch both the Magic Kingdom fireworks and the Electrical Water Pageant while wearing their pj's in the room each night. And since they stayed indoors, it wasn't even loud which always makes them nervous!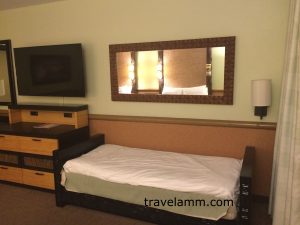 One really great thing about the room at this resort is the child sized pulldown bed. This allowed our kids to not have to share a bed. It's never a good thing when our two share a bed. We actually split them up and each kid sleeps with a parent if that has to happen because they fight and kick each other too much otherwise.
One negative about the room was the bathroom.  There really wasn't anywhere convenient to hang up wet towels, bathings suits, etc.  Even when you were in the shower, there was not somewhere that you could hang your towel so you could grab it without dripping water everywhere, or even having to drop it on the floor and pick it up from there when you get out! I was NOT a fan of that, and trying to figure out how to dry out bathing suits after the pool was "challenging" to say the least.
The Resort: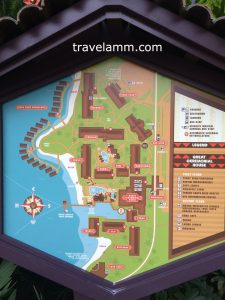 The Polynesian is in an awesome location. You can walk to the Ticket and Transportation Center to pick up the monorail to Epcot if you want. You can use boat or monorail transportation to the Magic Kingdom. Plus you have bus service to the other theme parks! If you're playing Disney Transportation Bingo, you knock off a ton of squares just with the individual resort options!
Even though it's a larger resort, nothing is too far away, and it has GREAT food options. One thing I learned, that I was a tad disappointed about, was the fact that they do not deliver room service in the rain.  🙁  We wanted to order the Twilight Feast from Ohana, but we couldn't because it was raining and they closed down room service in bad weather. That was sad, but ended up well because we grabbed a Kona Cafe reservation and dodged the rain drops to have an amazing meal anyway.
The kids opted not to go back to the Magic Kingdom on our last evening because they loved the pools and splash area at the resort SO much! There's a main feature pool with a volcano slide, and a splash area to the side with smaller, less intimidating slides in it, plus a quiet pool over towards the DVC rooms. It's really an amazing resort with modern amenities, but a retro feel!
Want to stay here yourself? Contact me today and let's start the planning process!
Looking for a fun time of year to visit the Walt Disney World Resort? Check out this post all about Epcot's Flower and Garden Festival that happens each Spring.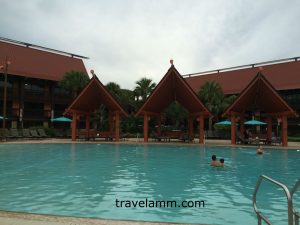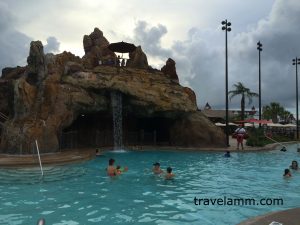 [social_warfare]