When you book your vacation with the Disney Cruise Line, you'll experience rotational dining for your evening meals.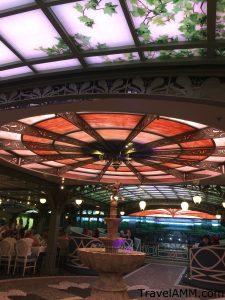 What's rotational dining you ask? Well, it's where your serving team rotates to each new restaurant with you every night! No more having to explain your food allergies to a new server each night! No more pointing out that your kids won't touch any food that has something green next to it! No more eating in the same restaurant for the duration of your entire trip!  With the Disney Cruise Line, you get great service from the same serving team each night of your cruise.
On the Disney Cruise Line, you are able to eat at ALL three themed restaurants during over the course of your vacation.  Each ship has their own set of restaurants, and it's fun to see the differences, and similarities, if you're able to sail on more than one ship.
Worried about dining monotony?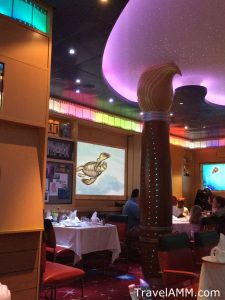 There's no need! If your cruise is longer than 3 nights, you will repeat a restaurant or two, depending on the length of the trip, but don't worry, your menu will not be the same each night. The only thing that repeats is the awesome service from your serving team.
Love your dining team so much you can't fathom going on another cruise without them? Have no fear! You can always ask to have them assigned to your dining time on your next Disney Cruise Line vacation (assuming they're working on the ship you are sailing on!), just make sure you note their name and the country they are from so you can request that when you book your next trip.
My family really likes rotational dining because on our last cruise, the serving team knew what they could do to make our kids laugh and make their trip more enjoyable, and they were happy to do so!  We had our drinks waiting for us each night at the dinner table, filled to the mom approved level of chocolate milk I would like to point out! The serving team also noticed that we cut our younger child's food in to smaller pieces, and started to automatically do it for us, so that my husband and I could just sit back and relax at meal time. Whether you're on a 3 night cruise, or a 13 night cruise, it's nice getting to know your serving team, and have your serving team get to know you.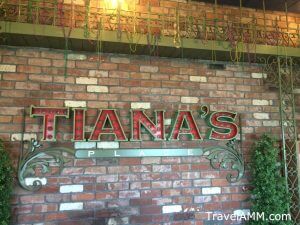 Want to check it out yourself in person?  Contact me today for more information.
Wondering what adult dining options are available on the Disney Cruise Line?  Here's a review of the Remy Champagne Brunch, which is offered on select ships and sailings, and champagne brunch at Palo which happens on all four ships at select times.
[social_warfare]