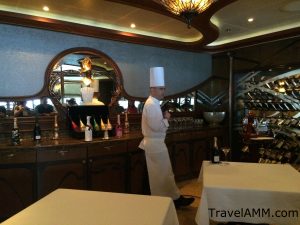 The Disney Fantasy and the Disney Dream have two adult only dining restaurants- Remy and Palo. Both restaurants offer dinner, and on select sailings, they both offer brunch, plus Remy offers a dessert party too. I've done both dinner and brunch at Palo, so this vacation meant it was time to try the Remy champagne brunch. Lets just say, it was AMAZING!
Let's get started!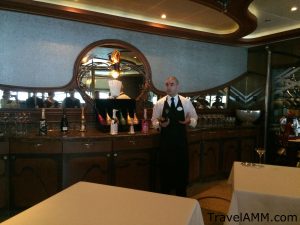 Your adventure starts off with champagne (or a fruity nonalcoholic drink in a champagne glass for the people like me who don't do bubbles) plus some ham while the Chef welcomes you to Remy and goes over all the different courses that will be served to you. Once the Chef finishes, the sommelier comes in and explains the different champagne options available to pair with your meal. (Note, there is an additional charge to do the champagne pairing.) Next, you are escorted to your table where you meet your server. At this point, they will check to see if you have any food allergies or if there is any part of the meal that does not appeal to you, or you need a substitute for. The staff at Remy really want to make sure everything is to your personal liking and that you are happy with all of your courses. Once you determine your meal choices, your feast begins.
Commence the Feast!
I say feast because there were quite a few courses and even with the smaller portion sizes, everything was amazing, and the care to detail was very impressive. There really is no other way to describe it but a feast.  One of the dishes served was one that my husband and I did not particularly like.  It wasn't that it tasted bad, it just wasn't something we would eat a bunch of, so we each left about half of it behind. Our server repeatedly asked us if everything was ok when she saw we weren't finishing our plate. After that, the chef came out to find out why we didn't eat everything!  Even after we said we were just saving room for all the other courses, the chef had them bring out a replacement dish for us. We ate all of the replacement dish because it was so delicious. I also was happy we liked it because I think the chef would have taken it personally if we had skipped another dish!
Was it worth it?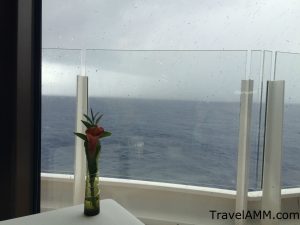 We had a lovely seat by the window, but alas, it rained the whole time, so we watched rain storms on the horizon, which is always enjoyable in my book. When I booked this meal, I was worried I would not enjoy it because I'm SO not a foodie. I'm happy to report back and say it went above and beyond my expectations. I look forward to the next time I can have brunch at Remy again. Next time I think I will enjoy it more because I realize need to be more open about my food likes and dislikes so that I don't have to explain repeatedly why I didn't finish a particular dish served.  If you're on the fence about booking the Remy brunch on your next cruise, I say take a chance and I bet you will be super happy you did!
Considering a Disney Cruise Line Vacation for your next out of town adventure? Contact me for more information!
Have you ever thought about taking a specialty cruise on the Disney Cruise Line?  Check out this review from our Star Wars Day at Sea cruise, or this one from a Very Merrytime cruise.