So… I took a Star Wars Day at Sea Cruise earlier this year… As a person who has NEVER seen a Star Wars movie and has only been exposed to Star Wars via children's books, I was a little apprehensive about going on a cruise that had an entire day THEMED to the Star Wars franchise. Needless to say, the Disney Cruise Line does things right and it was an amazing experience. Not only did we get TWO nights of fireworks and deck parties (squee!), but we also got a special Star Wars themed menu for that evening, and awesome character meet and greets on the trip (um, hello, R2D2 and C-3PO!!!!! that was a highlight of my character meet and greets).
When you do a specialty cruise with Disney, one thing that is different is the ship's atrium will have some sort of special decoration to distinguish the sailing as themed one. On our Star Wars Day at Sea, we had some Star Wars memorabilia and a huge Star Wars Day at Sea sign in the lobby we could take our picture with. They had photographers doing pictures from the cruise line on the first day, and also on the actual Star Wars Day, but you could still take your picture on your own behind the ropes at other times.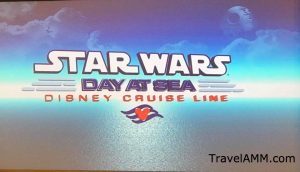 Star who? I'm clueless, will I still have fun on this vacation?
I was very worried that I would have no clue what was going on because I really know NOTHING about Star Wars, but they had a few Star Wars 101 "classes" before the actual Star Wars Day at Sea, and attending one of those made a WORLD of a difference for me. Thankfully, they covered quite a few basics in the lecture, so now I understand our books better too! Win win right? The only time I was really "lost" was when I saw different people walking around the ship dressed in their costumes, I seriously had no clue who the majority of the characters were, and ended up texting my sister pictures when we got back home to find out who these guys were. (And FYI, it wasn't just costumed characters from the cruise line, many guests dressed up as their favorite characters as well!)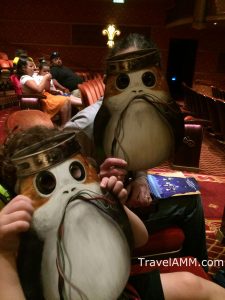 What extras can I get excited for?
Star Wars Day at Sea cruises have not only a Star Wars deck party, fireworks, plus massive amounts of characters, but we also were able to participate in a Porg scavenger hunt! This was a super fun family activity we did that was surprisingly difficult. The clues were located all over the ship and they sometimes repeated, but they were very well hidden. The clues spelled out a meeting location where we could go that evening for a special character meet and greet. It was too late for my boys to do, so we just had fun with the scavenger hunt during the day, and the cool masks the hunt gave out.
Because we booked our cruise really late (less than 60 days before we were to set sail) I was really concerned we wouldn't be able to schedule the meet and greets, Jedi Training or other activities that are limited in nature and require advanced reservations. BUT, we not only got bumped to the main seating for our dinner rotation, we were also able to get tickets to all the meet and greets we wanted at times that were good for our family, we got in to the Disney Jr. breakfast, and I was able to snag a Jedi Training ticket for my son who was old enough so that he was able to battle it out with Darth Vader. This really was an amazing vacation, and my kids are still talking about "the Mickey Boat that has the Star Wars guys on it."
Don't worry if Star Wars isn't your thing, there is still plenty do to onboard still because it is the Disney Cruise Line. The ship's horn does change to the Imperial Death March for the day, and there are characters that wander the ship the full day, but you will still have a great vacation, and who knows, you might find yourself watching the movies while you're hanging out at the pool and end up liking them!
Considering a Disney Cruise Line Vacation for your next out of town adventure?  Contact me for more information!
Did you know Disney also does themed cruises for Halloween and Christmas too? There's never a dull moment on the Disney Cruise Line!