My family and I had the opportunity to sail on one of the first Very Merrytime cruises of the 2018 holiday season this year.  We took the 3 night Bahamian Cruise out of Port Canaveral on the Disney Dream, and it was AWESOME!  I've always wanted to do a Christmas or Halloween cruise on Disney, but haven't been able to fit it in our schedule before. Luckily for us, Veterans Day fell over the first date for the 3 night cruise this year, so the kids only missed one day of school instead of 2, and we decided to book the trip!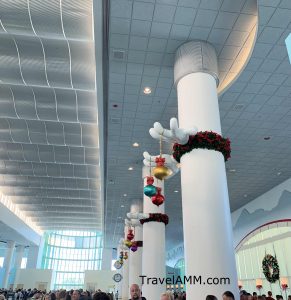 Holiday Magic From the Get Go!
As soon as you arrive at the Port, you get in the festive spirit because holiday music is played in the terminal while you're checking in and the decor is EVERYWHERE! The DCL terminal in Port Canaveral is pretty to start with, but when it's decorated for the holidays, there is just something extra magical about it. Not only are you anticipating a fun adventure on the cruise ship, but you're full of holiday spirit before you even get on the ship! From garland and in the check in areas to a full sized Christmas tree by where you get on the ship, there is no doubt about whether or not you are sailing on a Very Merrytime cruise.
Very Merrytime Sailing Activities
I was REALLY looking forward to the different holiday events that happen during a Merrytime cruise because I've heard nothing but good things about this themed cruise. At first I was super bummed because they said they were not offering Gingerbread HOUSE decorating this year. After asking someone else about the activity, we were told it was modified to Gingerbread PEOPLE decorating this year. Whew! Crisis averted.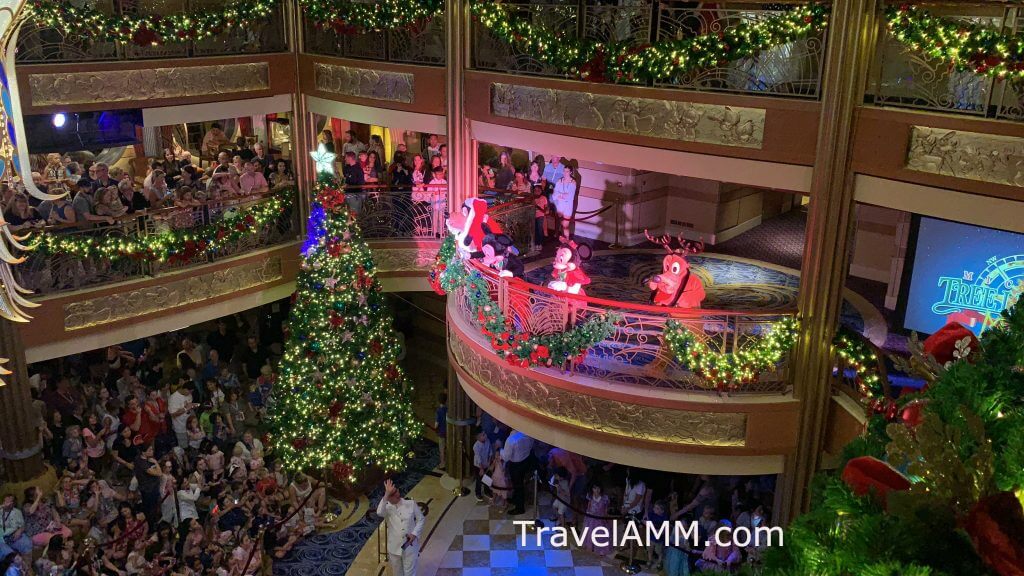 Merrytime cruises have so many fun activities that aren't offered on the standard cruise, and this starts right away. We got to see the characters in their holiday outfits (and you know I love me a good character picture!), there was a holiday themed deck party, a tree lighting ceremony, story time with Mrs. Claus, plus the gingerbread decorating. The ship was spruced up with holiday cheer throughout from the restaurants, to the kids club, to the drink cups on the pool deck! But alas, the large gingerbread house wasn't completed in the main atrium yet, although it did smell AMAZING, and they were working on it the whole time!
We always do some downtime in the middle of the day to keep the kids refreshed, and it was nice to see some of the on demand shows available in your stateroom were Christmas themed.  My kids got to watch Mickey's Christmas Carol from the 80's, and they loved it!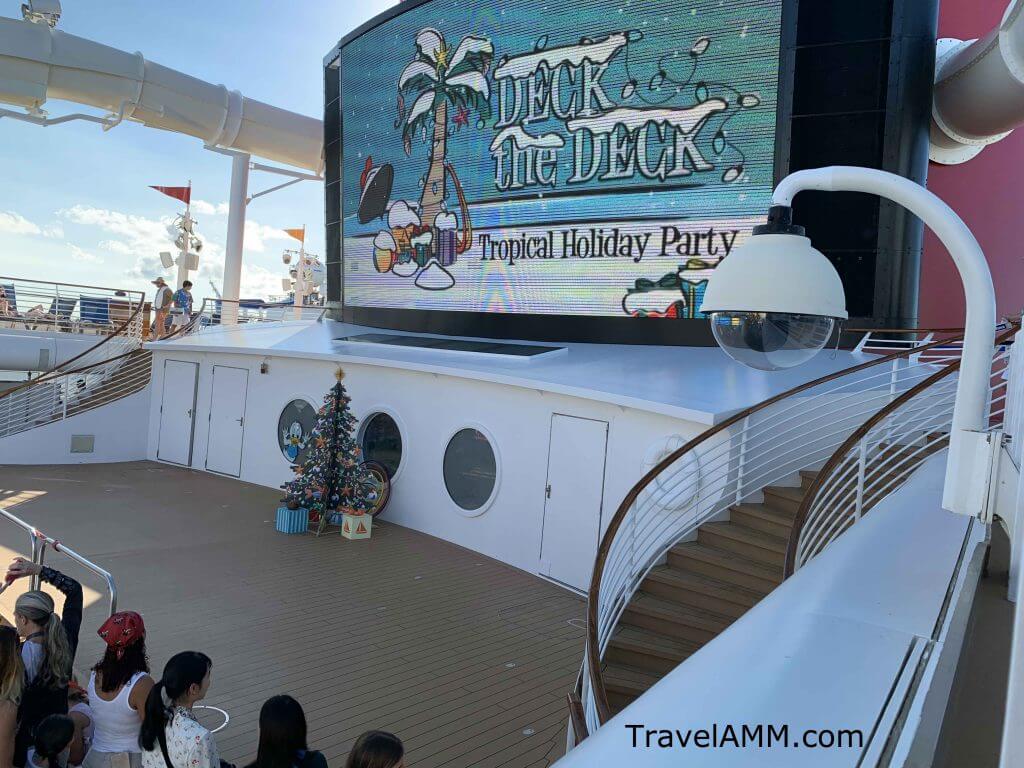 Have you looked longingly at the special holiday merchandise they sell at the theme parks over the holidays, like those amazing popcorn buckets?  yup!  You can get them on a Merrytime Cruise too!  Plus they have limited items available in the stores, and you can order special holiday gifts and amenities to have your room decorated upon your arrival!
Was It Worth It?
I'm so happy we got the chance to do this cruise this year. It for sure got a two thumbs up, and it was super handy to have Santa onboard so I could keep reminding my kids he was watching their behavior! I wish we had been able to do a longer cruise, so that we weren't running around as much trying to see everything and do everything over the 3 nights we were on the ship, but as I always say, any day on a Disney Cruise is better than a day away from a Disney Cruise!
Considering a Disney Cruise Line Vacation for your next out of town adventure?  Contact me for more information!
Super big fan of Star Wars?  Did you know the Disney Cruise Line offers Star Wars Day at Sea cruises during select times on the Disney Fantasy? Click here for a quick review.