One of my most favorite places to stay at the Walt Disney World Resort is Bay Lake Tower at Disney's Contemporary Resort. I love the location, the look of the rooms, and the amenities at the resort. I find the resort peaceful, but also right in the middle of the action. It's seriously the best of both worlds when you stay here!
What are the rooms like?
Bay Lake Tower at Disney's Contemporary Resort is one of the Disney Vacation Club resorts, and it's a monorail resort too.  Guests can stay in a studio villa, 1, 2 or 3 bedroom villas.  Studios come with a kitchenette that includes a toaster, microwave and fridge, while the 1, 2, and 3 bedroom villas have master bedrooms, sleeping areas in the living room, full kitchens, and washer/ dryers.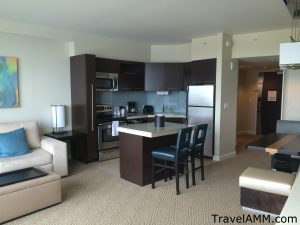 We stayed in a 1 bedroom villa on our last visit. This was the second time we stayed at this resort, and again it was it was perfect for our family needs. We had a king sized bed in the master bedroom, with our own private bathroom. The kids slept in the living room area. Not only did the couch pull out to be a sleeper sofa, but the chair also converted to a sleeper chair that our older child slept on. And the living room area has a separate full bathroom in it, so the kids have their own space to bathe in.
I also really like having the ability to do laundry in our room during our trip.  I throw a load in when the kids start their bath at night so that I can pack less on our trip, and I don't have to deal with stinky theme park clothes when we get back home. Don't stress about bringing laundry detergent with you if you stay in one of these rooms, they provide you a supply!
Can you see either the Magic Kingdom or Bay Lake from your room?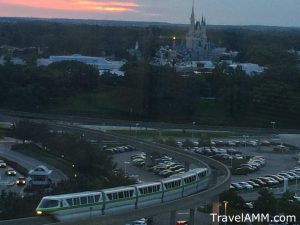 There are different room categories you can book, with a Bay Lake view and Theme Park View both being an option you can select from. If you have a Theme Park View room, you can even watch the fireworks from your balcony! Don't fret if theme park view is all booked up for your travel dates, the elevator lobby on each side of the tower will offer a good view, depending on what floor your room is on.
I LOVE the nostalgia of staying at one of Disney's two original resort properties, Bay Lake Tower was built where one of the garden wings for the Contemporary used to reside. One of my favorite things to do when staying at a Magic Kingdom Resort is to watch the Electrical Water Pageant that performs on the Seven Seas Lagoon and Bay Lake each night.  It's not a long show, but it brings back childhood memories every time I watch it, and my kids love it too! During our last stay at this resort, we had a Bay Lake view, not only could we watch the water pageant from our balcony, but in the far distance we could watch both Epcot and Hollywood Studio fireworks.  It was awesome.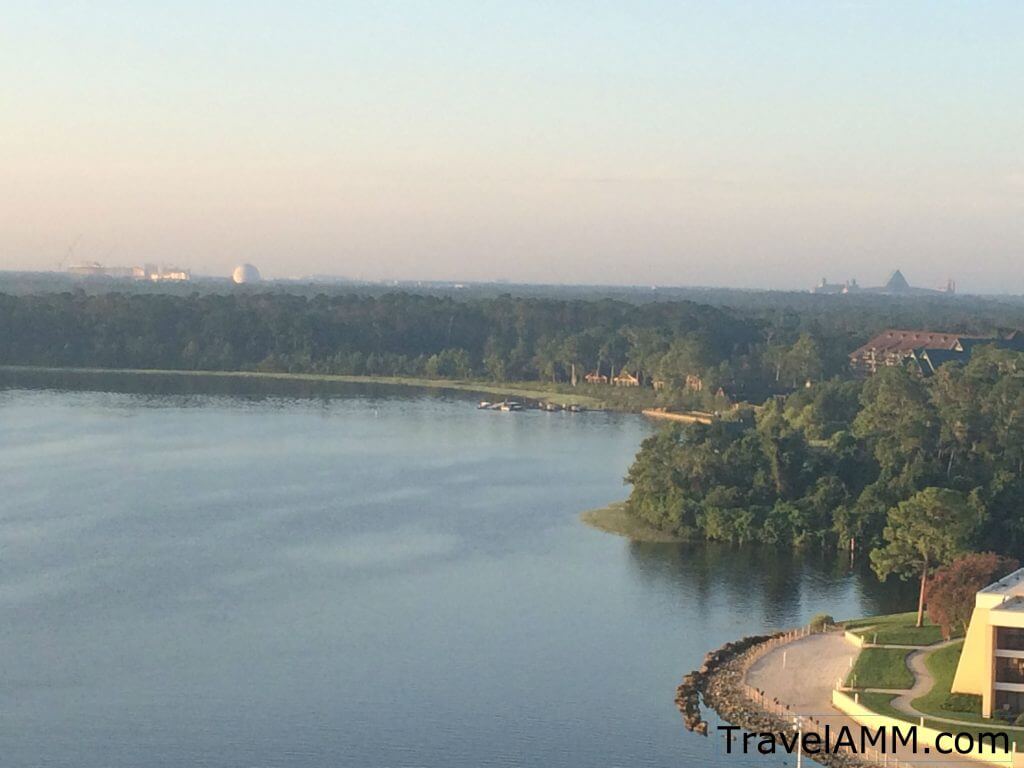 Dining options?
Your dining options are located at Disney's Contemporary Resort, (if you don't cook in your own room,) so you will have to take the elevator down from the Tower to the covered walkway between the two resorts to get to the food options. The quick service restaurant, Contempo Cafe, has a large selection of meals to pick from, and you get to watch the monorail go back during your meal. This is especially handy if your kids are "hangry" like mine are after time in the parks.
Should you wish to do a sit down meal, you have multiple options to choose from:  the scenic California Grill, with amazing view of the Magic Kingdom; Chef Mickey's, a super fun character meal; and The Wave… of American Flavors.
How's transportation?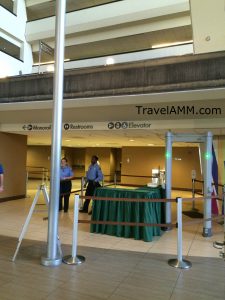 Not only are you able to decide if you want to ride a monorail or a boat to the Magic Kingdom, you could WALK there and probably arrive faster!  We always walk to the park from the resort when we stay there because you have your own private security entrance right after you cross the crosswalk.  The lines are minimal, and the amount of time it takes to walk, is usually shorter than the time it takes you to ride the monorail all the way around to drop you off at the park.
If you wish to visit Disney's Fort Wilderness Resort, or possibly have dinner reservations at that resort, you can easily take the boat over to catch the Hoop Dee Doo Review or make your meal time at Trail's End Restaurant. A visit to Epcot will require a quick monorail trip to the Ticket and Transportation Center, and then a transfer to the Epcot monorail, but for visits to other Disney theme parks, you'll find bus transportation will get you there.
Bottom line opinion:
Have I mentioned how much I love this monorail resort? It is in a really great location, with awesome amenities. You can't beat the ability to walk to the Magic Kingdom, and the Disney magic that is present in the resort is second to none. It can be a tad inconvenient to get back and forth from Epcot because you have to take 2 monorails to get there, but if I was not visiting Epcot many times during my trip, it would not deter me at all from staying here.
Is this more space than you need, but you like the idea of having 2 bathrooms?  Check out the family suites at Disney's Art of Animation Resort.
Want to stay at Bay Lake Tower on your next family vacation to Disney? Contact me today and lets start the planning process!
Looking for a fun time of year to visit the Walt Disney World Resort? Check out this post all about Epcot's Flower and Garden Festival that happens each Spring.