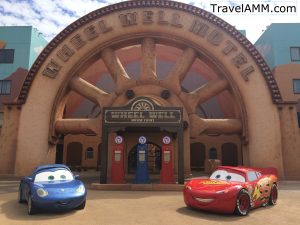 It's hard for my husband to get away from work at times, so inevitably when we go on vacation, he's up late working after the kids and I go to bed. Because he doesn't necessarily enjoy sitting in the dark working, or hanging out on the toilet seat so he can have light, we've had to upgrade our normal room layout to a suite, or sometimes a 1 bedroom villa. On a recent trip to the Walt Disney World Resort, we decided to try out a Family Suite at Disney's Art of Animation Resort, and because my kids are obsessed with the Cars franchise, it was kind of a no brainer as to which type we should stay in…
You guessed it, we picked a Cars Family Suite. The theming was spot on, the extra space was welcome, and the kitchenette was handy! We really liked it. I was worried the kids wouldn't want to leave the resort because they loved it so much, but thankfully the theme parks called and they were happy to answer!
Room layout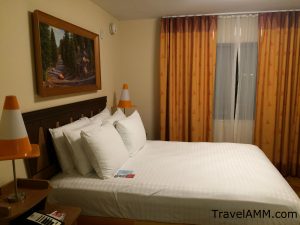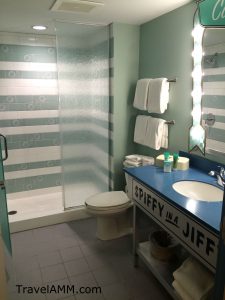 Each family suite at the Art of Animation Resort comes with a main bedroom area that has a queen sized bed, a tv, and a full bathroom.  The bathroom in the main bedroom does not have a tub, but has a large walk in shower.  There is a solid door that separate the bedroom from the living room area, so you can have lights or tv going in the "master" bedroom without disturbing people who are sleeping in the other part of the room.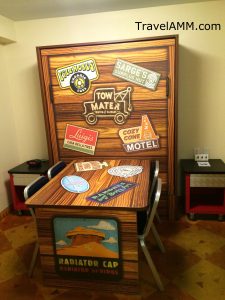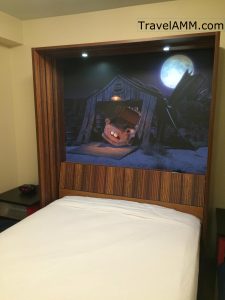 As you enter your family suite, you'll have a table murphy bed immediately to the side of the door. It's really handy because it's a full sized murphy bed, but when the bed is stowed, it is a table that can seat four! We used the table during the day for breakfast and snacks, then my older son slept on it at night. The bed comes with handy sky lights that light up the area in case you want to read in bed after the lights in the main living area are turned off. There is another full sized bathroom on your other side, this bathroom with a tub, so the people sleeping in the living room area don't have to enter the master bedroom to use the bathroom. Lastly, there is a sofa bed closer to the window area that is the final area for people to sleep in. If you were a family of 7 staying here with a child under 3 in a pack in play, you totally have enough space for 2 people in each bed, as well as a crib in the living room area without starting to feel claustrophobic.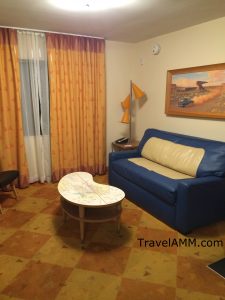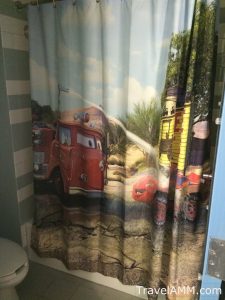 The living room also has a kitchenette which comes with a dorm sized fridge, a microwave, and coffee maker.  Disney provides you with paper towels, plates, bowls, and silverware so you can make or reheat food in your room with the limited cooking facilities provided. Our family always eats small meals for breakfast before we head to the parks, and we find the set up here to be perfect with our traveling style. We also never finish our table service meals, and found it super handy to be able to reheat our leftovers in our room before heading back to the parks to have some awesome snacks.
Pools!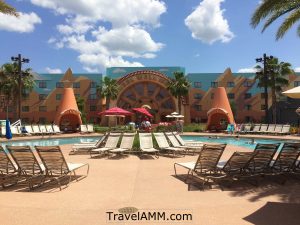 If you haven't ever toured Disney's Art of Animation Resort, it's totally worth a stop by to see how amazing the resort is. The themes that go along with all the building sections (Cars, Lion King, Finding Nemo and The Little Mermaid) are spot on.  The pools are amazing as well!  In the Cars section there is a pool that is themed like the Cozy Cone. It's got all the set up of the Cone, plus little cabanas that are like the "cottages" Sally rents out at her hotel!  It was SO cool. Unfortunately, I totally forgot to pack bathing suits on the trip, so the kids didn't get to enjoy the pool. (Luckily, it was a tad chilly during our stay so we kind of talked them out of pool time too!) Over in the Nemo Family Suite section they have a huge pool that is very popular and called the Big Blue Pool. Obviously the kids didn't play in this pool either (bad mother!) but they LOVED the adjacent playground and spent forever running around making new friends one evening.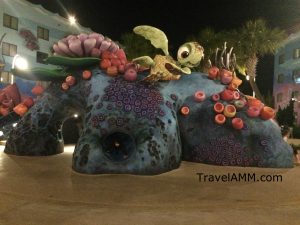 Yummmm!  Food Court!
I'm pretty picky with my food choices at Disney, and I have to tell you, the food court here is AMAZING! There's a huge variety of foods to order, and the portion size and taste is superb too. We really enjoyed everything we ate here, and I think if I was staying over at Pop Century, I would feel it was worthwhile to take a walk around the bridge to go eat at this food court I liked it that much.  I'm going to confess that each night when we got home from the parks, while the kids were taking a bath, I'd run to the bakery section and get some cookies for my husband and myself they were that good…
So our overall experience in this resort was VERY positive. We liked the location on Disney property, we really enjoyed the layout of the room, and the food court was a huge bonus. I think it's possibly because the resort is categorized as a "Value Plus" resort, so everything is a bit nicer than you would expect. We had a wonderful time, and the kids keep asking to go back and stay at the Cars resort again.
Do you need separate living/ sleeping areas, AND a full sized kitchen and laundry area in your room?  Check out this article about our stay in a 1 Bedroom Villa at Bay Lake Tower at Disney's Contemporary Resort.
Need assistance booking your next family vacation? Contact me today and let's get started!