One of my favorite vacations to go on is a Disney Cruise Line vacation.  It's the best of both worlds for my family. We get our Disney on with the shows and character interactions, but it's not so overwhelmingly Disney that my husband feels stifled. The kids love going to the kids club, the adults love getting to send the kids to the kids club and enjoying the adult areas we can't explore while they're with us, and everyone loves the fun family activities they have scheduled onboard that we participate in. (Mickey 200 winning family right here, thank you very much!)
I'm often asked how to get a good "deal" on a Disney Cruise vacation. Well, that's a tricky question, and what my family considers a "deal" may not feel like a "deal" to another family. So, with that in mind, here are the top five Disney Cruise booking tips to save you money on your next vacation!
1) Book Opening Week
The absolute best way to get the lowest rate possible on your Disney Cruise Line vacation is to book your trip the moment it becomes available for booking to you. The Disney Cruise Line opens their bookings in a tiered fashion, so during opening week, you will be able to book your cruise based on your prior sailing history with them. Usually Disney releases their sailings about 18 months out from the travel date, during 3 different time periods. Historically, it has been around October/ November for January through May of the following year; at some point between late February and early April, any remaining May dates, and June through September of the following year will be released; finally around May they will release the remaining part of the following year (October through December).
The Disney Cruise Line participates in dynamic pricing, so as the ship fills up, the cost of your stateroom is going to increase. It's because of this, that it is in your best interest to book opening week, especially if it's a popular/ novelty sailing that they don't do every year. If Disney is sailing to or from a Port that they don't always do each year, or perhaps have never visited before, it's probably going to be a sailing that books up quickly. It's crazy to watch the prices increase while you wait for your booking window to open up. A cruise I wanted to book for my family went up $100 over night between when it was open for Silver Castaway Club members, and the general public! So that's why I say, BOOK EARLY!
PROS– You have locked in best price available to you when you book during opening week the day you are able to do so (based on your Castaway level, or the fact that this will be your first Disney Cruise, so you're a new guest). Additionally, it's great if you want to make payments towards your final balance, because you have a LONG time to spread out the cost of the trip.
CONS– Well, one of those pros is also a con, because you have a LONG time to spread out the cost of your trip before you set sail.  And trust me, the wait seems like eternity until you sail…  I've booked a trip in May, for the following October before, I swear it seems like the countdown clock is spinning backwards at times.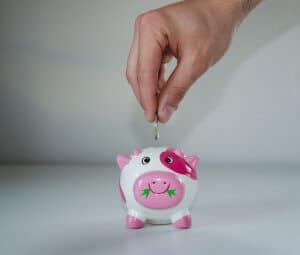 2) Book a Placeholder While Onboard
Did you realize you can secure a discount on a future cruise, while you are on your current cruise? Whether you have a specific ship and sail date in mind already, or you just know you are hooked on Disney cruising and want to go again sooner than later, make sure you visit the Future Cruise Sales Desk in the Disney Vacation Planning Center to get one booked.  You can only book one DURING your cruise, and the desk is only open certain hours of each day, so pay attention to your Daily Navigator and stop by during their business hours to get it taken care of. If you think about it at random times, and don't ever remember to go during their hours, you can also book one, without a specific date, via the DCL app on the ship.
What will this get me? Well, when you book a specific sailing date, or even a placeholder date for $250, that onboard booking will give you a 10% discount off the current published rate of the cruise you want to book. Additionally, depending on the length of cruise you want to book, you may also qualify for a reduced deposit amount.
Worried that you won't sail again within 24 months? That's ok, the reservation is fully refundable, and the cruise line will return your $250 to the original form of payment that you used to book the trip.
PROS–  The biggest pro is the 10% discount off the current cruise fare, and this discount CAN be used on opening day prices! Win win! You get the lowest rates available, PLUS a 10% discount on top of that! SCORE!
CONS– Unfortunately, you can't hold on to a placeholder forever, you only have 24 months from the day you booked it to use it.  That means your sailing must start, no later than 24 months from the exact date you made the reservation while you were on the ship. When you book it, at the bottom of your confirmation it will tell you the exact date that it expires. If you don't, it's ok, the money will be returned to the original form of payment, so you won't be out money, you'll just be not sailing as soon as you would like!  You cannot combine a placeholder with any other discount, including a guaranteed with restriction rate (see savings method #3), a Military or Florida Resident discount (see savings method #4), or any other limited time discount offered by the cruise line.  It MUST be used on a full fare sailing.
3) Book a Guaranteed with Restrictions Stateroom
Book a what?  Guaranteed staterooms with restrictions can provide a HUGE cost savings if you are flexible. They aren't offered on every single sailing, so when you see one, it's an exciting thing to be able to get! Make sure you ask yourself a few questions before you consider booking this category of staterooms-
Do I care if I have absolutely no say at all in the location of my stateroom?
Will I be happy if I can't have my room located near my friends and family that are on the same sailing with me?
Does it matter that I won't find out my stateroom number until right before I sail, possibly even right until I board the ship!?!
It's very important that you understand what you're booking when you book one of these staterooms. Guaranteed staterooms with restrictions (as opposed to REGULAR guaranteed staterooms) guarantee you a stateroom in the particular type of room you book.  So if you book an inside stateroom, you are guaranteed an inside stateroom, book an oceanview, your room is going to have a window, book a verandah, and you will have a balcony!  Sounds simple right?  Well, yes and no.  You don't have any say on which deck your room will be on, if you're traveling with friends or family, they may be on the total opposite end of the ship, and because you've booked this rate, you can't ask for a room change.  You also might not know your actual stateroom number until you arrive at the port, so if you need more control over your vacation, this rate, while enticing from a financial point of view, might not be the right one for your family.
PROS– You can score some amazing deals on a cruise that is much sooner in date than if you had booked during opening week.  It's also a great way to get a "reduced" rate on a cruise if you are a first time guest on the Disney Cruise Line so you don't have a placeholder to use.
CONS– As I tell my kids: "You get what you get and you don't fuss a bit." Your room is your room, you may not find out about your location until right before you sail, but even if you find out earlier and you don't like it, it's yours. The rates are fully nonrefundable and not subject to the cancellation penalties normal cruises fall under, it's just totally nonrefundable. You cannot change out guests if someone from your party ends up not being able to go. You will need to pay for the trip in full at the time of booking regardless of how far out your sailing is.
4) If you Qualify, Book a Florida Resident or Military Rate
On select sailings, Disney will offer a reduced fare to Florida residents or members of the U.S. Military. Not every sailing is included, but when they are included, you can get a great deal on a last minute cruise. Disney uses these "discounts" to fill up ships that may have lower numbers of guests already booked, so it's possible your ship will not be sailing to full capacity, which is pretty awesome! You will need to provide proof to the cruise line that you do qualify for the rate, and you may or may not be able to select your stateroom ahead of time, but it's a great way to get a discounted rate on a Disney Cruise.  Remember, these rates CANNOT be combined with a placeholder.   Wondering how to track these rates?  Follow my Facebook page, I post the newest updated rates every Monday!
PROS– Again, you can find some amazing deals on cruises you're interested in taking. You just have to pay attention to see which sailings are offered, and grab it right away when you see one you want because the cruise line does limit the number of staterooms offered at the discounted rate when they do release them.
CONS– These rates can be last minute, VERY last minute. That means the booking windows have already opened up for activities so you may not get everything you want before you get on the ship. You might also not get to pick your stateroom ahead of time if they are only discounting rooms as guaranteed status, rather than an actual stateroom category. Only second seating might be available for the dining time by the time you book the trip. You probably will have to pay for the trip in full at the time you book it as well. Not every trip is going to be offered, so you do not want to wait to book your cruise in the hopes that a military or Florida resident rate will drop for the sailing date you want.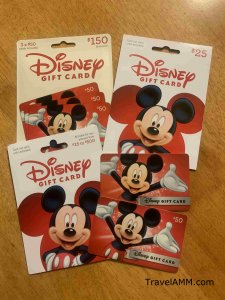 5) Pay With Disney Gift Cards
Um, ok?  Why would I want to pay off with Disney gift cards? Well, you wouldn't necessarily want to go to the store and just buy full priced Disney gift cards and pay off the trip with money that way, BUT if you have a credit card that offers you bonus rewards at specific types of stores (grocery store, warehouse stores, or even the Target card) it makes sense to get some Disney gift cards to pay down your balance.  Just remember to head to DisneyGiftCard.com to combine them into larger denomination gift cards before you use them to pay the trip off because you need to KEEP all the cards you pay with until after you travel.
PROS– Paying off your trip with discounted Disney gift cards can save you quite a bit on your trip.  In addition to the credit card rewards or fuel points you might score, some stores sell the gift cards at a discount, so you can doublely save.  Plus you can always ask for Disney gift cards as presents over the holidays or for special occasions…  Every little bit helps!  And it's a nice way to do a "savings account" situation for the trip because your money is tied to Disney, so you won't be tempted to use it on something else.
CONS– Well, remember, if you cancel your trip, the refund goes back to the ORIGINAL FORM OF PAYMENT, so you are stuck with that entire amount of money tied up to Disney. Are you ok with pretty much guaranteeing that you will be vacationing at a Disney location in the future? (Because if you're paying for a cruise, that's a heck of a lot of Disney store merchandise you'd  have to buy to use it all up!) Also, keep in mind, it's a lot of work to purchase the cards and then combine them, plus keep track of how much you owe vs. how much you have already purchased. If you lose the cards you paid for the trip with, and then end up cancelling or getting a refund for some other reason, it's going to take a lot longer to get your refund since they will have to issue you new gift cards.
So there you go!  Five totally doable ways to save money on your next Disney Cruise!  I've done all of them except the guaranteed with restrictions rate because I just can't give up THAT much control over my stateroom choice.  I know I would NOT be happy with the "you get what you get and you don't fuss a bit" scenario of that type of booking.
Please reach out if you have any questions about any of these types of ways to save. These are just very basic summaries of them, there are more details that go along with each scenario. I would love to help you book your next Disney Cruise Line vacation, I monitor the rates for my clients to be sure they get the best rate they qualify for.
We booked our Star Wars Day at Sea cruise under a Florida Resident rate, and it was a great time had by all!