When we booked our Very Merrytime cruise on the Disney Dream, one of the things I was most excited about was family craft time where you got to decorate a gingerbread house. I was so excited that I made my family arrive at our schedule port arrival time so that we could be certain to get on the ship early and I could head to guest services to sign us up before the line got too too long. This is a big deal for me because we always arrive later than our scheduled port arrival time so that we can skip lines and crowds in the Port. Well, we got on the ship as soon as our group number was called, I ran over to guest services only to find out they weren't doing it in 2018! Sigh.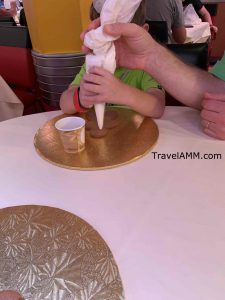 I'm not going to lie, I was really depressed during lunch. I kept reminding myself we were going on a Disney Cruise, there were way more things going on than just gingerbread house decorating, and honestly I was being irrationally sad about it. I couldn't let it go and decided to ask one more person about the activity and found out they weren't doing gingerbread HOUSE decorating but they were doing gingerbread COOKIE decorating instead. Woo hoo! Crisis averted! I wish the guy that told us no gingerbread house decorating had included the gingerbread person fact with his statement.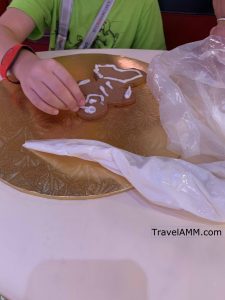 Unlike how it worked with gingerbread house decorating, this activity was not a separately ticketed event, with limited seating and availability. Gingerbread cookie decorating happened on two separate days of our 3 day cruise. It was a drop in, take your time, decorate at your own pace activity that was scheduled for about an hour and a half each day. We decided to go the first time it was offered on Saturday afternoon, while the ship was docked in Nassau.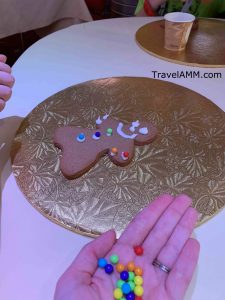 During our cruise, this activity was set up in Animator's Palate. A member of the entertainment staff was out front with hand wipes to make sure you come in with clean hands, and directs you to visit a specific area in the restaurant to pick up your gingerbread people. When we walked up, they asked us how many children were participating and gave us that number of cookies and decorations, but it looked like all the other tables had enough cookies for adults and children. They tell you to sit in any clean table and off you go!
The cookie comes on a round platter, and had little cup of sprinkle like decorations for each child to use when decorating their cookie.  We got one huge bag of icing for the family, but each child did get their own sprinkles for their cookie. Besides the tree lighting ceremony, I think this was the kids favorite activity that we participated in. The kids enjoyed watching the deck party and meeting Santa himself, but the cookies, combined with being able to personalize them, then eat them, make this family craft a winner for us.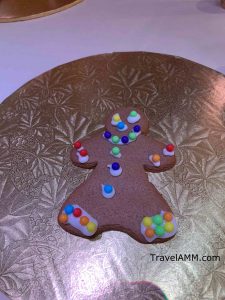 We left what remained uneaten of our gingerbread guys in our stateroom at the end of our cruise because we thought we couldn't bring them off the ship. However, when we went through customs, the customs agent said it would have been fine to bring them with us. Oh well, you win some, you lose some. I'm just grateful we found out about this activity and were able to have some great family fun together before the kids wanted to go back to the kids club. If you're heading out on a Very Merrytime cruise this season, make sure you check your personal navigator closely so you don't miss out on this really fun activity. And even though it said family craft time, don't shy away if you're traveling with just adults. Everyone is a kid at heart and should decorate a cookie!
Did you know the Very Merrytime cruises are not the only speciality cruises offered on the Disney Cruise Line? Disney currently also offers Star Wars Day at Sea cruises; Marvel Day at Sea cruises; and Halloween on the High Seas cruises that all offer different themes in addition to the standard cruise activities.
Thinking about sailing away on a Disney Cruise with your loved ones? Contact me today so we can star planning the fun!