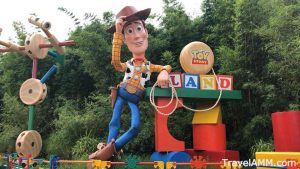 Have you had a chance to visit Toy Story Land in Disney's Hollywood Studios at the Walt Disney World Resort yet? It opened in the summer of 2018, and it's SO much fun! Immersing guests in the world of Woody, Buzz Lightyear and all their Toy Story friends, you'll find new food options and fun rides to explore.
Why is everything so big?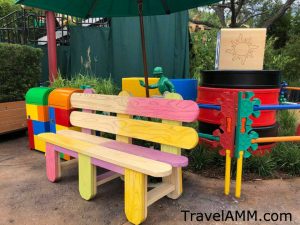 When you first walk in to Toy Story Land, you'll notice that suddenly everything seems larger, a lot larger. Why is that? Well, you're now a toy, and what would be a small item from the perspective of a human is a huge item from the point of view of a toy. If you look closely at the ground, you'll see ginormous footprints because Toy Story Land actually takes place in Andy's backyard, and those are Andy's footprints from where he's walked around. Benches are made of popsicle sticks, and Buzz Lightyear is the size of a house! This part of the park really does transport you to a whole different world.
What can we ride?
There are 3 rides in Toy Story Land- Slinky Dog Dash, a roller coaster; Alien Swirling Saucers, a fun family ride; and everyone's favorite Toy Story Mania, a carnival themed 4D ride!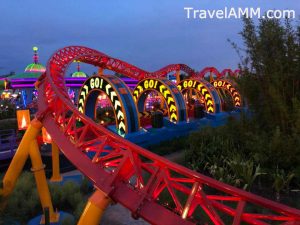 Slinky Dog Dash is a super cool new roller coaster. If you're picking fastpasses for the Studios, and you like coasters, I would suggest you grab a fastpass to this attraction as your one Toy Story Land fastpasses because the lines for this coaster can be really long. Even if you arrive at rope drop (park opening), you're going to be facing a pretty long line because the ride is that popular. Don't worry if not everyone in your traveling party is tall enough to ride, this attraction participates in Disney's rider switch program, so you can all enjoy the ride with family. When you ride this coaster, you're actually SITTING in Slinky Dog, and the queue, while outside, is fully of neat things to look at and keep you occupied.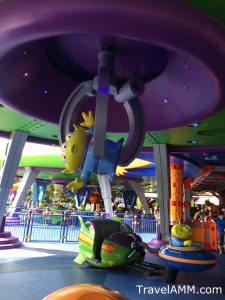 Alien Swirling Saucers is a really fun family ride, that does have a height restriction, so you might need to participate in rider swap here too. If everyone meets the height restriction, don't worry about people being scared of the attraction because it's a pretty tame ride. Your ride vehicle is a toy rocket, and the aliens swirl you around while you listen to some crazy alien dance like music. If you can handle the twirls of the Tea Cups over at the Magic Kingdom, this attraction will be just fine for you. The path of the attraction is very similar to that from Mater's Junkyard Jamboree in Cars Land at Disney's California Adventure, at the Disneyland Resort. My kids LOVE this ride, and it has now replaced Toy Story Mania! as their favorite Hollywood Studios ride. If you are not going to fastpass Slinky Dog, then I suggest you use your fastpass on this attraction because Toy Story Mania lines move faster than the other two attractions.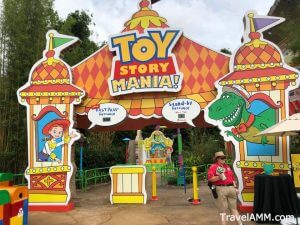 Toy Story Mania! is the same attraction as it was before Toy Story Land opened up. There is no height restriction on this attraction, so everyone can ride it, but know that 2 people sit next to each other at a time, so if your party size is an odd number, you may have someone riding alone. This ride has a GREAT queue, and much of it is in the air conditioning, woo hoo! You'll get to see plenty of your Toy Story favorites from all the movies, while you ride along and compete in various carnival games. My favorite one is always when we get to smash plates, my kids like any of them that have the interactive elements that make the ride 4D.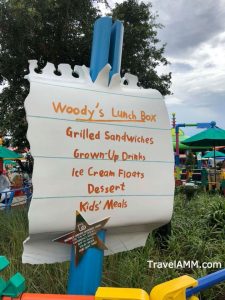 What food options are there?
Getting hungry while you're there?  Head on over to Woody's Lunch Box.  Serving breakfast, lunch, and dinner, it's got plenty of different options to make everyone in your traveling party happy.  Do remember though, because the theme of this part of the theme park, is a backyard, the seating is outdoors, and can be quite hot during the summer.  They have plenty of fans, and umbrellas out to help beat the heat, but there is NOT an air conditioned area to eat your meal in, you will have to eat it outside.
Can I meet characters?
Yes!  As of the publishing of this blog post, Buzz Lightyear is available to meet as you walk in to Toy Story Land, and Woody and Jessie have their own meet and greet area near the entrance to Toy Story Mania!  If you're lucky, you'll be there when the Green Army Men are walking around in both a drum corp, and then with an interactive boot camp.  We were able to watch the boot camp, and it was very funny.  Not only were the jokes by the Green Army Men amusing, but the antics they participated in, and had other guests participate in, hilarious.  If your kids are huge Toy Story fans, make sure you time part of your visit to see this, they ask for guest participants!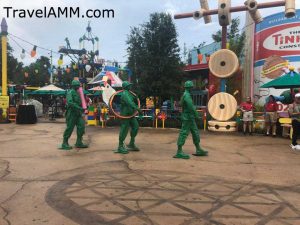 Disney's Hollywood Studios has been a special park to me from the first time I visited. I'm really excited to see the evolution of this park as they add more attractions in preparation for both the 30th anniversary of the Studios in 2019, and the 50th anniversary of Walt Disney World in 2021. I think Toy Story Land was a good start to get the Studios back up to speed, and am really excited to see what Star Wars: Galaxy's Edge will bring!
Want to check out Toy Story Land in person?  Contact me today and let's start the planning process!
Trying to figure out where to stay? Here's a recent resort review to give you an idea of what's available at the Walt Disney World Resort.