I've booked my Disney Cruise, I see the vacation cost total, but what's really included in my cruise fare? Do I need to pay more to meet the characters?  Is food extra? What about sodas or coffee? Read on to find out just how much is included on your Disney Cruise Line vacation.
Food!
Breakfast, lunch and dinner are included when you're on the ship. Have mid-day munchies, or just want a snack? There is food available on the pool deck almost all day, just check your daily navigator to see which restaurants are open for what hours. If you aren't in the mood for quick service food, you can always order room service delivery! Most room service is included in the cost of your cruise, you'll be able to tell which items have an extra fee on the menu before you order it. One thing we like to do is to order warm cookies and milk and enjoy it before bed! My husband also orders a carafe of coffee at the same time. He saves the coffee for the morning, and has that when he first wakes up because the thermal carafe keeps it hot all night long. Don't forget, the soda machines on the pool deck are open 24 hours a day, so you'll never be thirsty!
Kids Clubs!
If your child is between the ages of 3 and 17, the kids and teen clubs are included in the cost of your trip! Disney cruise line kids programing has amazing hours too! The clubs are open the whole day, and into the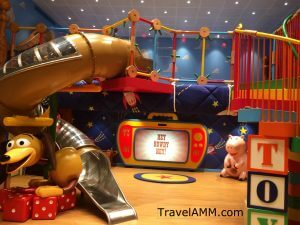 evenings so both parents and kids can enjoy themselves. If your child is apprehensive about going to the kids club, check the daily navigator for open house hours. While the clubs are strictly off limits to adults during the regularly scheduled programing hours, there are certain times of day (beyond embarkation day) where a club may host an open house session. During that time you can go with your child and help them enjoy the activities going on to make them more confident to attend during the regular operating hours on their own. We have had to do this with our kids each time to get them to feel confident enough to stay and play on their own later.
Want to hear another amazing thing about the kids programing on the Disney Cruise Line? When you are on the second dining rotation, the Disney Cruise Line offers what's called "Dine and Play." This is where kids club counselors come to each main dining rotation during dinner and pick the kids up to play in the children's programming areas while their parents finish their meals at a more leisurely pace.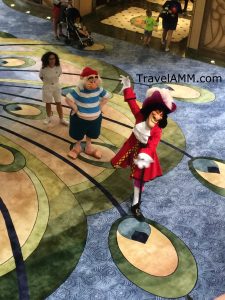 Characters!
Yep!  No need to pay extra to see characters on your cruise, it's included in the cost of your fare. Plus, if you're on a 7 night cruise or longer (as of the time of this post) your sailing will have a character breakfast you can get tickets for! For the most part, you can just go to the designated area listed in your Daily Navigator to meet the characters, but there are a few activities that you need to get tickets for ahead of time, including the character breakfast, the Princess Gathering (think Princess character speed dating with pictures!) and if you want to meet the Frozen Characters. Plus, some of my favorite interactions have been spontaneous ones that have happened when the characters wandered around the ship!
Entertainment!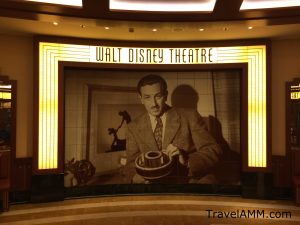 The ships offer Broadway caliber shows, and first release movies, there's bound to be an additional charge for that right? WRONG! All entertainment is included in the cost of your trip. There are plenty of Broadway caliber shows on the ships, including Beauty and the Beast on the Disney Dream; Frozen, A Musical Spectacular on the Disney Wonder; or even Tangled: The Musical on the Disney Magic, there is nightly live entertainment that will captivate and thrill you. Plus, Disney is constantly showing movies onboard as well! You can catch Disney Classics in the movie theater as well as on the funnel vision screens on the pool deck. Your Daily Navigator will let you know what is showing where and when! Plus, if you're onboard when a new movie releases, they're do a special movie release at midnight, and show it onboard as well.  For NO EXTRA COST!
Beach items!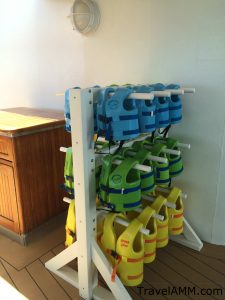 If you're like me, and you NEED a chair when you go to the beach, don't worry, that's not an extra cost either!  Beach chairs and umbrellas at Castaway Cay are included, and available on a first come first served basis. I've been to Castaway quite a few times, and have never had a problem finding an empty chair in a great location to enjoy. There are also hammocks on Castaway that you can enjoy if you get there early enough to snag one!
Don't take up extra space in your luggage for your beach towels either! The Disney Cruise Line provides towels for you to snag as you get off the ship for your port adventures, and they also keep them stocked by the pool deck for your use at the pools.
Don't worry about bringing life vests for your little swimmers either, those are available on the pool deck for use in the pools, and also they are on Castaway Cay for use in the water there.
Hopefully these tips will keep everyone happy and having a good time during the cruise so you can avoid unexpected surprises during your travels. Bon Voyage!
Need help planning your next family vacation?  Contact me today for more information!
Wondering how main dining rooms work on the Disney Cruise Line? Check this out for more details.
On the fence about whether you should get travel insurance to protect your vacation investment? Read this to hear some stories from past clients about their experiences with travel insurance policies.