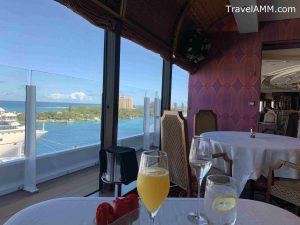 On our last cruise my husband and I had a chance to enjoy a nice brunch at Palo on our Nassau port day. We rarely get off the ship in Nassau, and this trip wasn't any different, so we decided to send our kids to the kids club, and had a lovely adult only meal! Yippee!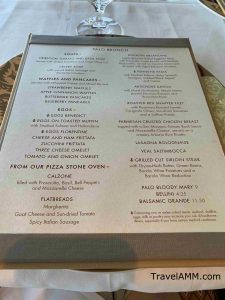 Palo is an adult only (18 and up) restaurant which costs an extra charge not included in your base cruise fare.  Offering dinner each night, and brunch on select days, it is a very popular reservation to make. The cuisine is Northern Italian cooking with a modern twist, and brunch is available on all four ships. Whether you are sailing on the Disney Dream, or the Disney Magic, the Disney Fantasy, or the Disney Wonder, chances are, brunch will be offered at some point during your cruise.  Now, whether you can find a reservation ahead of time is another story. Brunch reservations are a VERY popular reservation to grab. They often sell out right as the Silver Castaway Club booking window opens up, or you might find that it has already sold out prior to Silver being able to book activities, so it can be very hard for first time cruisers to be able to dine during brunch.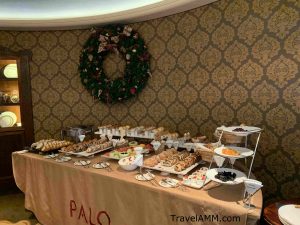 I hadn't been to Palo Brunch in a few years and I was really excited to do it again for my birthday, plus I wanted to compare it to our Remy Brunch and see if I preferred one over the other. While it's not as much of an extravaganza as the meal prepared during our Remy Brunch, it was still a lovely meal, and I would for sure do it again.
We lucked out and were seated at a table right by the window, with an awesome view of Atlantis in the distance. The restaurant was peaceful, and we were not rushed at all during our meal… a nice change from our normal family dining situation! We started off with mimosas while looking over the menu.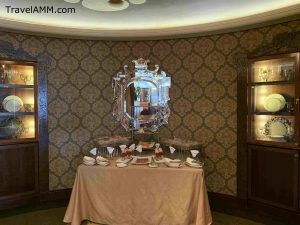 Unlike Remy, where the menu is already set with what you will be served, when you have brunch at Palo, you are able to select your entree from the menu, plus you can enjoy all the delicious appetizers and desserts from the buffet. Whether you want breakfast food, lunch food, or both, they have plenty of delicious options to pick from. We had already had a sit down breakfast with our kids that morning, and our brunch reservation was more during the lunch hour, so we just ordered more traditional lunch items instead of a sampling of both meal periods. My husband and I never get a date night, so this meal hit the spot, we had an amazing view, amazing service, and amazing food, plus the kids were content piloting the Millenium Falcon without us!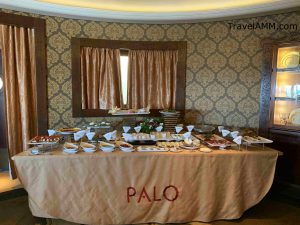 While you're waiting for your entrees to be made (because you CAN order more than one when you see how awesome the selections are) you get to visit the buffet to select your appetizers. With seafood, meats, cheeses, fruit and sweets to load your plate up with, there's bound to be something that will appeal to you. Thankfully your server will give you a tour of the area before you are sent off on your own to make your selections. That way you can be sure to save space on your plate for a little bit of everything you want to try. But, if you don't have space as you get towards the end of the offerings, have no fear, you can always go back for me… I may or may not have had that "issue."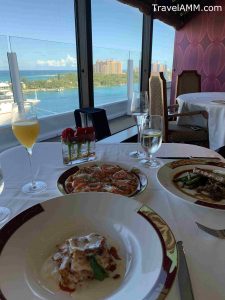 We couldn't pick just one entree for each of us, so we ended up ordering one entree each, plus a margherita flatbread to share between the two of us.  My husband got the steak while I got the lasagna.  Last time I got the chicken parmesan, and I can say for sure, that I like the lasagna better, but as we all know, food is such a personal preference thing, I'm sure there are a ton people out there giving me the side eye for that statement! I will say, we both highly enjoyed the flatbread!
After our entrees, we sat for a few to make space for DESSERT! Remember how I said you could order more than one entree… well, don't worry, you can pick more than one dessert too! I might have made a sampler plate, and then done a second round to get more of the ones I really really liked.  But you can't prove that, my pictures only show one of each item right?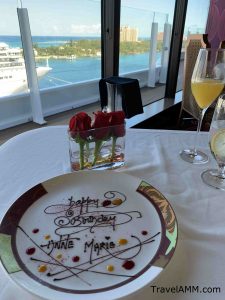 When we first arrived, our server asked if we were celebrating anything on our trip. My husband told her it was my birthday in a week and she wished me a happy birthday, but didn't bring it up again. I didn't expect anything extra because when we went to Remy my birthday was noted on the reservation, but they didn't do anything extra. This time, when we were done with our meal, the server came and brought me this beautiful birthday wish. It was totally unexpected, but completely an instance of Disney magic at its best.
Neither of us are big foodies, but we both enjoyed our brunch at Palo. We would for sure do it again, but we liked the Remy brunch better, which surprised us since the meals are such different experiences, and my husband is a huge Italian food fan.
Wondering what additional costs you might encounter on your Disney Cruise Line vacation?  Check this post out here for some guidance on what is included with your trip.
Not interested in doing adult dining?  Here's an explanation of how the main dining rooms work on the Disney Cruise Line. It's different from what you've experienced on other cruise lines!
Ready to plan your next great family adventure, contact me today for more information!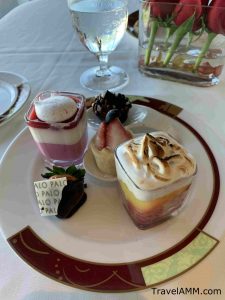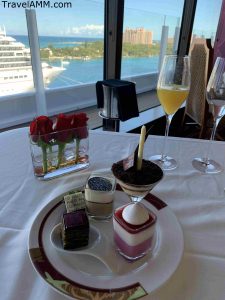 [social_warfare]