We love ordering room service on our Disney Cruise Line vacations! Whether it's a long sailing, or a 3 night cruise, we will order room service at least one time each trip. Here are the top five room service tips and tricks you may not realize to help make your next Disney Cruise Line room service adventure, pure magic.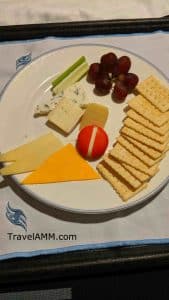 5- Disney Cruise Line Room Service is FREE!
That's right, you heard me correctly, room service on the Disney Cruise Line is included with your regular cruise fare, and it's available 24 hours a day! Woo hoo! You will notice within the menu that there are a few specific items are available for an additional charge, but for the most part, your order will be complimentary, and the only money you will need to worry about is tip money for the cast member who delivers the items to your room. We just add our tip on to our stateroom account and settle it up at the end of the trip, but you could hand them cash if you wanted.
4- Order Excursion Snacks Ahead of Time from Room Service
We always snack in our family, so when we get off the ship for an extended period of time, we really need to have food with us. The kids eat lunch so early at school, they get hangry by 11 am on a regular basis, sooooo that means we need to bring some excursion snacks with us. In order to not bring like a million pounds of luggage with us, we order some stuff from room service to solve that problem for us.
Smuckers Uncrustables are a pretty filling meal so if your excursion is out during lunch, it's totally fine to say to your kids, hey you want a PBJ sandwich and they'll be pleased with "lunch" while away. Just make sure you order them with the wrappers still on when you place your order for them, we usually do it the night before.

3- Warm Cookies and Milk!
You know those cookies you can get up on the pool deck? Well, you can get them from room service, and ask for them WARM! That's right, you can order yourself a nice glass of milk and some warm cookies to be delivered directly to your room. It's an awesome way to end your day, and we do it a few times each trip.
2- Cake of the Day
Say WHAT of the day? Did you realize the Disney Cruise Line offers a different cake of the day that you can only get via room service? Yup, that's right, you can order the cake of the day, and it's going to be different each day! Just give room service a call to find out what the specific flavor is, and if it's something you like, they'll bring it up to you room for you.

1- Start Your Morning Off Right!
Want to make the start of your day more relaxing? Do you have kids that wake up early and you want to sleep in a bit before getting dressed and heading to breakfast? I've got the PERFECT solution for you! When you are ordering your Uncrustables and your cookies and milk in the evening, throw on a carafe of coffee, some yogurt, and a bowl of fruit to that room service order as well. Put the fruit and yogurt in your fridge over night, set the coffee on the counter, and voila, you have your pre-breakfast already ordered. The kids can wake up and get the yogurt and fruit out of the fridge for an early morning snack while you snooze, or the adults can enjoy coffee on the verandah before you officially start your day. The carafes that they send the coffee down in will keep your drink nice and warm so it's a perfect start to your day.
Oh my word I'm hungry and wishing I could pick up the phone to call someone to bring me warm cookies and milk right now. Oh wait, I'M the person who has to bring the cookies and milk. Hmm, seems like I need to sail again soon…
Are you ready to head out on your next vacation adventure? The Disney Cruise Line sails year round out of Port Canaveral, Florida, and seasonally out of Galveston, TX; San Diego, CA; Vancouver (British Columbia), Canada; New York, NY; Barcelona, Spain; Civitavecchia (Rome), Italy; Copenhagen, Denmark; Dover, England; San Juan, Puerto Rico; Honolulu, HI; New Orleans, LA; and Miami, FL. Contact me today and we can start planning your magical vacation!