Have you always wanted to attend Halloween Horror Nights at Universal Studios Florida, but you're just a little bit apprehensive because you don't want to be scared? Are you a HUGE Halloween Horror Nights fan, and want to know all about the artistry and creativity behind the different scare houses? Well if you answered yes to either of these questions, then I have the PERFECT thing for you do during your next visit to the Universal Orlando Resort during the Halloween Horror Nights season…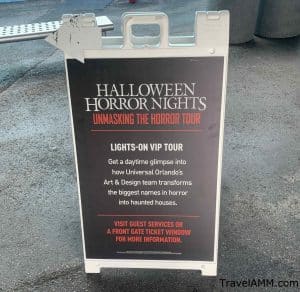 What is this perfect activity you think I should do?
It's called Behind-the-Screams: Unmasking the Horror Tour, and it's a daytime V.I.P. tour of Halloween Horror Nights that takes you to either 3 houses, or 6 houses (depending on which tour you book) with all the lights on! Your V.I.P. guide will take you all through the houses, you'll hear the history and theme of each house you visit, learn where scare actors will be standing, find out about the visual effects used, and be allowed to take a few pictures in each house.
I was able to book a 3 house tour on my recent visit to the Universal Orlando Resort, and my tour guide was Kelly (she was TOTALLY AMAZING, you should request her as a guide if you do this tour!). Let me preface the rest of this blog by openly admitting I have only been to Halloween Horror Nights once in my life, and it was probably two decades ago! I don't watch horror movies, and I know basically zilch about anything represented in the ten houses that are part of the event this year. We lucked out and our tour was a VERY small group, only four of us! Two of the people were a couple who were HUGE Horror Night fans/ annual passholders. Not only had they been to the event the night before, but they had also gone prior years and had seen all the movies/ shows the houses were based on.
Annnndddd then you had myself and my friend, who were basically completely clueless about everything, except at least my friend had some knowledge of Stranger Things, which I knew nothing about either. Kelly was so awesome because she dumbed it down for the two of us who were not huge horror gurus, but she also was able to make it engaging for the couple who WERE huge horror fans. Kelly was great about answering all our basic questions about the event, but making sure the other couple got their money's worth too! Seriously guys, she was awesome. Book her tour.
Spoiler alert! Don't read on if you don't want to know specific details about these tours!
If you plan to do one of these Halloween Horror Nights tours, and want to be surprised about which houses you visit in 2019, and what your gift for doing the tour is, read no further, find something else wonderful to read on this blog of mine, but don't keep reading this post. If you're like me, and it's not unusual for you to flip to the last page of a book, then keep reading because here's the scoop on our 3 house tour!
It comes with a gift???
Every tour comes with a gift. Last year, you got a lanyard, but this year, you get a nifty pin! It's the same style they give out for the monthly annual passholder pins that are SO coveted each month, but this one is exclusive to guests who have taken one of these Unmasking the Horror tours. The pin itself says "SIF happens", which confused me, until Kelly explained to us that SIF is the acronym for "stuff in face," it's the hanging creepy things you walk through that scare you because you don't see it coming as you're walking through the house in the dark. SIF is the water that squirts you in certain scenes that you totally think is blood. SIF is all that stuff that unexpectedly hits you and startles you to make the experience that much spookier. SIF is what helps make Halloween Horror Nights Halloween Horror Nights.
Which Halloween Horror Nights houses do I see?
If you're doing the 3 house tour in 2019, you'll visit Universal Monsters, Graveyard Games, and Killer Klowns from Outer Space. If you're doing the 6 house tour, you get to visit the all new STRANGER THINGS house, Ghostbusters, House of 1000 Corpses, Depths of Fear, Nightingales: Blood Pit, and Yeti: Terror of the Yukon. Neither tour visits Us, as apparently it's more about the effects at night, and doesn't give as good of a daylight experience as the other houses.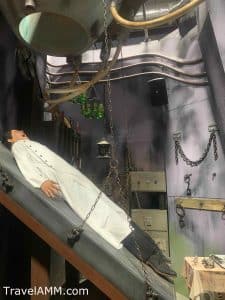 One thing I really loved about this experience was learning some history of how the individual houses came about. For Universal Monsters, it was awesome to hear about each of the "monsters" they featured in the different scenes, and it was super cool to hear a shout out to Wakulla Springs (a Florida State Park located near where I live) because that's where the Creature from the Black Lagoon was filmed. I loved learning more about the different monsters in the house, and the actors that portrayed them in the original movies. One of the neatest things was hearing about the transitions from room to room, plus the little easter eggs the Universal Creative Team placed within the houses.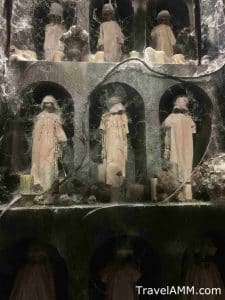 Graveyard Games was neat, but it kinda creeped me out because of a few rooms full of dolls. Dolls are just creepy… creepy, creepy, creepy. I never liked dolls as a kid, they've always just not been my cup of tea, but when you throw in the Universal Creative team trying to make the dolls even creepier? Yeah, I'm good, I'll only visit with the lights on. While it creeped me out just being in that house, it was amazing because the tech crew was working on some different scenes making sure all the scare zones were working, so we got to see a few of the elements in use with the lights on! THAT was super super cool, and unexpected the first time something moved.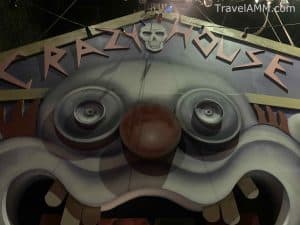 The last Halloween Horror Nights house we visited was the Killer Klown house. You know what I dislike as much as I dislike dolls? Yep, clowns. They don't creep me out as much as dolls, but I REALLY don't like them. This house was really cool because not only did you have the scare actor placements, and the creepy set ups, but there were also areas where guests could make elements of the house happen. I don't think I'm describing it well, but there were some fun house elements to it, for instance, buttons that guests can press on that will cause something to happen. Whether it's jets spitting unexpected air at you, or water squirting someone across the way, as Kelly told us, if you're in a house, and you see a big red button, press it because it's bound to do something fun.
Was it worth it?
That's a quick summary of our tour, it was super fun and I did enjoy it a bunch. If I did it again I would book it sooner so I could get a lower price. I booked my tour last minute, and as you know, Universal participates in dynamic pricing, so the closer you get to the date, the higher the cost is, which meant my tour was more expensive than I would have liked. BUT remember, you don't need park admission for this tour, so if you were someone looking for a last minute activity during the day, this would be a great value add for a resort or pool day during vacation.
With me not being a horror fan, and it being highly unlikely that I would attend the Halloween Horror Nights event myself, I don't know that I would ever go for the 6 house tour based on the time commitment even though the cost was not that much higher than the 3 house tour. We talked to some people who were on the 6 house tour, and they thought it was AWESOME! But they were also huge HHN fans, and planned to go to the event multiple nights. I think the 3 house tour was perfect for me because it was the perfect length (we checked in at 10:30 for our 10:45 tour, left the building at 11:15, and then were done by 2 pm) and I got a great sample of the event.
Final verdict?
Two thumbs up. It was a good use of my time, and a fun way to experience some Halloween Horror Nights activities without actually getting scared.
Are you not a big coaster fan but still want to have a fun trip to the Universal Orlando Resort? Check out this post about how to handle Universal when you're a nervous rider!
Need help booking your next Universal Orlando Resort vacation? I'd love to help you out! Please feel free to contact me today and we'll get started planning that next fun vacation.