As you know, my birthday is in November, so when we went on our cruise (first REAL family vacation since October 2019!!!! Squee!) we splurged on one extravagant extra for everyone to enjoy. You're probably thinking, what could be more extravagant than a Disney Cruise Line vacation?
More souvenirs? Nope, I'm on a minimalist kick at the moment. I want to spend my money on experiences and activities, not on clutter.
Royal Court Royal Tea? Nope, the boys aren't super interested in characters anymore.
Attend every single bingo session and not win a thing? Sigh, that would be epic, but not this trip.
Ok, I've kept you in suspense long enough, somehow I managed to find a cabana that someone dropped right before our online booking window closed and I snagged it!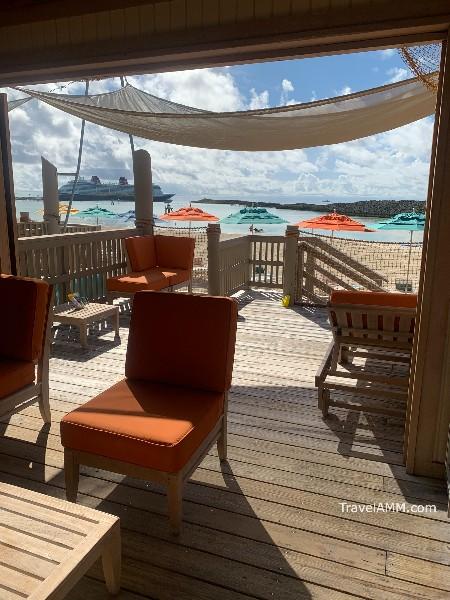 What is a cabana you ask?
It's a private hut on Disney Castaway Cay (Disney's private island). There are twenty located on the family side of the island, and six on the adult side of the island.
What's so special about a cabana? What does it come with?
Well, you get a home base to spend the day in. There's a roof over your head, a fan circulating a breeze, and (for most cabanas but not ours) a radio with 3 different music stations you can pick from. You'll have cushioned chairs and side tables, lounge chairs on the deck, a dining table to eat on, and a safety deposit box for any valuables you bring off the ship.
Your cabana will come with a fridge that is stocked with a variety of drinks (Dasani water and other coke products like sprite, coke, and diet coke), plus a nice fruit platter and chilled facial towels! You'll have a basket full of snacks (Lay's potato chips and Kashi granola bars) and a tray with sunscreen on it too!
Down by the beach you'll have a hammock that is dedicated to your personal cabana, plus a fresh water shower and a small assortment of sand toys for the kids.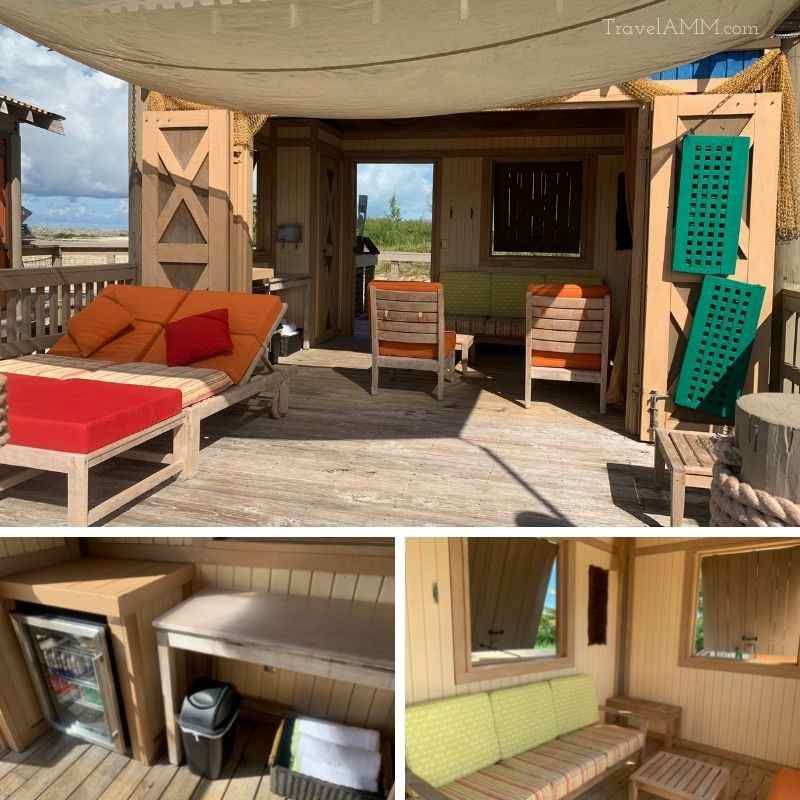 In addition to access to the private family beach area that only other cabana guests can use, you will have both floats and tubes to use, plus a 1 hour bike rental per person and snorkel gear is included. Just be aware you'll need to pick the snorkel gear up before checking in to your cabana because they don't keep that on hand at the check in area.
I'm sure you're asking, how can I book a cabana? It sounds pretty SWEET!
Well, Platinum Castaway Club level & concierge guests have the first shot at booking these at 120 days out. They go insanely fast, and often times platinum guests are not able to get them because they are all scooped up by concierge guests. The chance for getting one is slim, but it is possible as you can tell since we are NOT platinum castaway and were able to grab one a week or so before our trip.
Oh My Goodness Gracious! I snagged a cabana! What should I expect? What do I do?
Once you're onboard, your stateroom host will deliver wristbands and other information to your room at least one night before your Castaway visit. Directions will be provided on how to access your cabana and what to expect. Basically you'll take the tram from the ship to the second stop (Pelican Plunge, NOT Scuttles Cove). If your cabana is at the family beach, then you'll check in at the cabana stand right next to the tram stop. If you have a cabana on Serenity Bay (the adult beach) you'll continue on to pick up the tram to that part of the island where you will go and check in at that check in area.
Once you've checked in, you'll hitch a ride on a golf cart directly to the door of your cabana! A cabana attendant will come by and check on you to let you know about the features available to you during your stay. There's a call button in there in case you need refills on any of your snacks or drinks, and it will also allow you to alert the attendant that you need a ride back to the tram.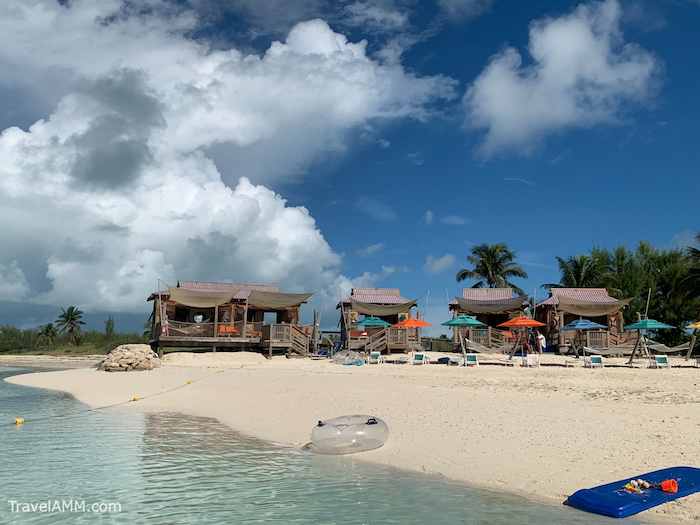 So while it was a very pricey splurge (we were in low season and it was just under $700 for an 8 hour days rental) it made our day SO much more peaceful because I had a place to sit out of the sun, and the kids could spend a much longer time at the beach because of that. If you know me in real life, you know I'm NOT a fan of sand. I love sitting and watching the waves, and find the beach super peaceful, but I DETEST sand.
A cabana is the perfect solution for someone like me that doesn't want to deal with sand, but wants to be able to sit somewhere shady to be able to read and watch the family play in the water.
I don't know that I'll be able to grab us one again on a future cruise, but I know I'm sure as heck going to keep stalking that website to hopefully grab one after a concierge guest or platinum cruiser drops theirs.
Ready to book your next Disney Cruise Line vacation? Please reach out, I'd love to help you out!