I've had a few days to sit and reflect on our trip so I can now update you on changes I saw between the September 4 night cruise I went on, and this 3 night cruise.
To keep you up to date on what the sailings were, it was the same ship both trips, and both were themed cruises that stayed in the Bahamas area.
This November sailing had about 2,200 guests on it, with about 700 of those being kids. Apparently that's the highest number of guests onboard since the return to sailing. For a point of reference, in September, there were about 1100 on board, and only a handful of kids.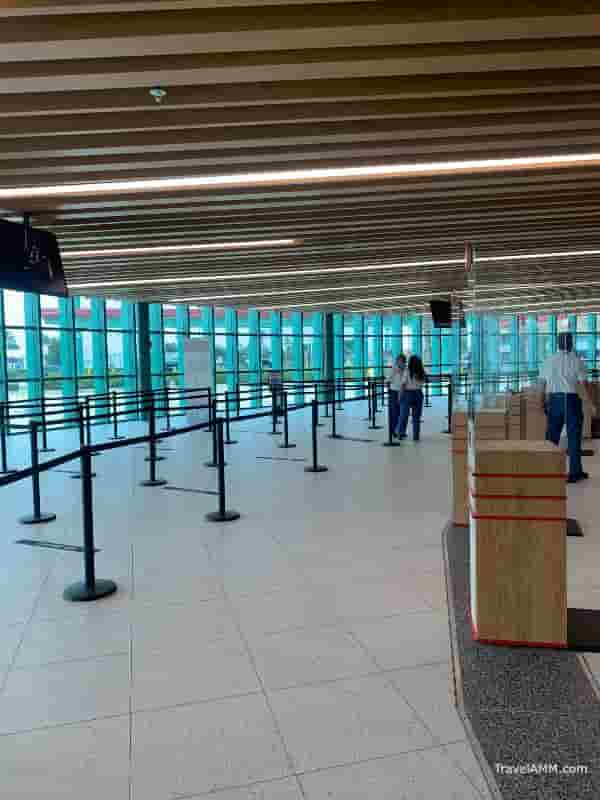 The embarkation and debarkation process at Port Canaveral was still very smooth. This time they had two sides of the parking garage dedicated to COVID testing vs. the one side they had running in September. I thought that would contribute to longer check in lines once we were cleared to sail, but we actually flew through the embarkation process this time, unlike last time which felt like it took 87 years.
The testing itself was very smooth, and our results came back in about 45 mins. They tell you to wait for an email, but that takes forever (can you tell I'm impatient? GET ME ON THE SHIP!!!). The best way to find out when you're cleared to sail is by logging in to the website and refreshing the status there. It will update to "Clear to Sail" on all sections once your tests come back and you're allowed to board.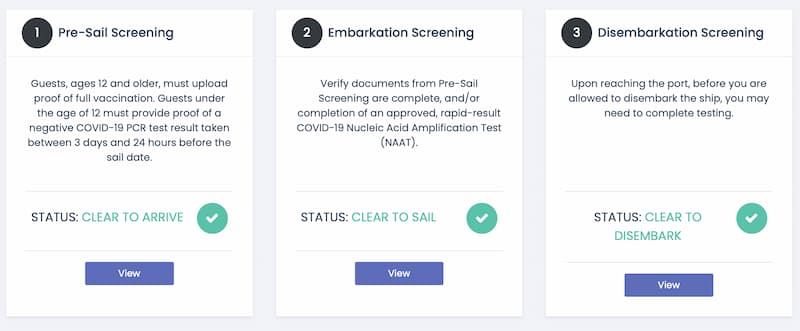 The virtual muster drill is AMAZING! I was able to send my husband with the kids to lunch, while I ran up to our muster station to click the correct buttons and voila, that part was done. Then I watched the 7 minute video while we were eating lunch to finish off the requirements. Viola! Our room had satisfied the muster drill. This is seriously the best improvement made to cruising since the restart.
This cruise was a Very Merrytime sailing. I have been on one of these sailings before, and it's a great time. They did not offer as many of the activities as they had in 2018, but the decorations were still beautiful, and you still got some Christmas cheer in. We were able to have Mrs. Claus read us two stories, got to see Santa and tell him what we wanted for Christmas, there were Christmas Carolers plus the characters were decked out in their Christmas clothes! It was harder to find them without just hanging out perpetually in the atrium, but we did stumble upon them a few times.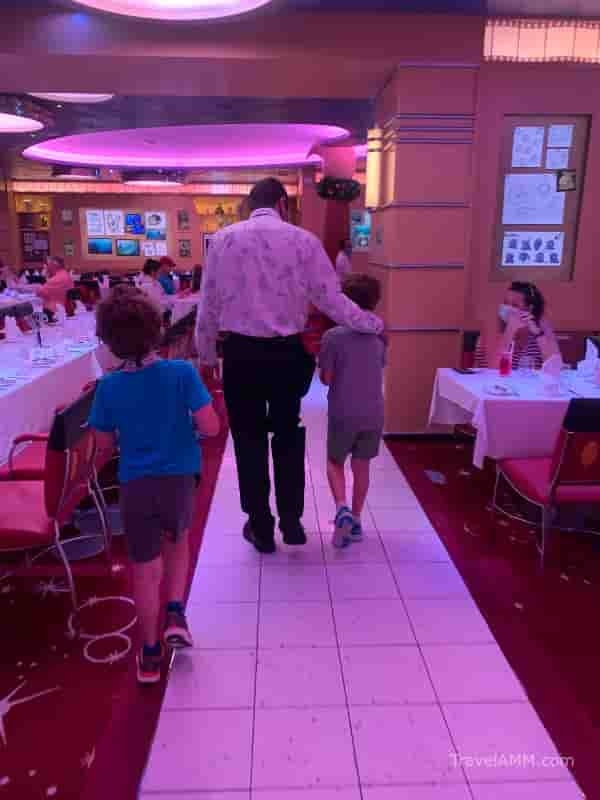 For your meal times, your dining staff can interact with you more!!! They're allowed to do the magic tricks and help cut your kids food again. I felt like they were able to spend more time with us, and engage with our family more like they did in the past vs. time they were allowed to hover and chat in September. Perhaps it was because there were way more people in the dining room, so it really felt like old days? I'm not sure, but it was a great dining experience.It definitely felt more crowded this time, but nothing overwhelming. I was insanely spoiled in September, and I went on this trip knowing that was not a level of crowds that would happen this time. This trip happened over a holiday, and it was offered on an amazing Florida Resident rate. We knew there would be a lot more people on.
I think there were a lot of first time cruisers on this sailing who didn't have a travel agent who prepped them on what to expect. Many people were confused by the app, didn't know/ realize/ care that they had to schedule a debarkation group to get off on Castaway, so they all just shoved themselves into the stairs and elevators causing a huge back up of people. I felt really bad for the cast members trying to get everyone off the ship in an orderly fashion because it was a total uphill battle!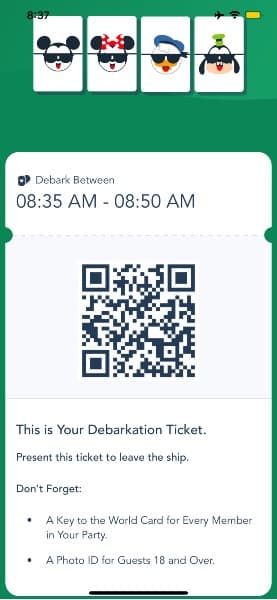 Castaway itself was a bit more crowded too, but you could easily find a lounger, and the lines for food were nonexistent. While you for sure felt like more people were on the island with you (I'm talking about you super long tram line since they were not filling them up completely!) it was not intolerable, and still an amazing difference from pre-covid times.
Our stateroom ended up being the larger verandah room. We had booked a regular verandah under a Florida Resident rate. The room we booked was guaranteed to be, at a minimum, on deck 7, with a balcony. What we ended up with, was the larger verandah size, and on deck 6, which is OUR FAVORITE deck! While we were thrilled to get the bigger room, I will NEVER book this specific stateroom for a client. It was ridiculously loud. I don't know what in the heck was around us, but at all times of day AND NIGHT, things would slam and make loud scary noises. I'm thinking there was a crew door below us or something that people would slam as they walked in and out of? I don't know. What I do know is that I did not sleep in that room without being woken up at least twice a night with loud banging noises. If it had been a longer cruise, I probably would have gone to guest services and asked to move staterooms it was so frustrating. BUT, the silver lining? I now know, DO NOT book this specific stateroom for my clients. The stateroom category? Heck yes. The deck and room location? You betcha. Our specific stateroom we were assigned? Never again.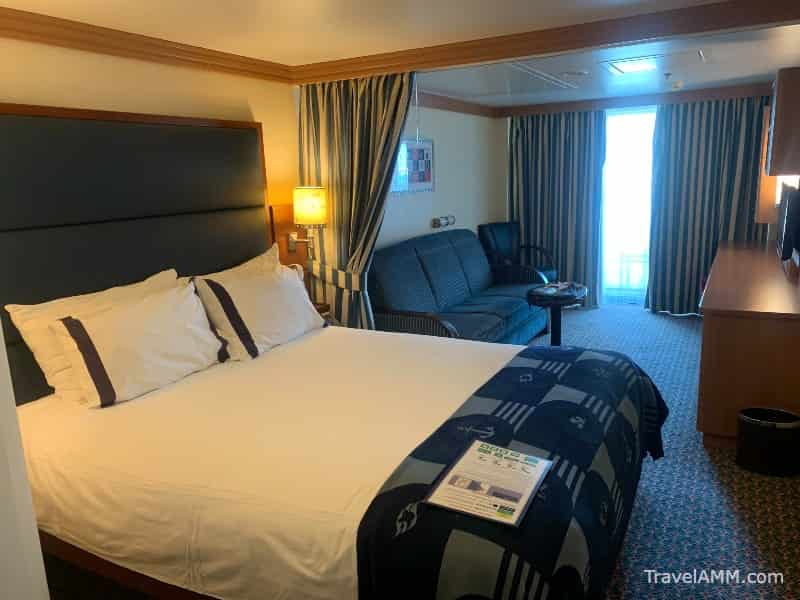 Overall, we had a great time. It was wonderful to get back on the seas, and take a family vacation where we were forced to disconnect and not get sucked in to work emergencies all the time. It's great to see the changes and improvements to cruising in the two months it was between when I sailed without my family, to now, when I was able to sail with my husband and kids. There's still a ways to go before we are back to how cruising was pre-pandemic, but I totally think things are moving in the right direction!
Please reach out if you'd like help booking a Disney Cruise Line vacation for yourself or your family! I'd love to assist you with that!
Not familiar with how dining works on the Disney Cruise Line? Check out this post to learn all about Disney's Rotational Dining concept. Our family LOVES it!
Wondering when the best time to book a Disney Cruise Line vacation would be? Read up to learn some money saving tips!