I've wanted to do the Remy Dessert Experience for awhile now, but I have never gotten the opportunity because we either did a different adult meal or it was not offered on our sailing. Finally, on our rescheduled Spring Break 2022 cruise, WE GOT TO DO THE REMY DESSERT EXPERIENCE on the Disney Dream! Yippee!
What the heck is the Remy Dessert Experience and when can you do it?
The Remy Dessert Experience is offered on 4 night sailings or longer when you sail on either the Disney Dream or the Disney Fantasy. It happens in the late afternoon on an At Sea day, and it was really awesome. We always grab a Palo Brunch when we can, and we did the Remy Champagne Brunch a few years ago (it was scrumptious), plus I'm a HUGE sweets fan, so I had high hopes for this adult only experience.
Thankfully when we sailed, the kid's club was back to a drop in/ no time limit experience so we knew we didn't have to worry about our kids while we went off and got our dessert on.
What should we expect if we decide to book this adult dining experience?
When we arrived, we were asked to wait in the Meridian bar until they were ready to seat us, which was only a few minutes later. The Dessert Experience started very quickly after that, and it was super efficient from a timing standpoint. I never felt rushed, but I didn't feel like I was just sitting around twiddling my thumbs either.
After everyone was seated at their individual tables, the Experience began. We were welcomed by the Executive Chef, and the Sommelier came out to tell us about the different wines that would be paired with the meal if you wanted to add that option. There were 3 wines, and each wine went with 2 courses of the 6 course dessert experience.
How much is this going to set me back?
The cost for the Dessert Experience itself is currently $60 per person, plus if you want to add the wine pairing with it, there's an additional cost ($28 per person). I'm not a fan of wine, but my husband likes it, so he took one for the team and added the wine pairing to his portion so we could see how it works. I saw quite a few tables sharing the wine, which made sense when you realized how much you were eating, there wasn't a ton of space left in your stomach for drinks too.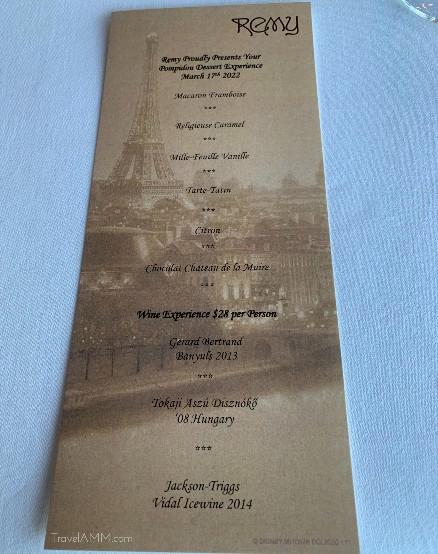 Ok, hit me with the good stuff, what did they serve you?
I didn't take notes of what we ate, so I'm going purely by memory with this recap, so apologies if I explain something incorrectly or I simplify it too much. When they brought out each course, they gave an amazing description on the origin of the dessert as well as information on how it was made. It really was an experience.
Our first course was my favorite, it was an amazing raspberry macaroon with a berry filling and gold leaf that they added a raspberry sauce to once they had the plate on everyone's table. It was a really cool serving technique because they waited for the chef to explain the course, then simultaneously added in the sauce.

Next up was a caramel dessert call the Religieuse Caramel that was as gorgeous in presentation as it was flavorful. It is designed to look like a nun as the word "religieuse" in French means nun. I am a fan of caramel desserts, and ate the whole thing, but it was a VERY filling dessert and I totally wished I had only eaten half of it by the time we made it a few more courses in.

The third course was a vanilla pastry called "Mille-Feuille Vanille" which literally translates into one thousand sheets or layers, which references the bajillion pastry layers that this vanilla dessert had. I really liked it, but couldn't finish it because it was just a bit rich and I was still on a sugar rush from the first two courses.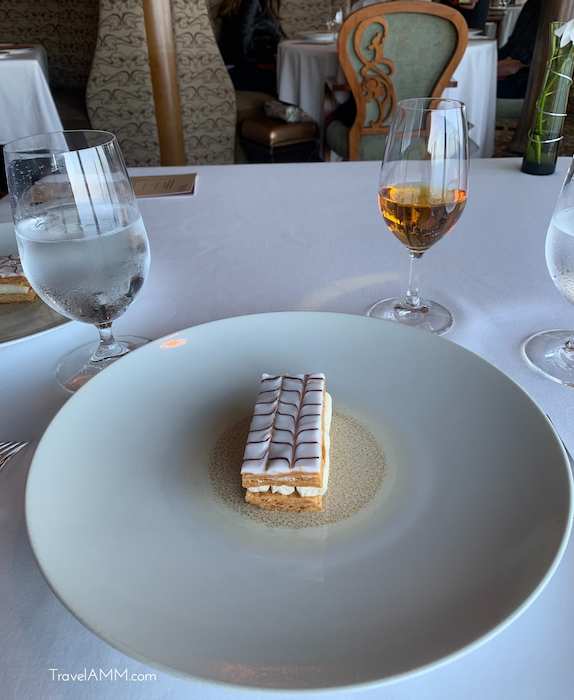 Next up was an upside down apple tart that was DELICIOUS! They told us about the history of the dessert, which was invented by some sisters in a hotel south of Paris after someone left apples they were preparing for a pie cooking in butter and sugar too long. I loved the flavors and the small dallop of ice cream was just the right size so you didn't overindulge.

The fifth course was this crazy citrus dessert that was crazy difficult to make, and gorgeous in it's presentation. Basically it involves temperature control, white chocolate, lemons, mouse, jelly… it was nuts. I can't remember all the steps, but it was involved. My husband really liked this dessert, and I know my citrus obsessed younger child would have licked the plate, but it was too much for me. I appreciated the artistic value of it, but it was not a flavor palate that I want to repeat, or eat the whole thing.

The last dish was a chocolate dish that was thankfully really light, so I was actually able to eat it at this point. It was basically just a bunch of layers of chocolate that were delicious. I don't know how else to describe it. It was light and flakey and just yum, a perfect way to end the experience. They also brought out a glass of champagne for everyone with this last course. With all the wine that we had from the first five courses, my husband couldn't do anything but take a sip of the champagne that they brought out.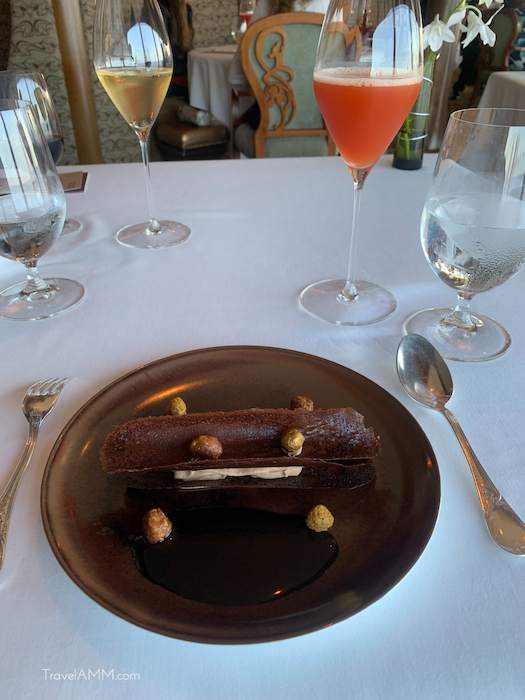 What's the verdict? Are you giving it a thumbs up or down?
Overall, both of us really enjoyed the Remy Dessert Experience. I think we could have skipped the wine pairing and had just as good of an experience, maybe more because those are calories we would have skipped ingesting.
Would we do it again?
I'm not sure. While we enjoyed it, I don't know that for that price, I would do it again. I think I would prefer to do another brunch experience either at Remy or Palo over doing the dessert experience again.
Or if I did the dessert experience again, I think it would be in quite a few years so that everything seemed new again. I do not regret doing it this time, we really enjoyed this unique experience, but I'm not sure I want to book it a second time anytime soon.
I for sure had a sugar rush after the second or third course and just kept drinking a ton of water to try to keep my head from swimming too much. (Which didn't work by the way!) If you have the early dining time, you might find it very hard to get excited for your regular dinner that night, we certainly did not eat much that dinner.
Overall, it's totally worth doing this experience at least once if you have the time. It's unique, and you for sure feel very pampered while you're there.