Disney Cruise Line bingo is a "splurge" that I haven't ever done in my previous five Disney Cruise Line vacations, but we decided to try it out this time after a friend won big on an Alaska sailing this past summer. As you know, the Disney Cruise Line doesn't have a casino onboard, so the closest you're going to get to gambling at sea will be a round or two of bingo. Everyone who has played before has raved about how much fun it is, even if they don't win, so I figured it was time to try it out.
My husband and older son were off riding the AquaDuck, so my younger son and I decided to go get our bingo on! We had such a blast we ended up doing it twice on this cruise, bringing the whole family the next time!
Bingo is totally a fun family event, with people of all ages playing. Just be aware only adults 18 and up can actually claim the prize. So while a minor cannot actually accept a prize, they can mark the bingo cards, or watch the digital card and yell out BINGO when the card they are holding wins.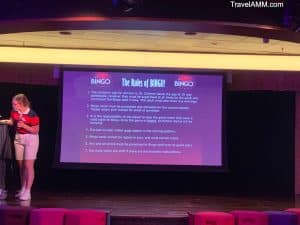 When you arrive to bingo (be sure to check your Daily Navigator to see what time presales open, and where it's going to be held) it's a bit chaotic to figure out what you want to purchase, but they cast members at the register are SUPER helpful and will explain the options to you. Since it was just me and a five year old playing the first time, we got the smallest digital and paper package available: digital for him, paper for me.
Just a heads up, if you don't feel like thinking AT ALL, go with the digital cards. You get a ton more cards and the machine literally flashes at you to tell you when you're close to winning.
Also, pay attention when you purchase your cards because they will tell you a code to use for extra cards at the next session.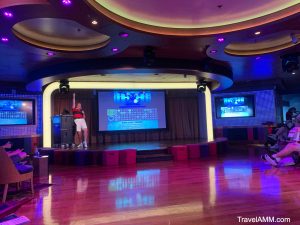 You don't need to sit front and center to participate, the numbers are put on a huge screen you can see from all over the room, and the bingo host repeats it quite a few times if you missed it the first time. The most important thing about picking where to sit is that you have a table to spread out your cards so you don't miss marking off anything when you're dealing with paper cards. If you get bingo, but don't call it out before the next number is pulled, you forfeit your prize, so PAY ATTENTION.
Make sure you are listening at the start of each round (there are four) because the cast member running bingo will let you know the rules for each specific game. Sometimes you will get bingo the traditional way, other games will require a more non-traditional format to make bingo, think top row only, maybe bottom row only, once they even had us make a square around the free square in the middle, but both times that we played, only the first game was the traditional straight line for a win scenario.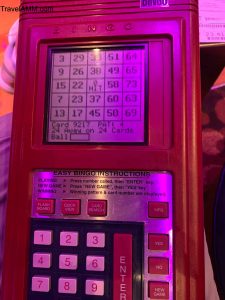 We had a blast yelling "shake it up Betty!" when we didn't like the numbers that were being pulled, my son really enjoyed telling people to "SIT DOWN!" when they stood up to show they were one number away from calling bingo, overall it was a really positive experience. Those bingo hosts really know how to get you in the spirit of things!
While we never won a prize, we got only one number away a few times, and my son had so much fun standing up to show he only had one number left that it totally made the price worthwhile. We also enjoyed (and still do!) laughing at my husband who didn't listen to the rules and totally thought he was one number away when he was no where NEAR getting bingo. I'm serious, we still laugh about it, and the trip was in October…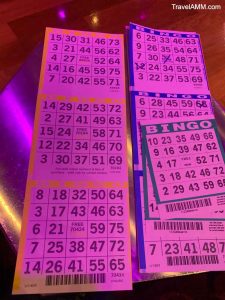 Disney Cruise Line bingo is totally an experience. The two times we played, the room was full of regulars who knew all the inside jokes, they knew the songs to sing, and the fun sayings to yell out, but after about 15 minutes, we soon became as familiar with the rules as the regulars and felt right at home.
Want to know about how to save money when booking a Disney Cruise Line vacation? Check out this with some money saving tips.
Sound like a fun time? Ready to start thinking about a Disney Cruise Line adventure for your family? The Disney Cruise Line sails year round out of Port Canaveral, Florida, and seasonally out of Galveston, TX; San Diego, CA; Vancouver (British Columbia), Canada; New York, NY; Barcelona, Spain; Civitavecchia (Rome), Italy; Copenhagen, Denmark; Dover, England; San Juan, Puerto Rico; Honolulu, HI; New Orleans, LA; and Miami, FL. Contact me today and we can start planning your magical vacation!