Many families want to have a separate area for parents and kids when they go on a Disney vacation. Family time is great, but sometimes you really need a moment of peace after a full day of "together" time. Because of this, some of the most popular room options for guests turn out to be either a family suite or a villa since the kids can get their own space away from the parents.
Can we say, separate sleeping areas, separate TVs, occasionally separate bathrooms??? How do I book one of these rooms, and what's the difference between the two?
The main difference between a family suite and a one bedroom villa is going to be the type of beds in the rooms. With a family suite, you're going to have a queen sized bed in the master bedroom, and then a sleeper sofa and a murphy bed. Family suites are nice because they sleep up to 6 people in the room.
A one bedroom villa comes with a king sized bed in the master bedroom, plus a sleeper sofa and possible a twin sized sleeper chair if that room sleeps up to 5. Not all one bedroom villas can hold 5 people, so if you have more than 4 people traveling with you, you'll need to pay attention to room capacity limits. If you have 6 people traveling, and want to stay in a villa, you'll need to stay in at least a 2 bedroom villa as the 1 bedroom won't have enough space in it.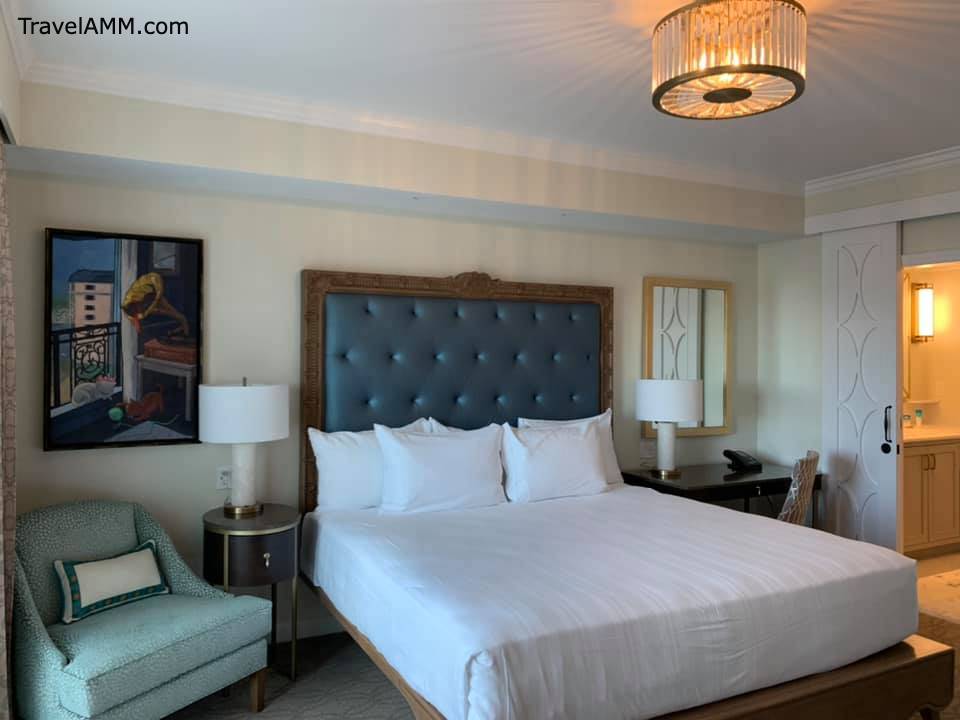 Family suites are awesome because they all have two full bathrooms. That means no sharing a bathroom with the friends you're traveling with, no sharing with the kids who are a mess, no worrying about cleaning up after yourself because someone else has to use the same area to get ready.
With one bedroom villas, only some of the resorts offer two bathrooms, some only have one. For the resorts that have two bathrooms, the bathroom that is located within the master bedroom is not accessible from the living room area. If the room only comes with one bathroom, then it will be accessible from both the master bedroom as well as the living room. There will probably be multiple doors to allow access to the different parts of the bathroom, and it does not afford as much privacy as a bathroom that is purely for the master bedroom.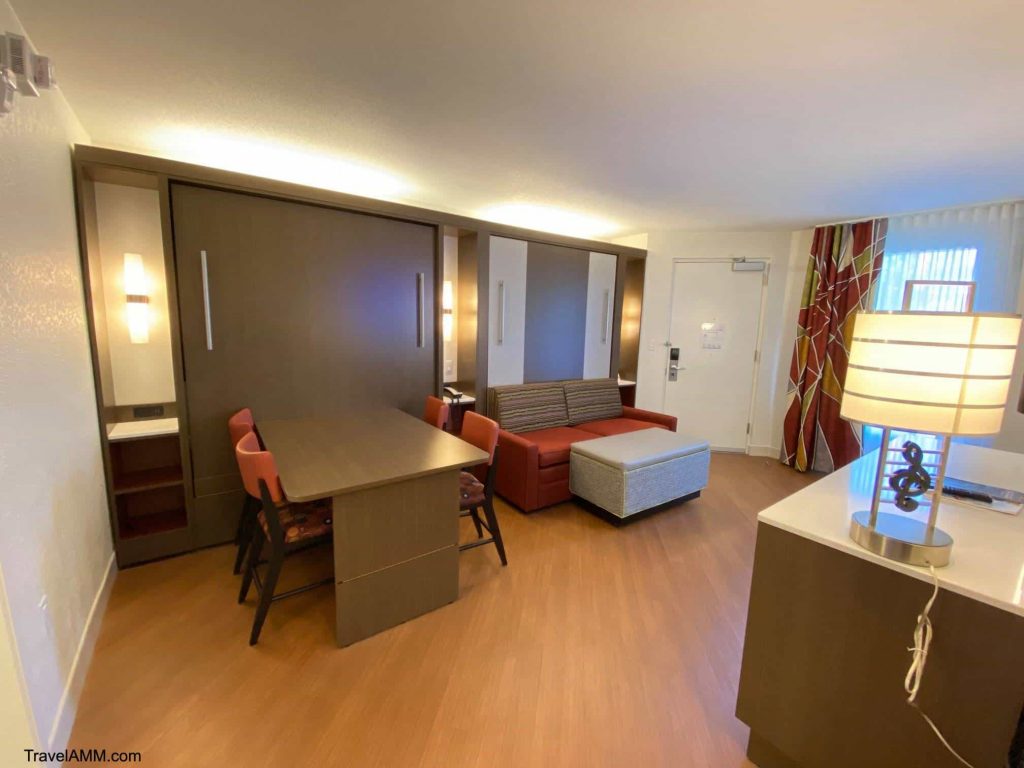 A HUGE benefit of a one bedroom villa over a family suite comes in the living area. With any of the villas (one, two or three bedrooms) you will get not only a FULL kitchen, but you will also get a washer and dryer.
While most people don't want to do laundry or cook on vacation, I find both amenities to be a major selling point for my family. It gets darn sweaty when you spend your day at the theme park, personally, I'm NOT a fan of bring home stinky stanky locker room smelling clothes, so the fact that I can just throw them in the wash after everyone takes a shower each night? Game. Changer. When I get back home, I don't have to deal with days worth of gross clothing, I just make everyone put everything away in their rooms and put the suitcases away immediately.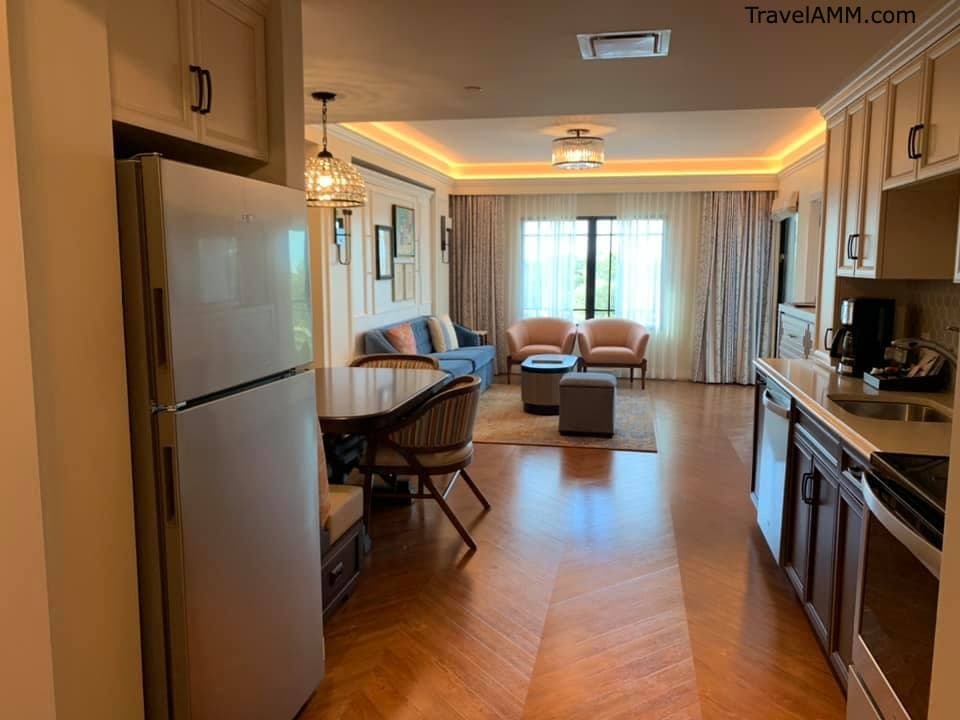 I also really like having a kitchen in the room because I can make the kids breakfast before we hit the parks, and I can reheat any leftovers we have for snacks or a small meal. I do find that the extent of my cooking can be easily done in the kitchenette that is provided within a family suite, and we have been perfectly happy just having a kitchenette too.
When you stay in a family suite, it will be located at a value resort, so your amenities won't be as fancy as if you stayed in a villa. Villas are located within Disney Vacation Club resorts, and as such, the pools are a bit fancier, the linens a bit nicer, there are more dining options, and potentially a better resort location closer to the theme parks.
Always determine which theme parks you plan to visit most when you're at Disney and then pick your resort based on the location of those parks so you spend less time traveling between the resort and the theme park, and more time relaxing and enjoying family time.
Another thing to note, because family suites are in value resorts, your parking fee, should you bring your own car, will be the fee charged at a value resort, so the least expensive cost.
If you stay in a vacation villa, you pay the fee for a deluxe resort as they are usually located next to, or on the grounds of a deluxe resort. While it's not a huge per night difference, it is something you should be aware of.
Wherever you end up, it's going to be a magical adventure, so gather your family, pack your bags, and prepare for an amazing vacation.
Need help booking that next adventure? Make sure you reach out today so we can start planning it.