Universal's Endless Summer Resort consists of two hotels that are built on the old Wet 'n Wild property. Surfside Inn & Suites is the first of the two properties completed, it started accepting guests in the end of June 2019. Dockside Inn & Suites is the sister property and it will be opening up March 2020. Endless Summer Resort falls into the value category of resorts, which means it's the entry level of resorts both on an amenity standpoint, and also it has the most economical price point.
Located off International Drive, these resorts are a bit further from the theme parks than the other categories of resorts, but they are still only about a 5-10 minute drive to the parks. Remember, this resort does charge nightly parking fees for their hotel guests if you bring your own car. Surfside Inn & Suites lower price point definitely makes up for the fact that you can't walk to the parks very easily, and that bus transportation is your only transportation option unless you want to pay for a ride to the parks, or drive in your own car.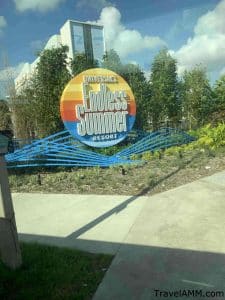 While there are sidewalks and a path you can take to walk to the theme parks, it is not a short jaunt, and for sure not something you would want to do if you were schlepping kids around with you. My opinion? Stick with the bus transportation to the parks when you stay at Surfside Inn & Suites, it's continuous throughout the day and runs until CityWalk closes. One positive about the location to make sure you realize, you are very close to a variety of restaurants and activities along International Drive that might interest you. That means you will not be limited to just theme park and hotel food courts as your dining options when you stay here, you can easily satisfy everyone in your traveling parties dining requests.
What type of accommodations are at this resort?
Surfside Inn & Suites is made up of 360 standard rooms and 390 two bedroom suites. The standard rooms are your typical standard rooms, but with a beach feel to them. They can hold up to four people in them. The rooms have 2 queen beds, plus the bathroom is separated out with the shower and toilet area in one part with a door to close them off, plus the sink is in a separate area that is open to the room. This is a nice feature for when multiple people are trying to get ready at the same time. While the room does have a safe and a mini-fridge in it, there is NOT a coffee maker, and you are NOT allowed to bring your own with you.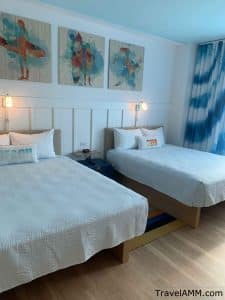 The two bedroom suites at Surfside Inn & Suites are awesome because they offer THREE REAL BEDS!!! Most other family suites in the Orlando area will have sleeper sofas and or murphy beds as a bedding option. At Surfside, your two bedroom suite can accommodate up to six people in it, and you will have three queen beds in total.
As you enter the suite, you will immediately come upon the two queen beds and kitchenette area. Walk a little further into the room and you will find a separate room with a door that has the other queen bed in it, as well as the bathroom area which can easily be accessed by anyone in the suite. The suite comes with a kitchenette that has a small fridge plus a microwave and coffee maker. There is not a toaster in the room, and just like with the standard room, you cannot bring any additional appliances with you for your stay. If you want to eat some meals in the room, there is a picnic table and benches available so everyone can sit together and enjoy some food. There are also charging ports for your electronics spread throughout the suite as well.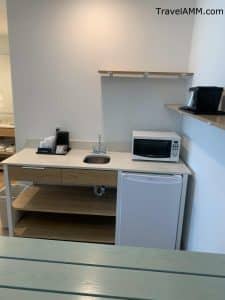 Make sure everyone takes their room key with them if they go downstairs for a bite to eat, or to visit the pool, as the elevators do require that you scan your room key to be able to select a floor to visit. I really like this added security feature because it discourages people just coming to explore the resort and going into places and floors that they don't belong in.
Surfside Inn & Suites is really a great deal, they must have skimped on the amenities, right?
Not really! You'll find complimentary wifi in guest rooms and public areas. Surfside Inn & Suites has a full gym you can exercise in during your stay, you will need to scan your key to your room for access, but it's still included in the cost of your hotel stay, and there are locker rooms in there so you can clean up afterwards without having to go up to your room all stinky and gross. The pool is a very nice large pool that is shaped like a surfboard. Personally, I didn't see it, I saw a goldfish, but hey, they say it's a surfboard so it's a surfboard. There is not a splash pad per se, but the zero entry part of the pool is pretty large and the perfect spot for a toddler to splash around and enjoy themselves in.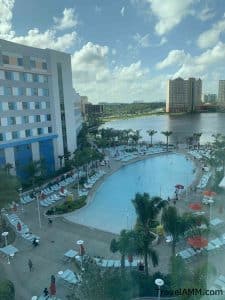 As is the case with all Universal Orlando Resort hotel onsite pools, guests of these resorts will receive with free pool towel rentals during their stay. There will be a location somewhere on the pool deck where you can grab sunscreen and swim diapers, plus there are tons of life jackets of varying sizes available for use! If you don't see the swim diapers right away, ask the bartender, or a lifeguard if they can point you in the right direction, as they are available at all the resorts.
One perk you do lose by staying in a value resort is the ability to pool hop and enjoy the pool activities at all the other Universal Orlando Resorts. When you stay in a value resort, you are limited to just the pool amenities at your resort. You can go visit other resorts and eat there, but you cannot use their pools or other activities that are complimentary to their resort guests.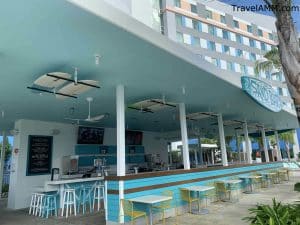 The most important perk of staying at a Universal Orlando Resort onsite hotel is the vacation planning desk to help you print out tickets and express pass, get your dining vouchers, make sure you understand your different vacation package components. They're also able to help you make purchases if you decided last minute to upgrade your tickets, or you want to add a dining plan, those are things you can do at the vacation planning desk. These desks save you a ton of time because it eliminates the need to wait in long lines at guest services at the theme parks or CityWalk to print out your tickets or dining vouchers.
But does the resort have dining options?
Yep! Even though more than half the rooms are suites with a kitchenette, there are still food options available at Surfside Inn & Suites. You'll find a food court with plenty of different options for you to pick from, there's a poolside bar which offers a variety of alcoholic beverages and smoothies, there's a Starbucks onsite and you can even get pizza delivery to the room. This resort is trying something new and they are recycling or composting all waste from the food courts. It's a great initiative, and it it does well at this resort, they plan to expand it to more hotels.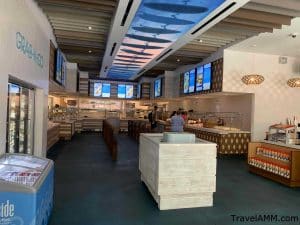 So that sums up Surfside Inn and Suites. It's a great entry level resort, with some bells and whistles, but not enough to raise the rate. It's a fun option for larger families because of the two bedroom suites with three real beds in it!!! It's also bright and airy, with great beach decor to help you relax after a long day in the parks.
Need help booking your Universal Orlando Resort? Please reach out, I'd love to help you plan your trip.
Not sure if Surfside Inn & Suites is the best fit for your family? Check out this post which summarizes all the resort categories available at the onsite Universal Orlando Resort hotels.