I'm often asked: I just booked my Disney Cruise, when can I start booking my excursions? Unlike other cruise lines, the timeframe for booking your excursions and activities on the Disney Cruise Line is based on how many times you have previously sailed with the Disney Cruise Line (your Castaway Club status) or if you are sailing in a Concierge stateroom.

How do I know when my Disney Cruise excursion window opens up?
It's easy peasy lemon squeezy to determine when your excursion booking window will open up!
Are you sailing in a Concierge stateroom? Yes? Then your window opens 120 days out from your sailing date regardless of your Castaway Club level. It's an awesome perk of sailing concierge. You're going to have the best pick of everything!
Have you completed 10 or more Disney Cruise Line sailings? That means you're a loyal Disney Cruise Line cruiser and your Platinum Castaway Club status allows you to book your activities 120 days from your sailing date as well.
If you've completed 5 to 9 Disney Cruise Line vacations, you're a Gold Castaway Club member, and you can book your excursions and other activities 105 days from your sailing date.
If you've completed between 1 and 4 Disney Cruise Line sailings, that means you're a Silver Castaway Club member, and your booking window opens up 90 days from your sailing date.
Never sailed on the Disney Cruise Line before? You can book your activities 75 days from when you set sail. Don't worry, on your next sailing you'll be a Silver Castaway Club member and get to complete your online check in window 15 days earlier than this trip!
Can't remember how many cruises you've been on? Log on to your online Disney Cruise Line account and it will show you all of your past cruises (plus the stateroom numbers in case you want to rebook a room you've had in the past) so you can count how many you've completed already.
If you don't feel like counting, the website or app will tell you the answer directly too, so no need to stress about it. If for some reason you don't see your Castaway status located within your account, give the Cruise Line a call and they can look it up, then attach it to your account.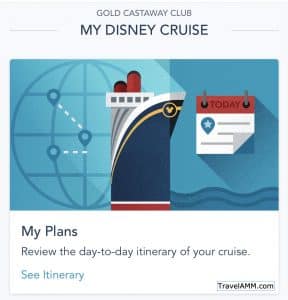 What exactly can I book when my Disney Cruise excursion window opens up?
Once your Disney Cruise excursion window opens up, you can complete your online check in to fill out your travel information, you can register your kids for the kids club, or sign the baby up for some nursery time. You also can register for adult dining, beverage tastings, limited character meet and greets or even a character breakfast if your cruise is 7 nights or longer. That's when you can book the sports simulator, schedule a pirate or princess makeover for the kids, or grab some port adventures for your port days if you plan to do any Disney run excursions.
Worried about having to pay for all these activities when you're so far away from your cruise date? Have no fear, unlike many of the other major cruise lines, you don't pay for your excursions or specialty dining reservations when you book them, only once you've actually experienced them.
I like this because I can put money aside for the activities I've booked and not pay for it all at once. I can budget the cost of everything I want to do, and spread that cost out over time by adding online credit to my onboard account before getting on the ship. Adding onboard credit to your account avoids having a big bill when you get off the ship, and if you end up not using all that onboard credit while you're on the trip, the money will go back to the original form of payment, so you aren't out extra funds.
Quite a few of my clients budget out their onboard costs and purchase onboard credits ahead of time to cover the incidentals so that when they get off the ship their final bill is zero.

I've never cruised before, realistically what is going to be left for me to book when my Disney Cruise excursion window opens up?
There's no way to really predict what activities and excursions will be available for ANY of the online booking windows. It really is based on the makeup of your individual cruise. If you have a lot of prior cruisers on your sailing, you might have issues getting some activities you really want. If your cruise is full of first time Disney Cruise Line guests, you'll have a better chance of getting what you want when you want it.
One constant on all sailings that visit Disney's private island is that the Cabanas located at Castaway Cay (either on the Family Beach or Serenity Bay which is the adult beach) usually go with the Concierge guests and sometimes there are a few left for Platinum cruisers. Don't have your heart set on a cabana unless you are sailing as a Concierge guest, because it's highly unlikely you will get to book one.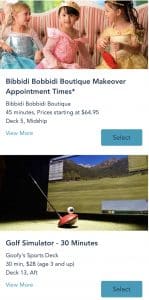 Another hard to get reservation for you will be an adult only brunch at Palo. Platinum Castaway Club members get one brunch reservation for free each time they sail, and they often take advantage of this perk, which makes it harder for other guests to get a reservation. I have been on a cruise as a Gold Castaway Club member and I was unable to get a brunch reservation at Palo for the Disney Fantasy, with a sailing that had THREE sea days! It was frustrating, but it did not ruin my cruise, we just did other activities instead.
Beverage tastings can also be hard to get at most any Castaway Club level unless you're Platinum or Concierge. These one hour long classes are SUPER fun adult only activities offered on all four ships. These tastings are limited in the number of times they are offered on each sailing, plus they also limited in the number of people that can attend each class.
My husband has attended the Beer Tasting and he really enjoyed it, while on our last cruise we were both able to go to Mixology and it was super fun. If you see a class that you can get in to, I highly recommend it for a fun experience. You can always grab the reservation when you see it, and hold on to it while you think about it, because if you leave it behind, chances are really good it won't still be available once you decide you want to book it.
I think I'm going to cry, I didn't get anything I wanted, my trip is ruined.
Don't be sad if you go to book your activities and something you want is sold out, there's still hope! People are constantly dropping and adding different activities as the cruise gets closer, and especially as they tally up how much money the extra activities are going to cost them.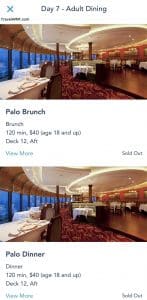 Just keep watching the website (at all hours of the day) and you quite possibly may find that elusive Disney Cruise excursion reservation you have been hoping for! Once I even managed to grab a cabana, which I didn't end up keeping, but I had it attached to my reservation for a few weeks while I decided if it was worth spending the money on.
We booked our Star Wars Day at Sea cruise less than 60 days before our sailing date, just by repeatedly checking the website at all hours of the day and night, I was able to grab us all the character meet and greets we wanted. I got us a Remy Brunch, plus a character breakfast and was even able to sign my son up for Jedi Training! I'm a huge proponent of obsessively checking the website to get what you want.
And if that fails? Once you get on the ship, check your Daily Navigator to see where and when to go to sign up for activities, excursions, adult dining, etc. The Cruise Line will hold back some spots for people who book their trips super last minute so you can always try to grab a spot once you're on the ship.
Looking for assistance booking your Disney Cruise Line vacation? I'd love to help you out! Contact me today for more information.