Planning your first Disney Cruise Line vacation is a fun experience. Researching the ports and itinerary, picking the best stateroom and ship, starting your packing list and making sure everything is taken care of ahead of time so you can relax and make wonderful memories with your family and friends while you're gone. Here are a five packing list tips to make your first Disney cruise nothing but smooth sailing.
1) Bring along a lanyard for your traveling party.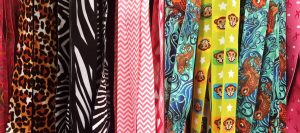 The Disney Cruise Line provides lanyards to members of the Castaway Club. How do you become a member of the Castaway Club?  You'll automatically become one as soon as you complete your first cruise! It's as simple as completing a sailing on a Disney ship. But until then, you won't be provided a lanyard at check in at the port, you'll need to bring your own ahead of time or you can purchase one on the ship. Add this item to your carry on luggage packing list so you can start using it at the port right away.
Lanyards are handy to wear for the cruise. You need your Key to the World Card more often than you think, and it's always helpful to have it easily accessible. If you want to purchase a drink or some souvenirs, you need the key card. If you want to get your kids out of the kids club, you need your key card. If you are getting on or off the ship, you need your key card. Forget your dining rotation… guess what, it's on the key card! See why it's nice to have a lanyard with you on the trip?
2) Why are the lights always turning off???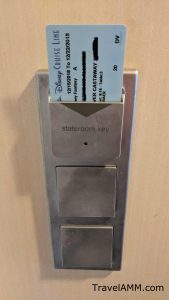 You might not realize this, but if you're sailing on a Dream Class ship (Disney Fantasy or Disney Dream) your lights won't stay on in your stateroom unless you use your room key, or a light card to keep the power up. Many first time cruisers will use their room key in the door, but then forget it's in there when they walk out and can't get back in their room! Or perhaps one adult is staying behind while the kids nap, but it's the adult that's leaving's key in the door, do you turn the power off and back on to get the correct person their key to the world card, decisions decisions. Well, fear not, you don't have to make those choices anymore! Bring along a light card to keep your lights on while you're in the room. You can make your own from an old gift card, just mount a magnet on the back of the gift card so you can keep it on the wall above the holder when it's not in use, or purchase a cute one from one of the many Etsy stores that sells them! If you're traveling in two staterooms, you'll want to bring two along with you, one for each room.  Again, put this on the packing list that covers your carry on items because you will want it as soon as you have access to your stateroom.
3) Um, there's a lot of bling on that door…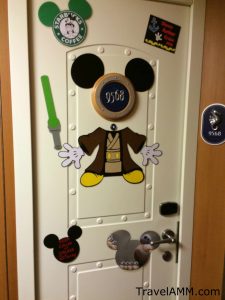 Have you ever walked down a windowless hallway where everything looks identical? Well, that's pretty much how it looks when you're walking down the hall towards your stateroom.  Mind you, it's a very pretty windowless hallway, but it still can be confusing if you aren't reading each doorway to see what stateroom number you're passing right then. One way to combat the ever present question- "Are we there yet?" is to decorate your stateroom door with magnets! Decorations help you find your doorway in a sea of very similar looking items, and they let you express your personality! If we're on a longer sailing, I like to pack a couple options and change them out depending on the day or the port. Put them on your packing list for your carry on luggage so you can decorate your door immediately after arriving to your stateroom!
On 8 night cruises or longer, I've been told that your stateroom decorations might be featured as the door of the day on the Good Morning show the cruise director does on the stateroom tv's each day. Our door once showed up on a YouTube video someone made of door decor on one of the sailings we did. I'd love to be featured as the door of the day though! However you decide to decorate the door, just make sure you are using MAGNETS for the decorations and not tape or anything sticky. You are only allowed to stick magnets to the doors, nothing else.
4) I'm SO thirsty, but I really don't feel like walking all the way up to pool deck to get some drinks!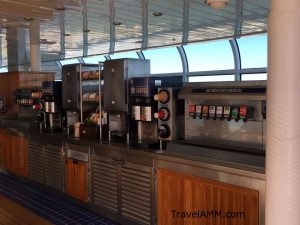 Sodas are complimentary on the pool deck on the Disney Cruise Line, BUT the cups are small, and in the interest of the environment, they no longer have lids for sodas, only hot drinks. One way to always have a soda, and not worry about spilling, is to pack your own empty bottle with you on the ship. (Or you can always buy a new one as a souvenir of the trip!) Voila! You have sodas or tea to enjoy without the worries of a spill. It's also where you get fresh filtered water if you don't feel like spending tons of money on bottled water, you can just refill your own bottle. We do that and take our own bottles on excursions and to the beach to keep hydrated all day. This is one item you can put in your checked suitcase packing list, as there are complimentary disposable cups available at the drink stations which you can use until you get settled in your stateroom.
5) When are we meeting back up? How can I get in touch with you?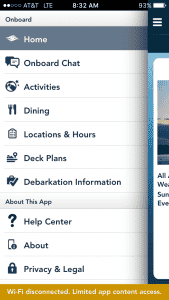 This packing list item doesn't really fall into a carry on or checked luggage packing list, but more of a things to accomplish before leaving on the cruise packing list.
Didn't plan to add a cruise plan to your cell phone package for your trip, but you REALLY need to be able to communicate with people who are traveling with you on the trip? Make sure everyone has downloaded the Disney Cruise Line app and it's the most recent version available to take advantage of all the app has to offer while you're onboard a Disney ship. Make sure to exchange chat ids with your friends and family once you get onboard because you won't know your specific information until you log on to the app from the ship. Once you put your phone in airplane mode, and turn on the DCL app, you'll be able to chat with each other off the ship's wi-fi, but without any additional cost. The chat function does not use up any of the wi-fi package you might have purchased, and it allows you to communicate with others on your sailing anytime you are connected to ship wifi. Sometimes it works on Castaway Cay too, but I've found the service to be spotty there, with better coverage on Serenity Bay than I got on the family beach.
Hopefully these packing tips will help alleviate some stress from your to-do list for your next Disney Cruise, I know I always kick myself when I forget an item or two from my packing list.
Interested in getting more information on a family vacation with your loved ones? Contact me right away!
Wondering what to expect when you first arrive at Port Canaveral for your Disney Cruise? Read this post!