I'm going to tell you a little secret… you're probably going to think I'm a bit crazy for even suggesting it, but it's true!  Totally true…
Are you ready?
Are you sitting down?
Ok, here goes…
A rainy day at the theme parks is the PERFECT time to visit!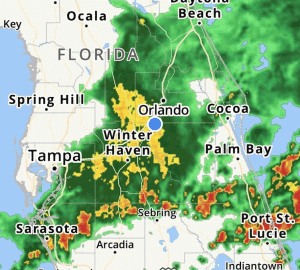 Huh? Say what? That makes no sense at all. Why would you WANT to visit a theme park in the rain? You spent months saving, and planning, and you want to have THE MOST PERFECT TRIP.
Raindrops and dark clouds do NOT factor in to that plan…
Sunshine and pretty fluffy clouds make the PERFECT photo backdrop…
Your cute matching shirts don't show when everyone has on big ugly ponchos.
There aren't as many photographers roaming around because the cameras are getting wet.  I'm not buying this rainy day theory of yours…
Well, it's true. Everyone else is worried about getting wet, so they stay away!
So what does that mean for you?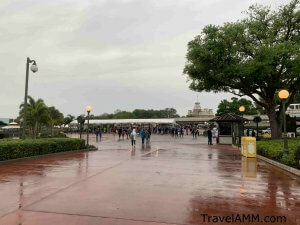 Shorter lines in security! On our last rainy day theme park visit, we practically walked through the bag check lines. Not to mention the fact that our Magic Kingdom bus, that got us there right as the park was opening, only had about 10 other people on it! Over SPRING BREAK!!!! It was awesome.
Shorter lines for attractions! Attractions normally only stop in bad weather when it's an outdoor attraction, or there is an outdoor queue, and there is lightning in the area. We were on the Walt Disney World Railroad in a monsoon one time (literally, rain was blowing sideways and we were absolutely drenched with no way to stay dry) but since there was not any lightning, the train kept rolling!
Shorter lines for character interactions! Since there aren't as many people in the parks as there are on a normal day, you might find yourself getting some quality time in with your favorite friends. Earlier on that same WDW Railroad monsoon day I mentioned before, we ran over to the character meet in the Storybook Circus because Goofy was standing at the door waving us in. We were literally the only family in there for about five minutes. It was awesome. My kids had SO much fun, and we made some amazing memories.
What's the catch with this rainy day plan of yours…
I mean really, there has to be something unpleasant about a theme park day in the rain, tell me the truth please…  Don't your clothes get all wet? You probably look like a drowned rat in your pictures! It just sounds miserable to me, why, just why?!?!
Do you have your heart set on the normal parade?  Well, on a rainy day, you might not see a parade, or if you do see one, it's going to be a rainy day version.  But hey, how many people get to see the Rainy Day Cavalcade?  Not many, so that's a pretty special memory you're making right there!
Evening fireworks shows or outdoor entertainment might be cancelled. Well, if the wind is too strong, or there's lightning in the vicinity, fireworks, or nighttime shows might be cancelled.  And, it's usually a game time decision, so if you are waiting for fireworks at 9:30 pm, it's quite possible, you will have to stand in your spot until 9:30, or a little later, until they decide if it will be possible to have the show.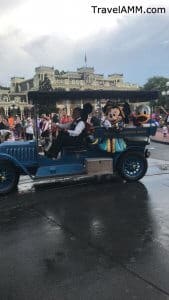 So your tush is wet because you sat down on a ride and the person before you had kept their wet umbrella in the seat when they rode…
So all you ended up wearing rain gear all day, and the look was LESS than flattering…
The thing is, you got to spend the day at theme park!
The lines were probably shorter, the character interactions longer, and chances are, you got to see something you wouldn't normally see on a sunny day if you saw a parade. So just keep in mind, when you see rain in the forecast during your vacation, whether it was a day at Disney, Universal, SeaWorld or Busch Gardens, you still spent your day at a theme park, and when push comes to shove, that's WAY better than the day I just had in my regular life.
Looking for a place to stay on your next vacation?  Check out these different resort options to fit all family sizes and budgets.  From a villa to a family suite or a standard room, we can work together to find the perfect fit for your traveling party!
Want to make sure you're staying up to date on current trends for family travel destinations?  Make sure you like and follow my facebook page, and feel free to join my facebook group!