One of my favorite theme parks at the Walt Disney World Resort is Epcot. I know it doesn't appeal to everyone, but I LOVE it. I love the atmosphere, I love the food, I love the countries, the holiday celebrations… Back when we had annual passes, we would stay at an Epcot Resort Area resort and just walk in to Epcot for ice cream or snacks in France because it was THAT good. I may or many not have gone certain times just to watch the American Adventure… Disney's Hollywood Studios is special too, it's the park I used to work in, but nothing will beat Epcot.
On our last trip, we decided it was time to get back to staying in an Epcot Resort Area hotel so that we'd have easy access to both the Hollywood Studios (the kids current favorite) and Epcot (the parents current favorite). So when the chance came up to be able to stay at the Beach Club, we hopped on it! We've stayed at the Boardwalk and Yacht Club, but never Beach Club! Woo hoo! One more checkmark off the resort list!
Location! Location! Location!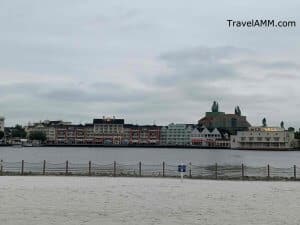 One of the best things about staying at Disney's Beach Club Resort is the location of the actual resort. Not only do you have boat access to the Studios and Epcot, but if you wanted to walk, it's a super easy walk. You can walk to Disney's Boardwalk Inn to enjoy some Ample Hills Ice Cream or the nighttime entertainment along the Boardwalk. You are a very short stroll away from minigolf at Disney's Fantasia Gardens Miniature Golf Course. It's just a hop skip and a jump behind the Swan and Dolphin Resorts. Plus have you visited the Swan and Dolphin before? There's a GREAT ice cream parlor in there, and some awesome restaurants too. While you cannot use their recreation amenities, you can eat at any restaurant at any of these other hotels, and you can also walk around to explore their properties to decide if it's a location you would want to stay in on a different visit.
Another awesome perk of staying at the Beach Club Resort is being able to enter Epcot through the International Gateway entrance. Are you familiar with the International Gateway entrance to Epcot? It's awesome! You pop out right between the United Kingdom and France! Once the Skyliner opens up, end of September, it won't be as peaceful, but it's still a great way to be able to get to in to Epcot, and be able to access the World Showcase easily. I also love that there is a guest relations back there, so if you need to activate your ticket, or do anything with guest relations prior to entering the parks, you can visit that location with minimal waits.
Your Room…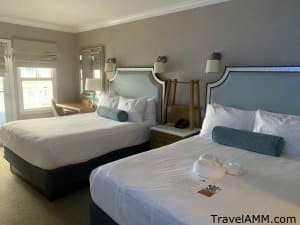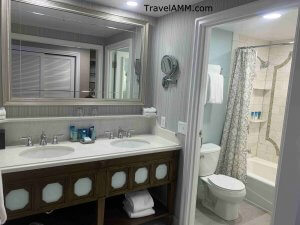 Your room is a typical deluxe resort room. Disney has white washed all of their renovated rooms, so you're getting white bedding instead of the cool themed bedding the rooms used to have. I understand why they do it, but I still miss all those fun Disney touches you'd find when you searched your bedspread or bed skirt for hidden Mickeys.
You will have two queen beds in your room. Some rooms have a child sized daybed, which is great when you have siblings that refuse to sleep in the same bed! Our room had a full balcony, but not all have full sized balconies, and ground floor rooms have patios. If you're lucky, you might even catch some fireworks from your room! Depending on which way your room angles, you might catch Epcot's fireworks, or you might be able to sneak a peek at the ones from the Hollywood Studios! Worse comes to worse, you can always head out to the beach and watch them from there, and trust me, that's not a bad option either.
What amenities does this resort offer?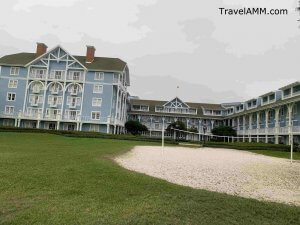 The Yacht Club and Beach Club resorts share dining and recreation amenities. The only way to tell the difference between the two resorts when you're walking around outside is that the Beach Club is painted blue, and the Yacht Club is grey! But they have the same pool area, the same boat dock, and you can easily eat at any of the restaurants or bars from both resorts. Everything is located super close, so you won't be far from the action regardless of which resort you're staying in, and which resort you want to play in.
There will be Movies Under the Stars (weather dependent) and they also do campfires on the beach where you can roast marshmallows and make 'smores too! There's a beach volleyball court you can play on, plus tennis courts you can use over at the Yacht Club. Need to get a run in to counteract all the Mickey Ice Cream bars you ate? No worries, there are jogging paths you can exercise on during your stay!
Pools!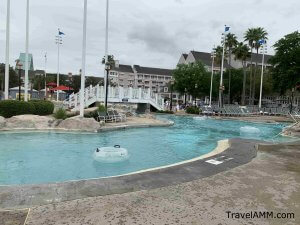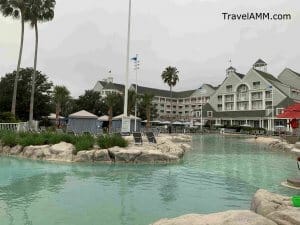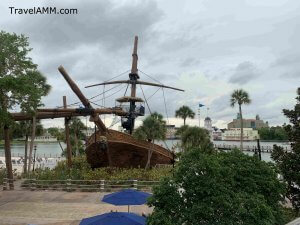 Stormalong Bay is the main feature pool for the resort. It's a three acre sand bottom pool that is very waterpark like. It has a sand bottom, areas where kids can not only play in the sand, and it has a zero entry side too so kids can just wade right in to the pool gradually! There's a lazy river, a huge waterslide, plus whirlpool spas. They also have a super shallow separate area where littles can play, plus you can rent a cabana if you plan to make a resort day out of your pool visit.
If you sign up to do the Mermaid classes, you'll do it at Stormalong Bay. And don't worry about non-resort guests parking at your hotel to just play in the pool, Disney will verify that you are a current resort guest staying at either Yacht or Beach before they allow you in the area, so don't forget your magicband when you go down to play! Stormalong Bay is also where they have a pool table and ping pong table you can play with, free of charge!
Did you realize that in addition to Stormalong Bay, there are 3 leisure pools between the Yacht and Beach Club, plus the Beach Club Villas that guests from all these resorts can use? Leisure pools are also known as quiet pools, so if you hear that term, don't stress, you can still take your kids there, but these pools are not going to be the huge hubbub of action you get from the main feature pool. Our family likes visiting the leisure pools because they are usually less crowded than the main feature pool, plus without the games and music you encounter at the main pool, we just find it a more relaxing pool experience.
Dining options?
As I said before, dining is shared between the two resorts, and you can easily go back and forth to eat wherever you want. One of our favorite restaurants is Beaches & Cream Soda Shop, which is located right at the edge of where the Beach Club turns into the Yacht Club. It used to be a hidden gem and you could easily walk up to get a reservation, but word has gotten out, and it's SUPER popular now, often booking up right at the 180 day mark when dining reservations open up. Which is a bummer for my family because we aren't good about knowing what we want to eat 180 days in advance.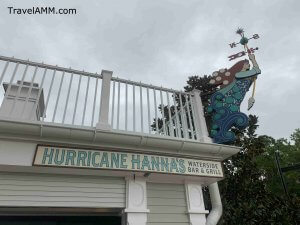 Beach Club Marketplace is the quick service restaurant here. It's not really my favorite, I don't think it gives enough options to pick from, it's rather small, and I swear I always time it when every single person from the hotel is trying to purchase food too. I actually try to just go over to Epcot and eat quick service in a country rather than eat at this quick service location. It used to be the only quick service restaurant for both resorts, other than Hurricane Hannas at the pool (which IS a good location, but has very limited hours), however, the Yacht Club has now opened up The Market at Ale & Compass, so they have a quick service presence at that resort too now. When we last stayed at the Yacht Club (and it was YEARS ago) I had to truck all the way over to the Beach Club Marketplace to get any quick service food, and then lug it all back to the room while my husband stayed back with a sleeping kid. It was not something you'd be inclined to do for a quick bite, it was definitely something that made is think twice about snacking during the day!
If you're looking for great table service (aka sit down) restaurants, have no fear, between the two resorts you have plenty of awesome choices to pick from, including Cape May Cafe, which offers a character breakfast, and Yachtsman Steakhouse, which has some of the best steaks on property!
The verdict?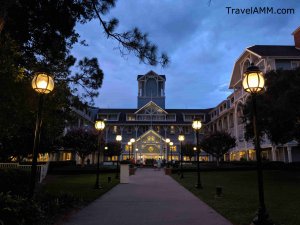 So… would we stay at Disney's Beach Club Resort again in the future? For sure! It was rainy and colder when we were there, so we didn't get a chance to enjoy the pools on this visit, but we have in the past and the kids love them. We did manage to sneak in some ping pong and a game of pool, we got to watch the Mermaid school going on from our balcony, and the proximity to Epcot and the Hollywood Studios is amazing. The resort and the room are gorgeous, and the amenities just can't be beat. I'm not sure how I will feel about it once the Skyliner gets going and my lovely International Gateway entrance has more guests using it, but they've been doing construction back there in anticipation of the additional guests, so I'm sure it will still be a short wait to get in to the park. The only negative about the resort is the Beach Club Marketplace. I know it's gotten better, but it just isn't up to par in my opinion, and remember, everyone's option is subjective, so perhaps your family would love the options offered and be perfectly happy eating there. Regardless, it's a great resort, with an amazing location, and awesome amenities. We would for sure stay here again in the future.
Looking for a place to stay on your next vacation?  Check out these different resort options to fit all family sizes and budgets.  From a villa to a family suite or a standard room, we can work together to find the perfect fit for your traveling party! Contact me today so we can start planning your next amazing family getaway.
Want to make sure you're staying up to date on current trends for family travel destinations?  Make sure you like and follow my Facebook page, and feel free to join my Facebook group!