If you've been reading my posts for awhile now, you know that I'm married to a workaholic. It's ok, I knew what I was getting into when I said yes. When we go on vacation, he's probably going to work late into the night, or maybe sneak back to the hotel while we're in the parks to get a few hours of work in… If we're on a cruise, he's printed everything out he needs to read/ do and stays up after we go to sleep so he doesn't fall too far behind when he gets back to the office. One way that we've been able to do our Walt Disney World trips with minimal fuss is that we will either stay in a family suite, or else one of the Disney Vacation Club villas. That way there is a separate living room area that they kids can sleep in, and he can stay up late working in the master bedroom without disturbing anyone (except me!).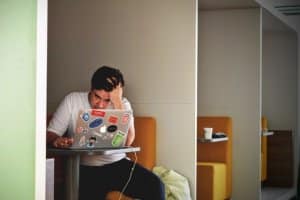 When we stay in a regular room (meaning a regular hotel room with 2 beds, a bathroom and that's it), he ends up hanging out in the bathroom with the lights on until the kids fall asleep. Sometimes he goes out to the hotel lobby and tries to find a place to work for a few hours until the kids pass out. It's not an ideal setup, but it works, more or less.
Fast forward to our last trip to Walt Disney World, I was looking at hotel prices and options, and I found an amazing rate at the Beach Club, but in Club Level.  We've never splurged for Club Level before, I wasn't sure if it would be something we would enjoy or not, but we decided to try it out since it was a special trip for our younger son's birthday.
What's the point of Club Level?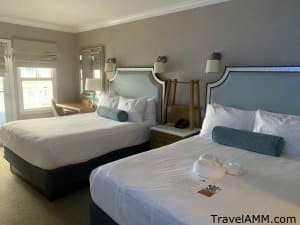 Club Level reservations at the Walt Disney World Resort, come with a few added benefits over regular hotel rooms. Before the trip, you can get planning assistance from the club staff. If you want help booking dining reservations or making fastpasses, they'll take care of that for you too. Keep in mind, the club level staff only do those during business hours, so you might want to do it yourself since they have access to the same inventory as you do, and by waiting, you risk missing out on some "must-do" experiences.
One super nice perk though is that you can pay a fee to get additional fastpasses over the standard 3 per day you get with your ticket. There's a 3 day minimum, and a per person charge to add on those fastpasses, but if you have a shorter trip, and quite a few must do higher tiered attractions, it's a great chance to secure fastpasses to those hard to get selections.
Club Level rooms are the same as regular rooms, but you do get nightly turn down service, with chocolates on your pillow! There's also a separate club level lounge that offers food and drinks for you to enjoy. The club staff are available throughout the trip to help you with your questions, and you check in at the club desk, rather than the main front desk of your resort.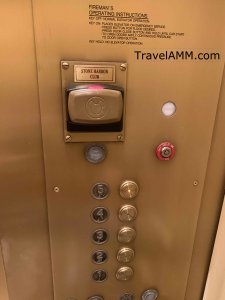 When we went, we stayed at Disney's Beach Club Resort on their Club Level. Thankfully our magicbands were working when we got on the elevator because you have to scan your magicband before the elevator will access that floor. When we got off, it was a little hectic, the concierge staff didn't check us in, and sent us in the wrong way to get to our room, but we backtracked after a helpful housekeeper took pity on us and redirected us. We did not get any of the welcome paperwork, the welcome drink or even a tour of the lounge.
I think we missed quite a few perks we should have been able to take advantage of, such as the knowledge that you can text or call the cast members at the club level desk if you need assistance with anything, but that wasn't pointed out to us at all during our stay. We eventually figured out the lay of the land, more or less, but our first impressions were not the most positive ones.
What's offered in the lounge?
The Beach Club's Club Level lounge is open specific hours each day. (Each resort's club lounge has their own hours and own offerings, this is just reflective of what was being offered at the Beach Club during our vacation.) The club level lounge is closed for about an hour in between "meal times" (for lack of a better term) so they can clean up the lounge and set up the new offerings. They do close the doors in between seatings, but if you are already in the lounge, they won't kick you out, you just won't be able to grab any food while they're setting up the new stuff.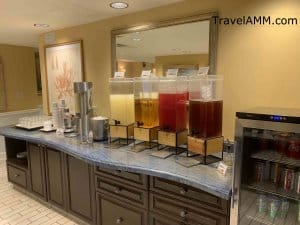 There are 5 different serving times that the lounge offers food:
6:30 am to 7:00 am- Coffee
7:30 am to 10:30 am- Continental Breakfast
11:30 am to 4:00 pm- Light Snacks
5:00 pm to 7:00 pm- Hors d'oeuvres
8:00 pm to 10:00 pm- Desserts and Cordials
We visited every single time period at some point during our vacation. It was great because I swear, our kids are never hungry at the exact same time, so when one wanted a snack, we just just pop in and grab something small. We really liked the light snack time period. They had cookies available, and then they also had ice cream in little cups in one of the freezers… boom, instant ice cream sandwich. I make those for the kids on all the cruises we sail out, so they were super excited to be able to have that at Walt Disney World as well.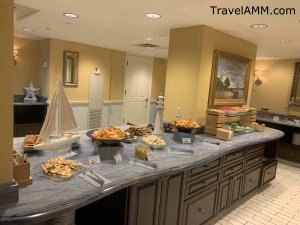 I thought the desserts that they offered in the evenings were AMAZING! I didn't get any pictures because I grabbed them and snuck them back in to our room to eat after the kids finally fell asleep, but they were SO delicious. My husband said he ate enjoyed a bunch himself while he was working in the lounge each evening. Thank goodness you walk so much on a Walt Disney World vacation, so we didn't have to worry about gaining a million pounds from our daily snacking.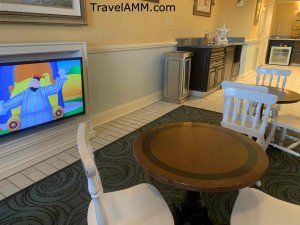 Another awesome thing about the club lounge? They have newspapers in there that you can read each day, plus they had a whole area that had board games for you to play. This was SUPER helpful as we were there during a very cold and rainy time. So one thunder filled and cold afternoon was spent playing games in the lounge while we snacked and my husband caught up on work. If we hadn't had that, we probably would have just hung out watching the endless "Mickey cartoon" channel that my children are OBSESSED with whenever we stay at a Disney property. (I'm not joking when I say they instantly figure out what channel number it is in the room, or on the ship, and automatically tune in!)
What's the Verdict? Skip or Splurge?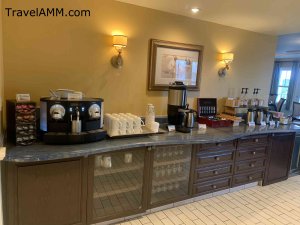 I really liked the Beach Club Resort's Club Level experience. Our room was centrally located, not too far from anything, and let's face it, you can have a LONG walk if you're at the end of a hallway at this resort. My kids loved the snack aspect of the club lounge, my husband loved the beer aspect, and I loved the dessert options. We ended up eating a ton of heavy snacks at the lounge, and were able to grab what amounted to a continental breakfast each morning so that saved us a ton of money on food while we were in the parks. Keep in mind, my family is not a park opening to park close kind of family. We get there when we get there, we do what we want, we for sure take a break in the middle of the day before we head back in the evenings. This means we have more access to the lounge than someone who is gone for the whole day, which makes more sense for us to stay there. We found it worth it, and I would do it again because it saved us time for meals in the mornings, and because it gave my husband the ability to work in the lounge each evening in a far more efficient manner than hanging out in the bathroom.
If you're not going to take advantage of the lounge, you don't come back to the room in the middle of the day, you only like to eat in sit down restaurants and don't enjoy smaller meals at odd times of the day, this might not be worth the extra charge for you. The value was there for our family dynamic and our family needs, but it might not be for you.
Want to visit the Walt Disney World Resort, but Club Level isn't your style? Check out some other accommodations you might like: Disney's Polynesian Village Resort, Disney's Art of Animation Resort, or even Bay Lake Tower at Disney's Contemporary Resort might be a great fit for your family dynamic.
Still feeling a bit overwhelmed with all that is involved with planning a trip to the Walt Disney World Resort these days? Feel free to contact me and I'll be happy to help you book your next vacation. We'll make sure you don't miss any important deadlines, and get the best trip possible for your family.