You've officially become a Disney Cruise Line addict. You're on your vacation and you're having way more fun than you anticipated… you loved that the kids had a great time while you managed to get away and have some adult time to yourself as well… how in the world can you avoid Disney Cruise withdrawal when you return home from your fun adventure at sea? Well, you book a Disney Cruise Line placeholder so you have something to look forward to in the future, that's how!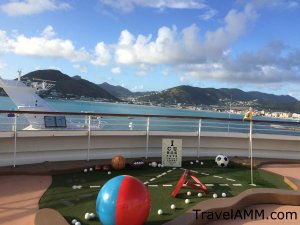 At least, that's what everyone online is saying, right? Your cruise group keeps talking about booking a placeholder, but what does that mean? Speak English people! I don't understand what you're talking about! 🙂
Well, let's get you up to speed. A placeholder is a future cruise that you book while you're still on the ship during your original vacation. You either can book a specific ship and sailing date if you know which one you want to do already, or you can just book the placeholder reservation, which guarantees you a discount on a future cruise, as long as that future cruise occurs within 24 months of the date when you booked the placeholder.
Ohh, That Sounds Intriguing, When Do I Book This Disney Cruise Line Placeholder Reservation?
Your placeholder can only be booked onboard the ship and only during your trip. You must do it before you get off the ship before last day! If you realize on your way home you forgot to do it? Sorry, you missed out. If you realize at breakfast on your last day that you forgot to do it? Sorry, you've missed out. You can only do it, on the ship, when the vacation planning desk is open, so don't forget to check your daily navigator to see the hours the desk is open because it's not all day every day.
Why Would I Do This?
I liked the cruise, but I don't know that I want to commit to another cruise within the next 2 years, can't I just book my next trip the normal way and not have to think about the future on vacation?
Well, for one thing, booking a placeholder is a great way to get a discount on a future vacation! You'll get a 10% discount off the current rate of your next cruise at the time of booking. That discount is off the full priced rooms on the sailing you want to go on, and cannot be mixed with a discounted rate (think guaranteed with restrictions) or used on a concierge level room. Don't forget there is also a nice little onboard credit from Disney as a thank you for booking that placeholder! (Amount of the onboard credit is based on the length of the cruise that you book.)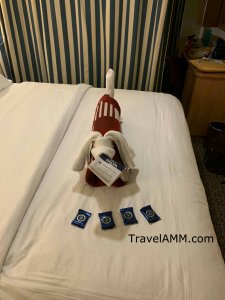 Secondly, Disney cruise withdrawal is a serious and real problem. You'll find out on that first day home that there are very few things more depressing than coming back home. There are NO towel animals on your already turned down bed. Plus, if you didn't make the bed in the morning, it's still a mess that night! Gasp! Don't even get me started on the lack of chocolate on your bed each night, and shockingly enough, there are people in my house that expect ME to prepare dinner for them each day. For some reason it doesn't just magically appear on the table at a specific time! Lastly, there is no perpetual soft served ice cream available at my house! Crazy, right?
What All Is Involved with a Disney Cruise Line Placeholder Booking?
Placeholders can only be done onboard. Unlike a bounceback rate that is offered at Walt Disney World, your travel agent can't call in and book it for you. You, personally, need to be the one who goes to the vacation planning desk and books it. You can fill out the form ahead of time, and drop it off at the vacation planning desk without waiting in line to secure the reservation, but I have heard of problems, and had clients not get their placeholder booked properly using that method. I advise grabbing your spot in line on the Disney Cruise Line app when the vacation planning desk is open, and then just paying attention to your notifications so you know when to show up downstairs and secure that discount!
The deposit amount will be $250 for a placeholder that does not have a specific date attached to it. That placeholder reservation will expire 2 years from the original date that you put that $250 down. If you don't use it, don't worry, the $250 will be refunded to the original form of payment, at the 2 year mark. When you do go to use it, your deposit to book the trip, will be reduced by the $250 that you have already paid towards the trip!
If you have a specific ship and sail date in mind already, just let them know that when you head down to the vacation planning desk, they'll let you know the amount of deposit that is due at the time of booking, and you will be all set once you pay it off! Depending on the length of your cruise, it might even be a reduced deposit!
But What About My Travel Agent?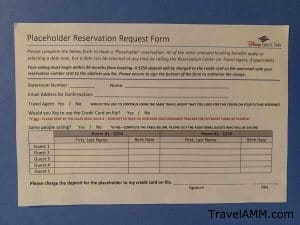 No worries! Just let the cast member helping you with the placeholder, know that you want to keep the travel agent who booked your trip, on your reservation. They can easily assign the new vacation to the current travel agency and you are good to go. Make sure you let you travel agent know that you booked a placeholder when you get back just in case the cruise line didn't attach the reservation properly. It happens sometimes, and you want to make sure there will be sufficient time to get your agent assigned to your reservation in case of any technical glitches like that.
If you want to swap travel agencies, or just book on your own without using the travel agent you originally booked with for that next trip, you can let the cast member know you do not want to have a travel agency attached to your reservation. That will have your reservation booked directly with the cruise line without any travel agency involved. If you want to attach it to a new travel agency, you will need to do so within 30 days of booking that reservation, the travel agent can send you the appropriate paperwork.
I've Got One, How Do I Book My Trip?
Unfortunately, you cannot book your trip online, it must be done over the phone. You will need to have your travel agent do it for you by calling in once you pick your sailing date and ship. If you did not book with a travel agent, then you will need to call in yourself to book the cruise. You will want to book your trip as soon as you pick the new sailing date to grab the best rate available. The lowest price of the trip happens on release day, and only goes up from there. Keep in mind, on release dates, the hold times can be extremely long, so make sure you pack your patience! Plus some snacks.
I Don't Want to Use It, What Now?
Just like any other Disney Cruise Line vacation, you will need to let you travel agent call in to cancel it, or else call in yourself if you booked directly with the cruise line. Disney will fully refund your money to original form of payment, and as long as you have not entered into the cancellation period for your booked cruise. If you never attached your placeholder to a specific date, they'll refund you with no questions asked, but remember, you CANNOT reinstate that placeholder down the road if you change your mind. The discount opportunity is gone until you sail again and book a new placeholder.
So congratulations, you just survived the Disney Cruise Line Placeholder 101 course! Hopefully you're feeling more confident about any upcoming Disney Cruise Line vacations you have on the books. Wondering what to expect when you're sailing out of Port Canaveral? Read on for some helpful tips and tricks!
If you don't have an upcoming Disney Cruise Line vacation on the books, please feel free to reach out to me for assistance booking one! I'd love to help you out!
In addition to regular sailings, the Disney Cruise Line offers themed sailings too, including Star Wars Day at Sea; Halloween on the High Seas; Very Merrytime Cruises; and even Marvel Day at Sea sailings!